The NIRP Rout
In Japan, the Eurozone, Denmark, Sweden, and Switzerland, where central banks, in their infinite wisdom, have imposed negative interest rates supplemented with harebrained bond-buying schemes, bond prices have soared to where many government bonds and even some corporate bonds are trading with negative yields. Given this amount of liquidity and the free-for-all in corporate borrowing, stock markets in those countries should be booming, which had been part of the plan.
Alas, they've gotten hammered: almost all NIRP countries' major stock market indices have gotten shoved, some deeply, into a bear market.
US stock indices, in this unsavory crowd, are the cleanest dirty shirts, with the S&P 500 down 3.0% and the Dow down 3.7% from their peaks in May 2015, and the Nasdaq down 8.3% from its peak in July 2015.
The small-cap Russell 2000 is down 11.6% since its peak in June 2015. Small caps are powered by rocket fuel on the way up. When that fuel is burned up, they come down hard. They tend to lead larger cap stocks on the way up and on the way down.
The Russell 2000 trailing 12-months price-earnings ratio is "nil," as the Wall Street Journal puts it mercifully. So despite endlessly rosy projections of "adjusted" pro-forma fictional earnings in the future, aggregate earnings for the past 12 months under GAAP were either so minuscule that the P/E ratio would be something near infinite, or they were negative, in which case the P/E ratio would be negative. Hence the merciful "nil."
The 12-months trailing P/E ratio of the S&P 500 is a dizzying 23.9, up from 22.8 a year ago. The historical median is 14.6!
And a word about recent IPOs. The USA IPO index by Renaissance Capital (now at 205.8) has dropped 23.7% since its peak in April 2015, and has thus qualified for the elite group of indices in a bear market.
On December 31, 2015, the index closed at 225.4, a number it hasn't seen since. On February 11, it closed at 171, down 22% year-to-date at the time. Then it bounced, only to lose its grip again starting on June 8: it has since dropped 5%.
The index tracks the largest US-listed stocks that recently went public, currently 64. It imposes a 10% cap on large companies, such as Alibaba. Stocks stay in the index for two years after their IPO date. The top 5 components by weight: Alibaba (9.9%); Synchrony Financial, the GE spinoff (8.5%); Citizens Financial Group, the Royal Bank of Scotland spinoff (7.8%);  Mobileye, an Israeli driverless-car software company (4.8%), and JD.com, a Chinese e-commerce company (4.3%).




So here's our updated Bear Market Tracker. The five US indices in it are marked in blue. The S&P 500, the Dow, and the Nasdaq occupy the top three positions – the world's cleanest dirty shirts. The IPO index is stuck in a bear market, right between the glorious NIRP-country indices: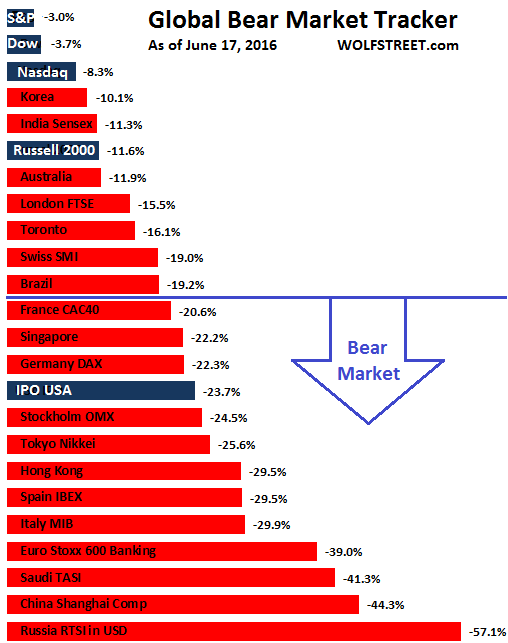 We define an index as being in a bear market when it's down 20% from its cycle high. "Cycle high" is kind of a rubbery concept and some arbitrary decisions are required: the Russian RTSI in USD has been zig-zagging lower since its high in 2011, which is the cycle high used in the chart. However, for the Nikkei, which peaked in 1989 and has since fallen over 60%, we used the cycle high of June 2015.
A note about currencies: stock indices that are measured in a local currency that has lost much of its value, such as Argentina's peso, are useless. When a currency loses 40% of its value in a year, a stock index increase of 25% only looks good on paper. In reality, it's a devastating decline. So we excluded currency-crusher countries from the list. However, we included Russia's dollar-denominated RTSI.
The biggest losers in the NIRP rout: Spain's IBEX down 29%, Italy's MIB down 30%, and the Euro Stoxx 600 Banking index down nearly 40%, an indication of just how troubled European banks have become, and how good NIRP has been for them.
In a fascinating twist, and a sign of how hopeless the NIRP situation has gotten: there isn't a lot of central-bank hand-wringing anymore about the dismal performance of their respective stock markets, though originally, driving up stock market valuations and creating that infamous "wealth effect" while pushing investors into every riskier (loss-prone) assets, has been bandied about as policy goal by the ECB and the Bank of Japan.
Now that investors have followed central-bank exhortation to seek refuge from NIRP and QE in risky assets, equities have swooned, and these investors have lost their shirts. Meanwhile, central banks have conceded that they'll let stocks go to heck, no big deal.
They have conceded that central banks, in effect, can't prop up stocks if speculators don't believe the message, and speculators have stopped believing the message in the spring last year. So now central banks are focusing on manipulating the bond markets and other asset classes, such as housing, that depend on this nearly free capital. And stocks, for them, have apparently become a lost cause. And those gullible investors, like savers before them, are on their own in their misery.
In the US, the yield on the 10-year Treasury note fell to the lowest level since November 2012, after more Fed flip-flopping in face of lousy job gains, terrible exports, puny investment, and Brexit fears. So, the Fed's post-meeting statement said, "growth in economic activity appears to have picked up." Really? Read… OK, I Get it, the US is a Service Economy, but this Looks Terrible




Enjoy reading WOLF STREET and want to support it? You can donate. I appreciate it immensely. Click on the beer and iced-tea mug to find out how:

Would you like to be notified via email when WOLF STREET publishes a new article? Sign up here.