In War for Market Share with US shale oil.
Mayhem has crisscrossed the global oil markets since 2014: Huge losses for Big Oil, including teetering, over-indebted, state-owned giants like Mexico's Pemex and Brazil's Petrobras; bankruptcies among some of the smaller players; cuts in production in the US, Canada, and China where production plunged 7.3% in May from a year ago, the biggest decline since February 2001; hundreds of thousands of people losing their jobs across the globe; deep trouble in Brazil, chaos in Venezuela….
Record levels of crude oil stocks have become a global phenomenon. In the US, crude oil stocks are at 532 million barrels, a record for this time of the year in EIA's data series going back 80 years. Even driving season has barely made a dent so far; stocks remain 63.6 million barrels above the mega-record levels a year ago. Gasoline and distillate stocks are 19.2 million and 18.6 million barrels above their levels a year ago.
Oil tankers full of crude are lined up outside the port of Singapore and others, some waiting to unload cargo, others being used for crude oil storage at sea. Across OPEC, storage levels of petroleum products rose to 3,046 million barrels in April, or 13% above the five-year average.
The world is awash in oil.
In the process, OPEC has been declared dead or dying because it was unable to agree on anything, refused to cut production, and brushed off calls to do something, for crying out loud, about the collapsed prices — which, despite the mega-rally, remain down over 50% from where they'd been before the oil bust began.
But there was one thing OPEC was able to accomplish by not agreeing to buckle under pressure and cut production: it increased its market share.
This chart shows how OPEC production (blue columns) has edged up year-over-year, while global production (green line) has started to decline. Hence, the increase in OPEC's market share at the expense of non-OPEC producers, particularly in the US shale patch.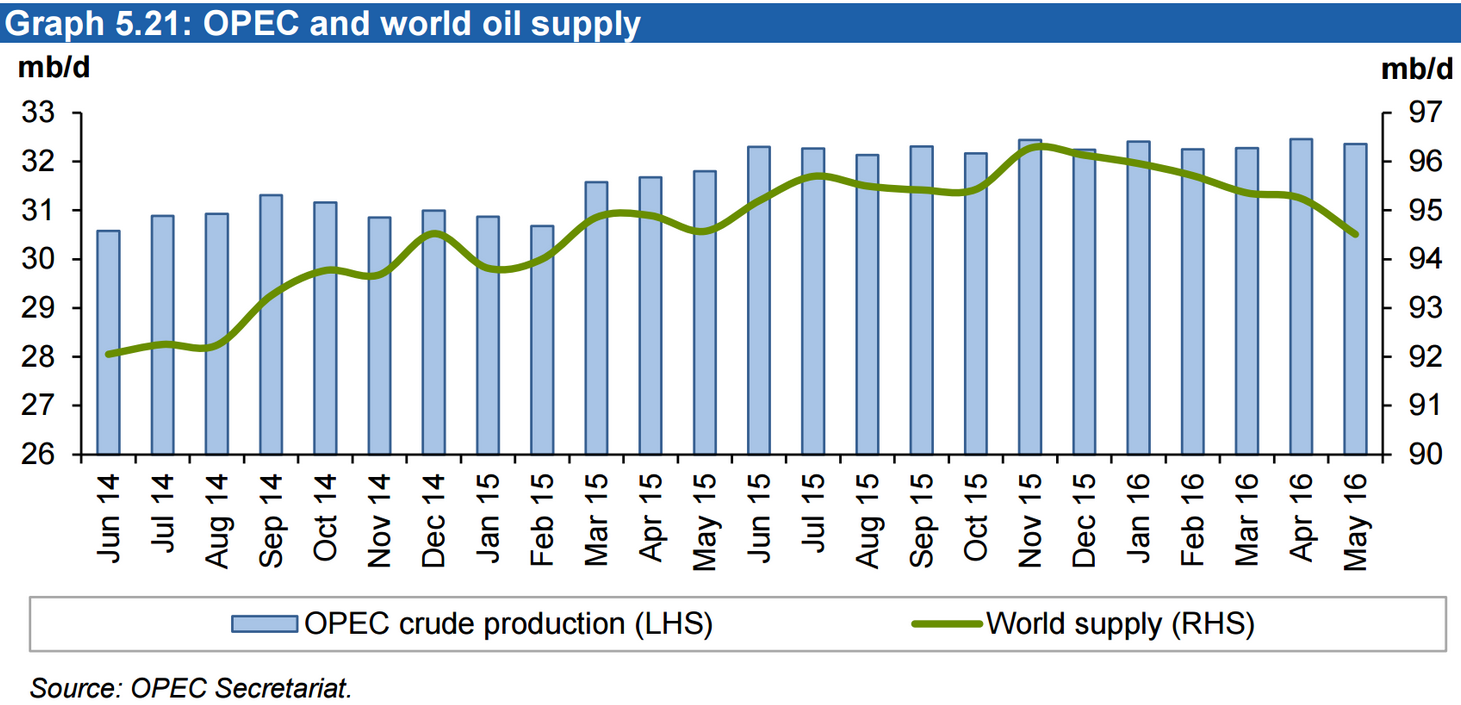 According to ISA Intel, Oil & Energy Insider:
As of May 2016, OPEC captured 34.2% of the global oil market, up 1.8 percentage points from the 32.4% that it held in November 2014 when it first embarked on this strategy. And that rising share comes even as the global market has grown by nearly 2 million barrels per day over that time frame.

OPEC may have inflicted damage on its own members, but it dealt a bigger blow to the shale boom.
But OPEC paid a big price, leaving members with massive sinkholes in their oil-dependent budgets. The US EIA estimated that OPEC oil export revenues plunged 46% in 2015 to $404 billion, the lowest since 2004, down 58% from the glory days of 2012.
This chart shows that plunge and the history of OPEC's export revenues going back to 1975. Saudi Arabia accounted for $130 billion in 2015, or about 32% of the total. In nominal dollars (brown line) and inflation adjusted dollars (black line):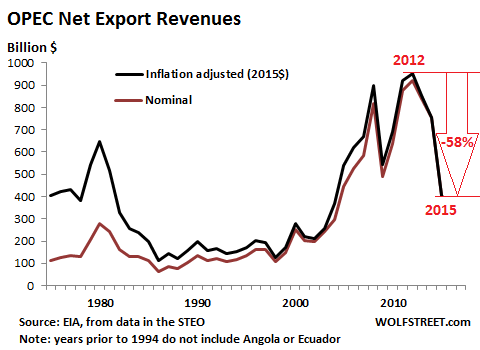 And according to the EIA, the situation is likely to get worse this year:
EIA projects that OPEC net oil export revenues could fall further to about $341 billion dollars (unadjusted for inflation) in 2016, based on projections of global oil prices and OPEC production levels in EIA's June 2016 Short-Term Energy Outlook (STEO).

The expected decline in OPEC's net export earnings is attributed to lower forecast annual crude oil prices in 2016 compared with 2015. The price declines are expected to more than offset OPEC's increased production and exports in 2016.
So just about everyone survives to fight another day. OPEC is clawing back market share. Even the dozens of energy companies that have gone bankrupt in the US are surviving in restructured form. Some stockholders have gotten wiped out, and some bondholders have lost their shirts and are licking their wounds, and in some places, taxpayers are asked to chip in to bail out big oil, as in Mexico. Local economies in the American oil patch are showing serious signs of strain. Among some OPEC members, Venezuela's situation has turned into chaos. But the fight for market share goes on. And the US shale patch isn't about to throw in the towel.
But the US coal industry – "king coal," as it was once called – is in an existential struggle. Read… Why US Coal Production Collapsed to Lowest Level since 1981




Enjoy reading WOLF STREET and want to support it? You can donate. I appreciate it immensely. Click on the beer and iced-tea mug to find out how:

Would you like to be notified via email when WOLF STREET publishes a new article? Sign up here.