"See-through buildings" get dumped on the market.
ConocoPhillips lost $4.4 billion last year and $1.5 billion in Q1 this year. Last fall it announced that it would lay off 10% of its global workforce. Its stock has crashed nearly 50% since the oil bust began. And in February, it slashed its quarterly dividend from 74 cents to 25 cents a share. That's the new reality.
But before that reality set in, it was planning for endless growth. To accommodate the workforce required by this endless growth, it leased some office space in Houston years before it would need the space. The office market was tight, and leasing unneeded space was the thing to do. They all did it. Befuddled with optimism, oil and gas companies fought each other over leasing empty office space they might never need, and this created huge fake demand, price spikes, and a boom in development that created a flood of supply of office towers, particularly for the energy sector.
They were all "warehousing" office space. With lease rates going up forever, it was hyped as the smart thing to do. But warehoused office space is the "shadow inventory" that appears on the market overnight, without warning, on top of a growing mountain of available space.
Early 2013, ConocoPhillips leased the 20-story 548,000-square-foot Energy Center 3 building in the five-building Energy Center office complex and moved its Lower 48 Business Unit into it. And then it leased the neighboring 22-story "Energy Center 4" building with 597,000 square feet of space. Construction was completed in late 2015. But the floors of EC4 were never built out. The Class A tower has remained an empty shell.
The Energy Center office complex also includes the speculative Energy Center 5, an 18-story, 525,000-square-foot, Class A building. Construction began in August 2014. The hope is that someone will lease it before it sits there as another empty shell.
During the prior oil bust, Houston was dotted with these empty shells. They were called "see-through buildings." They'd been built with borrowed money, and then no one wanted to lease them. As the commercial office boom unwound, it helped take down all but one of the 10 largest banks in Texas.
Last week, in order to cut costs where it can, ConocoPhillips put the entire EC4 building with 597,000 square feet of space on the sublease market, according to the Houston Chronicle. The company said in a statement that this was in line with its "focus on sustaining structural cost reductions and continued efforts to capture efficiencies." And it would market the building "with a long-term view that accurately represents the value, quality, and location of the building."
Timing is impeccable, as it always is: the company is throwing the building on the sublease market just when everyone else is doing the same thing with their warehoused office space.
Shell, Marathon, BHP Billiton, Apache, and other companies in the energy sector already dumped warehoused office space on the sublease market in Q1. Sublease space soared 19%, to 9.16 msf, up 124% from Q3 2014: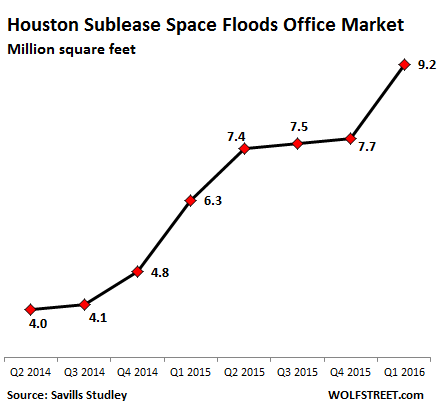 As a consequence, the Houston office market, at the confluence of a majestic construction boom and the collapse of the energy sector, has begun to melt down.
Leasing activity in Q1 plunged 25% from a year ago, to 1.56 million square feet (msf), worse even than during the Financial Crisis, and is down 59% from Q4 2014! The availability rate jumped to 24.5% or 47.4 msf for Greater Houston, according to commercial real estate services firm Savills Studley. The availability rate for Class A buildings hit 26.5%, also worse than during the Financial Crisis.
In the Katy Freeway sub-market, where about 90% of the office space is occupied by energy firms, availability hit 33.6% in Q1. In the Greenspoint sub-market, it hit 48%! A horrendous office glut!
Unused shadow inventory, including "see-through buildings," now popping up overnight on the sublease market is pressuring the 8 msf of new construction that remains unleased. And Q2 looks a lot worse, topped off by the 597,000 square feet ConocoPhillips just put on the sublease market. This is going to get ugly.
For businesses that have to fight it out on a daily basis in the trenches, even for those beyond the energy sector, reality has begun to bite in a very serious way, especially for smaller companies. Read… US Commercial Bankruptcies Soar (despite Rosy Scenario)




Enjoy reading WOLF STREET and want to support it? You can donate. I appreciate it immensely. Click on the beer and iced-tea mug to find out how:

Would you like to be notified via email when WOLF STREET publishes a new article? Sign up here.