Even in the US.
The global stock market rally since mid-February has allowed stocks to recover at a blistering pace, or so it seems. And you'd think from all the hype that the bear-market episode is behind us.
By Friday afternoon, the Dow was just 4.6% below its all-time high, set a year ago, and the S&P 500 only 3.9%. On Friday, the S&P 500 edged back into the green year-to-date, while the Dow remains in the red. The Nasdaq is still down 8.8% from its high a year ago. But those were the cleanest dirty shirts of the major global indices.
So, now that we're relieved the whiff of panic has blown over, it's time to have a look again at our Bear Market Tracker, lest we think all is well in the world of equities.
Everyone defines a bear market differently. For our purposes, an index is in a bear market when it's down 20% from its cycle high. I made one exception: the Russian RTSi in USD. Due to its stubborn predilection for falling ever lower, after brief upticks, I used its high in 2011.
In the US, small caps are still struggling mightily. The Russell 2000, which tracks them, is down an embarrassing 14.1% from its peak. Small caps tend to be on speed – on the way up and on the way down. They tend to lead the pack. But now they're not leading the pack up. They're not leading at all. They're dragging behind. Something is amiss.
The five US indices in the Bear Market Tracker below are marked in blue. The S&P 500, the Dow, and the Nasdaq occupy the top – the world's least dirty shirts: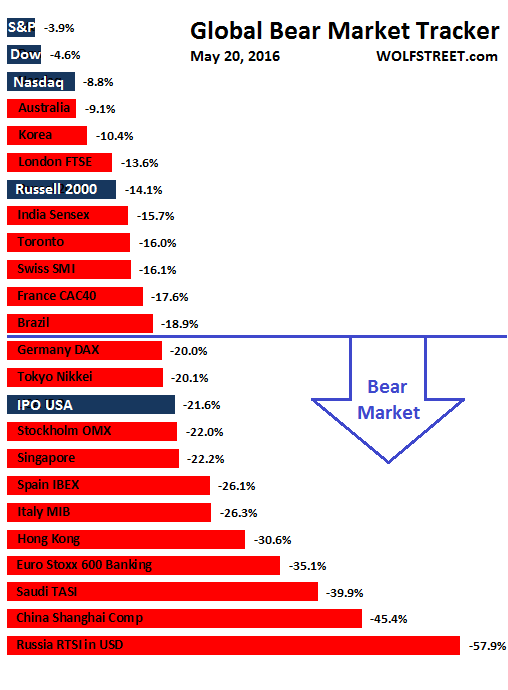 And what US index is still in a bear market? The IPO index….
Renaissance Capital's IPO index tracks US-listed stocks that recently went public. They stay in the index for two years after their IPO date. With 64 components currently, the index reflects the "top 80% of newly public companies based on full market capitalization." However, it imposes a 10% cap on large companies.
Top 5 holdings (weight in index): Alibaba (9.9%); Synchrony Financial, the GE spinoff (9.7%); Citizens Financial Group, the Royal Bank of Scotland spinoff (8.3%); JD.com, a Chinese e-commerce company (5.0%); and Mobileye, an Israeli driverless-car software company (4.4%).
The index peaked in July 2015. By mid-February, it was down 36%, with the IPO window just about closed. It has since recovered some and is now down "only" 21.6%. But numerous of its components have gotten totally crushed, including Lending Club, which deserves a special mention.
When the peer-to-peer lender went public in December 2014, it soared 67% from its IPO price of $15. This was beautifully hyped on CNBC. Lending Club would "transform the entire banking industry," CEO Renaud Laplanche explained. The company had a market value of $9 billion at the time, about the same as the 14th biggest bank in the US. Stephan Paternot, an early investor, called it a "no-brainer." Shares made it all the way to $27.90. They're now at $3.99, down 86%.
Only three of the major European indices are NOT in a bear market: the London FTSE (-13.6%) despite the deafening end-of-the-world rhetoric about Brexit reverberating around the globe; the Swiss SMI (-16.1%); and the French CAC 40 (-17.6%).
The remaining four European indices in the Bear Market Tracker are stuck in a bear market, ranging from the German DAX (-20%) to the Italian MIB (-26.3%), even though Draghi had promised back in 2012 that he'd do "whatever it takes."
Note that the Nikkei is still down 20.1%, despite the scorched-earth tactics of the Bank of Japan, as Abenomics is now widely acknowledged to have been the speech of a false prophet.
France and Switzerland are thus the only two countries under the dictum of negative-interest-rate policies that are not in a bear market – though they're just a couple of lousy trading days away from it – which says something about the glorious effects of NIRP.
These effects of NIRP are visible elsewhere: the European banks. They have all kinds of problems beyond NIRP. And Italy is trying to dodge a full-blown banking crisis, as its banks are buckling under their mountain of nonperforming loans. But investors have trouble swallowing the Kool-Aid, and the Euro Stoxx 600 banking index, which track these slippery critters, is down 35.1% from its peak in July last year – the fourth-worst performer in the bunch.
Shanghai seems to be stuck at around the 2,800 level and can't seem to budge much up or down, which leaves it 45.4% off its peak of last June. And Hong Kong, which faces a host of issues, including an imploding housing bubble, is down 30.6%.
So the bear markets are still with us in many corners of global equities, and central-bank policies, no matter how absurd, can't seem to whisk them away, to the greatest astonishment of these central banks.
All 30 companies in the Dow have now reported first quarter earnings. Of them, 19 also reported "adjusted" earnings that they skillfully draped over their GAAP earnings, and now it all looks just so much prettier. Even the SEC woke up. But what will the media do? Read…  OK I Get it, Corporate Earnings are a Fairy Tale and Reality is Crummy, But Do They Have to Push it This Far?
Enjoy reading WOLF STREET and want to support it? You can donate. I appreciate it immensely. Click on the beer and iced-tea mug to find out how:

Would you like to be notified via email when WOLF STREET publishes a new article? Sign up here.