Previously "pent-up" real-estate demand to "fizzle."
Retail landlords are on edge. Their tenants in malls across America are reporting awful revenues and earnings, and they're shuttering stores, and some are going bankrupt. And they're all getting their clocks cleaned by ecommerce.
Ecommerce sales in the first quarter jumped 15% from a year ago to $86.3 billion, not seasonally adjusted, or $92.8 billion seasonally adjusted, the Census Bureau reported today. They accounted for 7.7% of total retail sales. Over the last four quarters, ecommerce also jumped 15%, to 354.3 billion.
Meanwhile, much of brick-and-mortar retail is stuck in a quagmire. Total retail sales inched up 3.3% year-over-year. A third of that "growth" was inflation as measured by CPI. Another third was the impact of ecommerce.
This chart shows quarterly ecommerce sales on a seasonally adjusted basis. It's an impressive trend: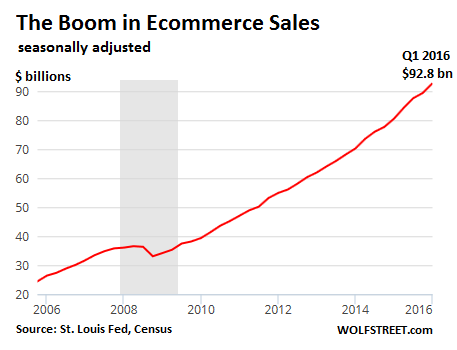 But this 15% year-over-year growth, as phenomenal as it might appear, is down from the pre-Financial Crisis range of well over 20%.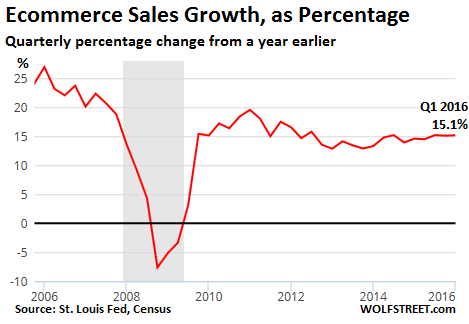 If ecommerce continues to grow at 15% every year, it will double in five years to $700 billion. That boom in ecommerce is mostly coming out of the hides of brick-and-mortar retailers. And they're already taking it on the chin.
There has been an intensifying wave of bankruptcies in the retail sector. The majority are expected to end in liquidations. Companies that survive in restructured form will shutter lots of stores. And "liquidation sales" are pressuring competing stores.
Even the largest department stores, in line with other retailers, are emitting foul-smelling revenue and earnings reports. Their shares have gotten hammered (stock price since 52-week high): Dillard's (-52%), Kohl's (-47%), Macy's (-59%), Nordstrom (-53%), J.C. Penney (39%), Sears (-72%).
Private-equity owned retailers, such as Albertsons (which now also owns Safeway) and Neiman Marcus, have either pushed back or scrapped their IPOs.
Store closings have hit the worst level since 2010, according to commercial real estate firm Cushman & Wakefield. In Q1 Walmart closed 125 of its Neighborhood and Express stores. Macy's closed 40 of its full-line department stores. American Eagle, JoS A. Banks, Kohl's, Sears, the now-bankrupt Aeropostale… they shuttered hundreds of stores in Q1.
Overall retail traffic – including malls, strip centers, and other shopping areas – in the US and Canada has been dropping relentlessly. Over the past 12 months, there were only seven weeks when retail traffic rose year-over-year, according to Bloomberg Intelligence. The remaining 45 weeks, retail traffic in North America dropped – and in five of those weeks, it plunged by double digits. Luxury retail traffic got hit even harder.
Per-square-foot sales at North American department stores has declined from $200 per square foot in 2006 to $165 per square foot in 2015.
But there's a big divide: Store closures have hit older Class B and C malls, with some malls dying altogether. Newer Class A malls are expected to do well. So the performance gap between them, according to Cushman & Wakefield, is "expected to widen throughout the foreseeable future."
This being America, change is always afoot. Despite soaring store closures and bankruptcies in the sector, some retailers push aggressively forward, at least for now, especially those catering to squeezed consumers.
Dollar Store plans to open 900 stores this year. Off-price labels Ross, TJ Maxx, and Marshall's are also adding stores, as are some of the off-price brands of major department stores, such as Nordstrom Rack, Saks Off Fifth, and Macy's Backstage. German discounter Aldi, which already owns Trader Joe's, plans to open 500 Aldi stores in the US over the next two years. Lidl, another German discounter, is planning to open 100 stores by 2018.
If it doesn't work, they can always shutter the stores later. Meanwhile, the discounters are counting on the squeezed American consumer to show up at their stores.
Developers have taken notice years ago and pulled back from stamping new malls and strip malls out of the ground, which curtailed new supply of high-quality retail space. Cushman & Wakefield estimates that the vacancy rate actually dropped to 7.9% in Q1, from 8.3% a year ago. And average annual asking rent rose 6.5% to $26.08 per square foot.
But this too seems to have run out of steam: rental rates were flat in Q1. The report notes, "In fact, on a quarterly basis, rental rate growth was slightly negative for 20 of the 65 markets we survey."
Bloomberg estimated that the overall retail vacancy rate declined to 10% at the end of 2015, after having peaked at 11.1% in Q3 2011 as a result of the Great Recession. But…
Previously pent-up real estate demand from retailers will eventually fizzle. More store closures are expected in the coming months as troubled retailers work through bankruptcy proceedings. Even relatively healthy retailers are re-assessing the need for more brick-and-mortar stores as more sales shift online.
While many brick-and-mortar retailers have gotten crushed, their landlords – mostly publicly traded Real Estate Investment Trusts (REITs) – have been spared, on average, much of the pain, so far.
By Bloomberg's measure the average mall REIT is down 10% from a year ago, while the S&P 500 is down 3% and all REITs are up 6%.
But since May 10, investors have been getting increasingly edgy. Over those six trading days, mall REITs have dropped 5% on average. Simon Property Group Inc., which specializes in luxury malls, is actually up 8% from a year ago, and thus the standout. Bloomberg Intelligence noted, "Unlike some of its peers, Simon continues to attract star tenants such as Nike and Apple, command higher rents, and get attractive financing terms." And it too has plunged 9% since May 10.
Other REITs with older malls aren't so lucky. CBL & Associates, which dropped 3.4% today, has skidded 42% from a year ago and 12% since May 10. WP Glimcher, which plunged 4.4% today, is down 32% from a year ago. And so in its own quixotic manner, the quagmire of brick-and-mortar retailers will expand deeper into REITs.
Another day, another retailer bankruptcy. And the potentially toxic Safeway-Albertsons combo is waiting in the wings with an IPO. Read… This is Why No One Should Bail Out the "Smart Money" Stuck in Brick-and-Mortar Retailers: Let them Shed their Own Tears
Enjoy reading WOLF STREET and want to support it? You can donate. I appreciate it immensely. Click on the beer and iced-tea mug to find out how:

Would you like to be notified via email when WOLF STREET publishes a new article? Sign up here.