Inventory glut, lousy consumer demand, the global economy…
Freight shipments by truck and rail in the US fell 4.9% in April from the beaten-down levels of April 2015, according to the Cass Transportation Index, released on Friday. It was the worst April since 2010, which followed the worst March since 2010. In fact, shipment volume over the four months this year was the worst since 2010.
This is no longer statistical "noise" that can easily be brushed off.
The Cass Freight Index is based on "more than $26 billion" in annual freight transactions by "hundreds of large shippers," regardless of mode of transportation, including by truck and rail. It does not cover bulk commodities, such as oil and coal and thus is not impacted by the collapsing oil and coal shipments. The index is focused on consumer packaged goods, food, automotive, chemical, OEM, heavy equipment, and retail.
In a similar vein, the Association of American Railroads reported last week that loads of containers and trailers fell 7.5% in April year-over-year. "Intermodal" is a direct competitor to trucking. Combined, they're a measure of the goods-based economy.
The Cass Freight Index is not seasonally adjusted. Hence the strong seasonal patterns in the chart. Note the beaten-down first four months of 2016 (red line):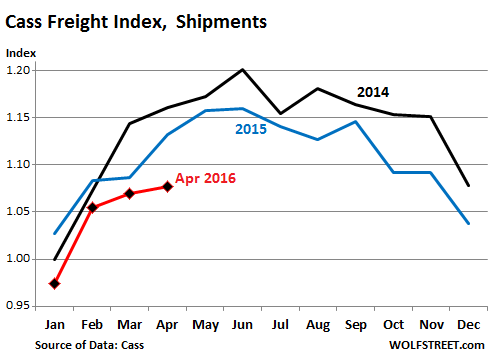 And May is not going to look much better. The report:
May is usually a relatively strong month for freight shipments, but given the high inventories with ever slower turnover rates and the decline in new production orders, May could be another soft month.
These inventories are a doozie. Total business inventories have ballooned since late 2014, even as business sales have declined. On Friday, the Commerce Department reported the March installment of that story: total business sales (adjusted for seasonal and trading-day differences but not for price changes) fell once again, this time by 1.7% from a year ago; and business inventories rose by 1.5% from a year ago.
As a result, the crucial inventory-to-sales ratio, which tracks how long unsold inventories sit around and gather dust, has blown out to the same crisis level it had spiked to following the Lehman bankruptcy: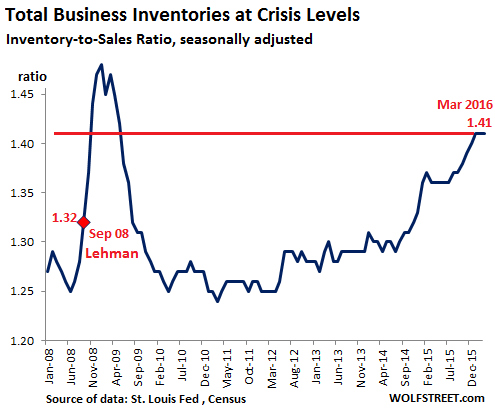 With sales down and inventories very high, businesses are trimming their orders to bring inventories back in line, and this is impacting the transportation industry.
Due to falling volume and "very soft rates," as the report puts it, shippers have spent 8.3% less in April than a year ago, the lowest April spend since 2011. "With ample capacity available across the modes, competition for loads is holding rates down," the report explains.
Transportation data provider DAT looks at this from the truckers' point of view. It tracks national spot-market demand for trucks and availability of trucks via its load-to-truck ratio – "a sensitive real-time indicator" of the balance between the two. And the spot market for the largest category, van-type trailers has become ugly: Last month, the load-to-truck ratio for vans plunged 46% from April 2015, and 52% from April 2014. It has been terrible all year (red line):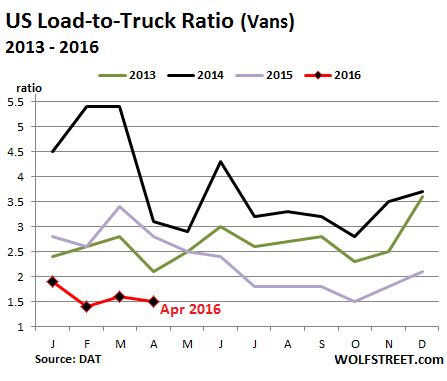 Cass notes that the economy "decelerated in the first four months of 2016." And this "slowdown," the report said, was caused by:
the continued decline of the global economy;
the reticence of the consumer sector to increase its buying;
the loss of jobs and income from the plunging oil costs (which shut down the fracking business and cut back on coal shipments);
very high inventory levels across the entire supply chain;
and poor export figures due to both the strength of the U.S. dollar and a decline in worldwide demand.
Which aptly summarizes much of what troubles the US economy. And the current data doesn't leave much room for any excess optimism:
Eyes are on the Chinese economy, which has been extremely unstable and can have a big effect on world economies if it continues to falter. Based on the trends of many economic indicators, it appears the economy may get worse before it gets better.
This type of transportation data shines some light on the goods-based economy in the US, and by extension, in the world: the goods-based economy is hurting – and there are no signs it's getting any better anytime soon.
The downturn's impact on railroads has become very visible beyond their income statements: the majestic sight of 292 Union Pacific engines idled in Arizona Desert! Read…  Freight Rail Traffic Plunges: Haunting Pictures of Transportation Recession
Special note: We would love to hear from truckers and employees or owners of trucking companies, and from railroad employees, to get some first-hand observations on what is going on. We suspect that business is uneven, that some pockets are doing well while others are hurting. Please use the comment section below to share your observations. Thanks!




Enjoy reading WOLF STREET and want to support it? You can donate. I appreciate it immensely. Click on the beer and iced-tea mug to find out how:

Would you like to be notified via email when WOLF STREET publishes a new article? Sign up here.