But the numbers are hushed up.
The meme that 14 million jobs have been created since the Great Recession is constantly held up as proof that the labor market has healed, or has practically healed, even if there are a few soft spots left over – such as the pandemic lousiness of the jobs that have been created.
In official circles, the sound of folks patting themselves on the back is deafening. But for many working-age Americans, who have to compete with each other in the labor market, reality is tough.
Turns out, the US population, currently at 323.2 million, has grown by 16.5 million people since the Great Recession. Which is exactly why the unemployment problem has become so intractable: job growth has been less than population growth!
While slow economic growth might look OK-ish on paper overall, in a country with significant population growth, it's toxic on a per-capita level – and that per-capita level isn't theoretical. It's what people actually experience.
That scenario just played out with the Advance Estimate for first-quarter GDP, released on Thursday. Economic growth compared to the prior quarter was a miserably small 0.5% annualized, which means if the rest of the year is like this, total economic growth for the year will be 0.5%.
These numbers are adjusted for a version of inflation. One tiny understatement of inflation, purposefully or by statistical accident, would drive this "real" economic growth into the negative, meaning economic shrinkage. That's bad enough.
But on a per-capita basis it's even worse.
The Bureau of Economic Analysis, which produces the GDP reports, hushes up per-capita GDP because it would look too awful and therefore is not a metric the public should know about. But Doug Short at Advisor Perspectives tracks per-capita GDP. He uses the population data made available by the St. Louis Fed, which gets its population data from, well, um, the Bureau of Economic Analysis.
You guessed it: the BLS could publish per-capita GDP without breaking a sweat as part of its release. It already has all the data. But no.
And here is why it needs to be hushed up: Per-capita economic growth in the first quarter compared to the prior quarter was negative 0.3%!
In other words, the economic pie grew at a barely noticeable annualized rate of 0.5%, but this slightly larger pie has to be cut into even more slices, and each slice shrank by 0.3%.




Since the Great Recession ended officially, there have been six quarters when per-capita GDP was negative. The 10-year moving average of per-capita GDP is now down to 0.46%, the lowest in the data series going back to 1969.
Compared to the first quarter 2015, per-capita GDP in the first quarter 2016 was 1.13% higher. This year-over-year change was so small that it is associated with recessions.
This chart by Doug Short at Advisor Perspectives shows year-over-year changes in quarterly per-capita GDP going back to 1960. The red dots mark the level of year-over-year per-capita GDP at the beginning of official recessions (shaded areas). At the beginning of the Great Recession (Q4 2007), it was 0.9%, having fallen from 1.4% in the prior quarter. The average at the beginning of the past eight recessions is 1.32%. And now it's at 1.13%: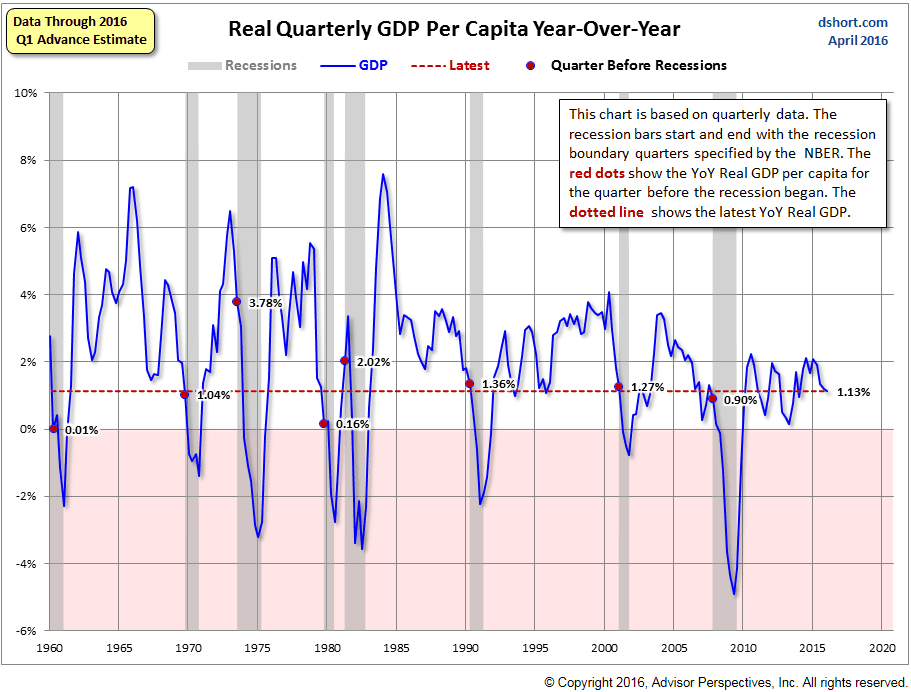 So what people saw in the first quarter, with the overall economy nearly stagnating, is that their slice of the pie got smaller by 0.3% compared to the fourth quarter. That's on an average basis.
In reality, a relatively small number of people saw their slice of the pie get a lot larger, while many others experienced a noticeable shrinkage. For example, if your rent went up by 10%, as it has in some markets, your slice of the pie was slashed by your personal inflation measure, which often far exceeds the stingy inflation adjustments applied to GDP.
This would explain why consumer optimism about the economy has been waning, and why the optimism of small-business owners is giving off recession vibes. Read…  Consumers, Small-Business Owners Souring on This Economy




Enjoy reading WOLF STREET and want to support it? You can donate. I appreciate it immensely. Click on the beer and iced-tea mug to find out how:

Would you like to be notified via email when WOLF STREET publishes a new article? Sign up here.