Worst March, worst first quarter since 2010.
The goods-based economy in the US, largely dependent on the previously irrepressible but now strung-out American consumer, isn't doing so well. To what extent things have deteriorated shows up in the freight data.
Freight shipments in March fell 1.5% in terms of volume from the already terribly low levels of March 2015, according to the Cass Freight Index. It has been an awful year so far. The index hit the lowest level for any March since 2010. This followed the worst February since 2011 and the worst January since 2010. This is not a blip.
On an average basis, volume in the first quarter fell 3.0% from the same period in 2015: the worst first quarter since 2010!
The Cass Freight Index tracks freight transactions by "hundreds of large shippers," regardless of mode of transportation, including by truck and rail. It does not cover bulk commodities, such as oil and coal; so the mayhem taking place in those spaces is not reflected in the index. Instead, the index is focused on consumer packaged goods, food, automotive, chemical, OEM, heavy equipment, and retail.
The index is not seasonally adjusted. Hence the strong seasonal patterns in the chart. Note how out-of-whack 2016 (red line) has been so far: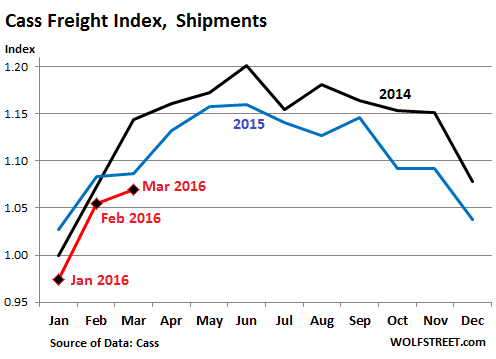 To view the same issue from a dollar perspective: The Cass index for freight expenditures, which tracks the money spent on shipping products, plunged 7% in March from a year ago, on a combination of lower volumes and lower shipping rates. The worst March since 2011! On an average basis, it was the worst first quarter since 2011.
March is normally higher than February. That's how it was every year going back to March 2009, when freight was still trying to find a bottom. But this year, it's different. March was down 1.4% from February. After a really crummy 2015, this year is starting out much worse: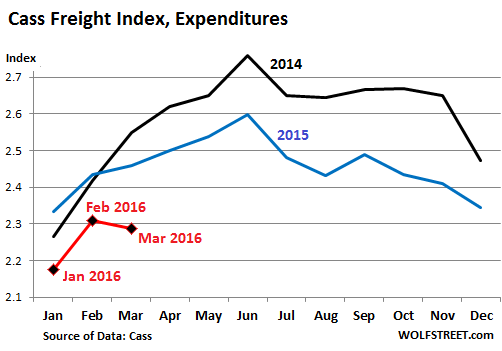 The report blamed part of the debacle on "high inventories," which are "still a concern." In fact, it's the worst inventory glut since the peak of the Financial Crisis.
Total business sales in February, according to the Commerce Department last week, fell 1.4% on a seasonally adjusted basis from a year ago to $1.284 trillion, back where they'd first been in November 2012. But inventories rose 1.2% from the bloated levels a year ago, to $1.812 trillion. And the crucial inventory-to-sales ratio, which tracks how long inventory sits around in relationship to sales, has reached the level it spiked to in November 2008, just after the Lehman bankruptcy: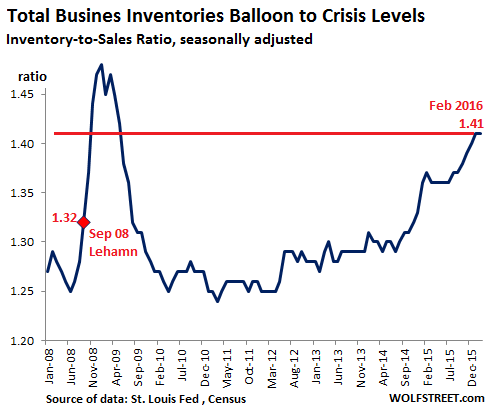 And these are the consequences of high inventory levels:
Inventories represent prior sales by suppliers. When companies try to reduce their inventories, they cut their orders. Suppliers see these orders as sales. As their sales slump, suppliers adjust by cutting their own orders, thus causing the sales slump to propagate up the supply chain [read… Why This Economy Is Now Running Aground].
Hence the quagmire the shipping industry is sinking into.
Within the industry, there's a heated battle for market share between rail and trucking. Railroads, which are getting hammered by the collapse in oil and coal shipments, have been aggressively eating up market share. So far this year, the American Association of Railroads has been reporting strong growth in intermodal (container), the direct competitor to trucking.
At the same time, DAT has been reporting the other side of the story. The transportation data provider tracks national spot market demand for trucks and available capacity via its load-to-truck ratio – "a sensitive real-time indicator" of the balance between the two. And in the spot market, trucking has turned from bad to awful.
In March 2016 (red line), the load-to-truck ratio for van-type trailers plunged 53% from March 2015, and a dizzying 70% from March 2014: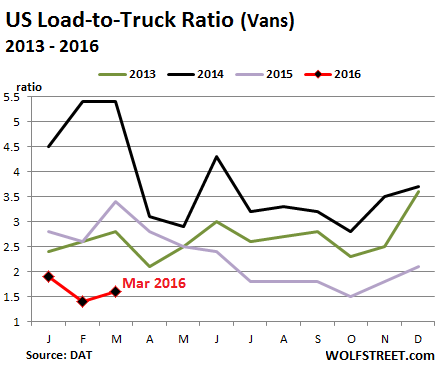 The report by Cass, in its pro-and-con section on the economy, added a few more wrinkles: The manufacturing sector slashed 29,000 jobs in March; consumer spending has been "sluggish"; investment by businesses has been "weak"; and "global economic conditions are still weak and fragile in some economies, adding a level of uncertainty to the US economy."
But then there's hope, according to Cass: "Anecdotally, however, many players in the supply chain remain cautiously optimistic for the rest of the year."
Which, ironically – this optimism despite reality for the past year and a half – is precisely why the inventory glut has reached such crisis proportion: a refusal to stare reality in the face, acknowledge what it is, and deal with it.
And now even financial engineering, the powerful force that has propped up stocks, is backfiring. Read…  This Also Happened the Last 2 Times before Stocks Crashed
Enjoy reading WOLF STREET and want to support it? Using ad blockers – I totally get why – but want to support the site? You can donate. I appreciate it immensely. Click on the beer and iced-tea mug to find out how:

Would you like to be notified via email when WOLF STREET publishes a new article? Sign up here.

Classic Metal Roofing Systems, our sponsor, manufactures beautiful metal shingles:
A variety of resin-based finishes
Deep grooves for a high-end natural look
Maintenance free – will not rust, crack, or rot
Resists streaking and staining
Click here or call 1-800-543-8938 for details from the Classic Metal Roofing folks.