Atlanta Fed's GDPNow Forecast Chills any leftover Q1 Optimism
In a very unpleasant and totally unnecessary move, the Census Bureau reported this morning that February sales by wholesalers, adjusted for seasonal variations and trading day differences, but not price changes, dropped 3.1% year over year to $427.6 billion.
This sales decline is largely in line with the overall sales decline among US businesses since late 2014. And businesses are finally taking the sales slump seriously and have begun whittling down their inventories. This has hit the Atlanta Fed's GDPNow forecasts for the first quarter.
Inventories have formed a massive overhang that has been growing as sales have declined. For quarters on end, businesses have not adequately adjusted their orders to reflect the new sales reality. Thus inventories – unsold merchandise – have ballooned, sending the crucial inventory-to-sales ratio soaring skyward to levels not seen since near the peak of the Financial Crisis.
But now businesses are attacking the problem.
Inventories at the wholesale levels dropped to $583.3 billion at the end of February, down 0.5% from January (though they're still up 0.6% from their levels a year ago). The crucial inventory-to-sales ratio, which measures how slowly inventory is moving, reached 1.36 seasonally adjusted, the same as in April 2009 and higher than in November 2008, after Lehman's bankruptcy.
On a not-seasonally adjusted basis, the inventory-to-sales ratio hit 1.51, up from 1.47 in February 2015. In February 2009, at the peak of the Financial Crisis, the ratio maxed out at 1.53. At that point, the ordering pipeline dried up as businesses slashed their purchases. This will play out over the coming months again, but gradually.
Rising inventories boost GDP. They represent additional sales by suppliers. "Inventory investment," it's called. Thus, rising inventories are often considered "a sign of optimism" — until they reach the danger zone, when they become overhang. At that point, businesses cut their orders to bring their inventories down, and this eats into sales by their suppliers, and it drags down GDP. It can also trigger layoffs and a whole chain reaction of unpleasant events.
The data-dependent Atlanta Fed GDPNow model reacted to it:
After this morning's wholesale trade report from the U.S. Bureau of the Census, the forecast for the contribution of inventory investment to first-quarter real GDP growth fell from –0.4 percentage points to –0.7 percentage points.
And its forecast for first quarter GDP dropped to 0.1% annualized — in serious stagnation mode, and a hair from falling into the negative: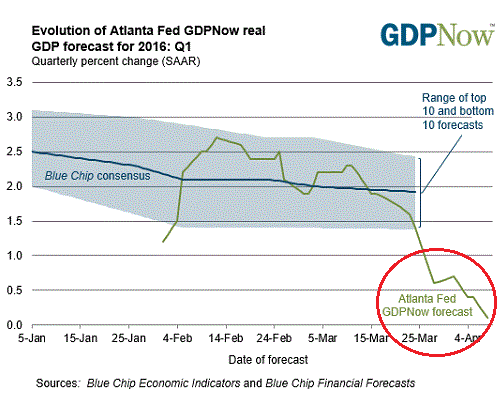 The sharp decline from four weeks ago — when the GDPNow forecast was still at around 2.2% growth annualized — is remarkable. This is a result of crummy January and February data flowing into the model.
The GDPNow model still doesn't include the pile of data for March, so if March turns out to have been a booming month, the GDPNow forecast will turn around sharply, and so we're left hoping for the best.
Economists are already out there, preventively pointing out that a crummy GDP number in the first quarter is nothing to worry about. It's the weather, they say. It's just one quarter, and the first quarter is often crummy, they say. It's followed by better quarters, which has been the case. We're already hearing that song, though we didn't hear that song a month ago.
But there have been too many distortions built up over time, including the inventory overhang. And they make us leery of any over-exuberant optimism for those better quarters to follow.
Private equity firms are already poking around the debris of the junk bond market. "Opportunities in distressed assets" – that's what they're looking for, even as they crush existing investors. Read…  KKR's Chilling Message about the "End of the Credit Cycle"




Enjoy reading WOLF STREET and want to support it? You can donate. I appreciate it immensely. Click on the beer and iced-tea mug to find out how:

Would you like to be notified via email when WOLF STREET publishes a new article? Sign up here.