Atlanta Fed's GDPNow kisses the Rosy Scenario goodbye.
After a crummy 4th quarter, everyone was looking for a turnaround. Annualized economic growth in Q4 of 1.4% was way below the "stall speed" of 2%, a growth rate below which the US economy has trouble staying airborne. After having wrongly hyped it for five years in a row, Wall Street economists aren't even talking anymore about "escape velocity," that elusive economic boom that would set in miraculously in the spring.
Nevertheless, forecasts for the first quarter by blue chip economists in early January ran between 2% and over 3%, with the "consensus at 2.5%. Even the Atlanta Fed's GDPNow forecast — a strictly data-driven model of the first estimate of GDP, however off it might be — figured by mid-February that growth in Q1 would come in at above 2.5%.
But since then, more data on January and February has been reported. Mid-March, the GDPNow forecast started to deteriorate. By March 24, it had dropped to 1.4% GDP growth — once again below "stall speed." And with today's data on consumer spending and the contribution of exports to GDP, it plunged by more than half to 0.6%!
This plunge in the forecast from 2.3% to 0.6% in a little over two weeks — which I indicated on the chart below in red — can give someone the willies! It's where GDP growth begins to flirt with a recession: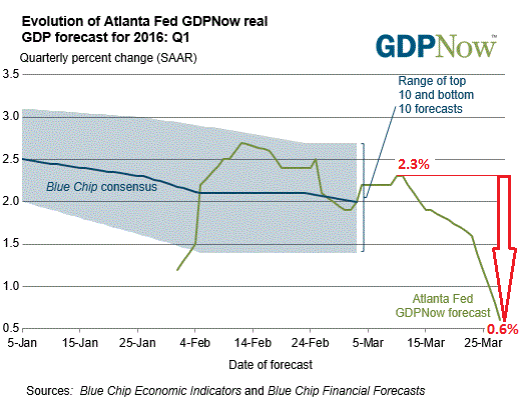 Culprit one was a shot of reality from the rest of the world: the advance report on US international trade in goods (excluding services) from the Census Bureau. The full trade data for February will be released next month. In February, the US trade deficit in goods rose 1.1% to a seasonally adjusted $62.9 billion, the fourth month in a row of increases.
"The forecast for the contribution of net exports to first-quarter real GDP growth declined from –0.26 percentage points to –0.52 percentage points," the Atlanta Fed's GDPNow comment explained.
Culprit two was the struggling American consumer. Consumer spending, at over two-thirds of the economy, is the biggie. It includes things like healthcare, which itself makes up nearly 20% of the economy. Turns out, consumers unexpectedly cut back on purchases of goods, and total personal outlays edged up a measly 0.1% in February from January, according to the Bureau of Economic Analysis. And January was revised down from a respectable 0.5% growth to a measly 0.1% growth.
Today's report was a big disappointment for our blue chip economists. It induced the GDPNow model to slash its forecast for Q1 real consumer spending growth from 2.5% on March 24 to 1.8% now.
There was another wrinkle in today's report on personal income and outlays: While government wages and salaries rose $3.5 billion, after rising $4.6 billion in January, private wages and salaries fell $12.9 billion in February, after rising $41.9 billion in January. In total, wages and salaries for the month fell by $9.4 billion. That's not helpful for consumers.
GDPNow is essentially a computer model. The purpose isn't to forecast actual GDP but the government's "first estimate" of GDP. Forecasting GDP accurately would be a stroke of luck. But the model has the advantage that it isn't a function of human interpretation of incoming data. It's the model that decides, not economists paid by Wall Street to hype stocks and bonds or other financial instruments to unsuspecting bystanders while extracting fees coming and going.
GDPNow forecasts can be volatile early on in the period since they react to incoming data. But as it approaches the end of the quarter, it gets more accurate. For now, only January and February data are included, and it's not looking exactly promising. March data would have to be miraculously strong to pull this one out — but miracles, we've learned, have become exceedingly rare in the US economy.
In this debt-fueled economy, the "hangover from years of lenient credit may become painful," according to ratings agency Standard & Poor's. Read…  "Spike in Defaults": Standard & Poor's Gets Gloomy, Blames Fed




Enjoy reading WOLF STREET and want to support it? You can donate. I appreciate it immensely. Click on the beer and iced-tea mug to find out how:

Would you like to be notified via email when WOLF STREET publishes a new article? Sign up here.