"Zombie producers" are getting new money.
By Christine Hughes, Chief Investment Strategist, OtterWood Capital:
Since energy has played a pivotal role in market gyrations the past year, I think it's important to look at crude oil now with it up 47% in the last 20 trading days. See the 18 day rate of change in the chart below to understand how extreme a move it's been.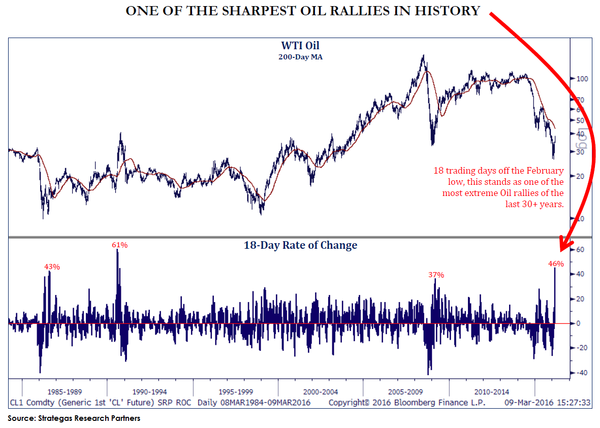 Last year at this time, oil rallied 48% in about 30 trading days only to roll back over and eventually take out the prior lows. Before that rally, the commodity had fallen 60%, so we should have seen at least some supply cuts by producers. Instead, during that 48% snap-back rally, energy exploration and production companies suddenly became flush with cash, raising $70.8 billion in a short amount of time.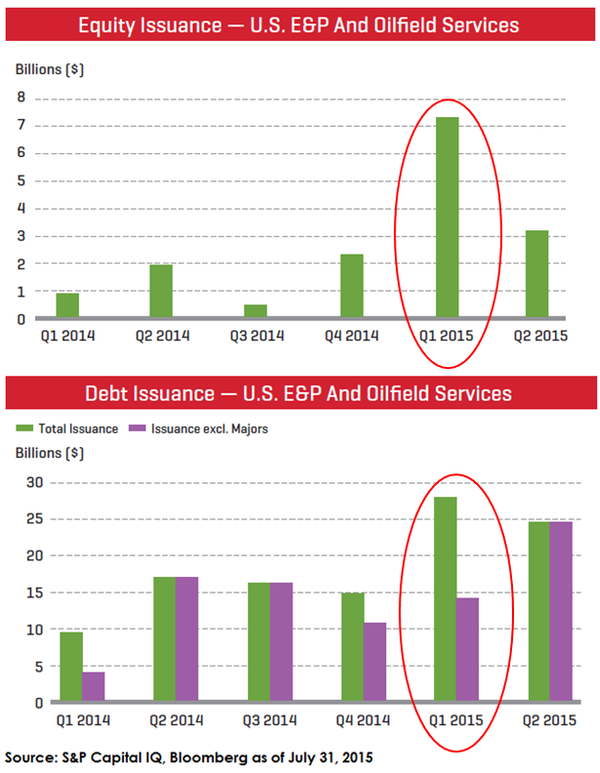 Investors are so starved for income that they pounce on any and all rallies in junk bonds. As a result, shale producers amazingly stayed alive, keeping supply very high which eventually caused another meltdown in the crude price.
Fast forward to today and we've got another quick 47% rally on our hands and I'm hearing things like this from credit guys: "I had line items that no one wanted for weeks … no matter how much I backed up the price, not a buyer to be found … today … my book got CLEARED out" – the junk market is back open for business.
With negative rates in Europe and Japan, a high yielding shale bond looks very attractive relative to LOSING 1% over two years by buying a German bund. Bank of America estimates up to 1/3rd of these recent flows into high yield are coming from Europe.
However, what people are missing is this new found financing keeps the zombie producers alive, flush with cash once again and they're incentivized to do whatever it takes to stay alive. That may be good for each of them in the short-term but it isn't good for crude. We're almost at $40/barrel WTI now. Thanks to improvements in technology (paid for by last year's cash ramp??), shale producers' average cost of production is said to be $40/barrel, down from $60/barrel last year. If true, this means the production cuts we have seen so far this year are about to reverse. See here for further details/proof of this happening. Good luck with the OPEC production freeze once the shale guys turn the taps back on.
Production numbers have recently ticked down, I'll give the bulls that. But production is still very, very high from an historical standpoint:
In addition, crude oil inventories continue to climb through the stratosphere. As pointed out by Jeff Gundlach this week, crude doesn't find a bottom until inventories have been coming down for a couple of quarters.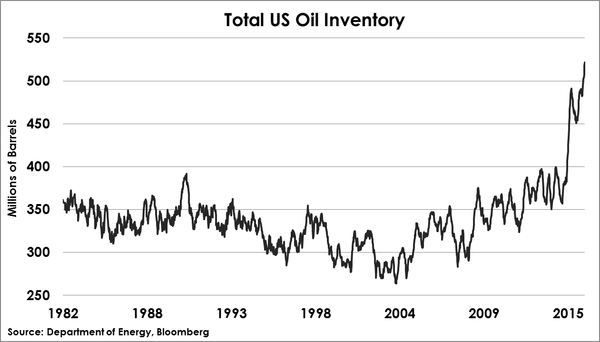 Furthermore, many point to the ongoing weekly reduction in crude oil rig counts as proof that this time the rally is real. I would point you to the direction of natural gas rig count which has been setting a 70 year low every week for over a year. I have overlaid the price of natural gas on this chart. Lower rig counts did not produce higher prices. Confounding investors, natural gas producers have stayed alive and have continued to pump even in the face of massive price declines.
I think it is thanks to ZIRP, and now NIRP, which compels investors to reach further and further for yield even when the business idea (keeping oil and gas producers alive) is unsound longer-term. If you want a playbook for the price of crude oil, I urge you to take a look at the natural gas experience. For those loading up on energy here, buyers beware!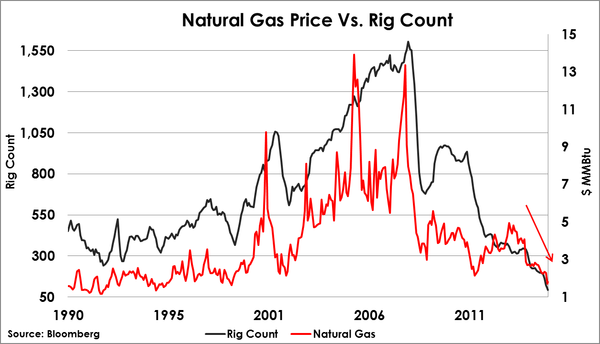 The general markets got a boost from Mario Draghi this week, albeit a tad delayed. He went further into negative rates despite warnings from European banks. He also increased the QE program from €60B/month to €80B/month. While everyone got excited over the latest round of Draghi QE, they forget what the first round did for risk assets (Euro Stoxx index):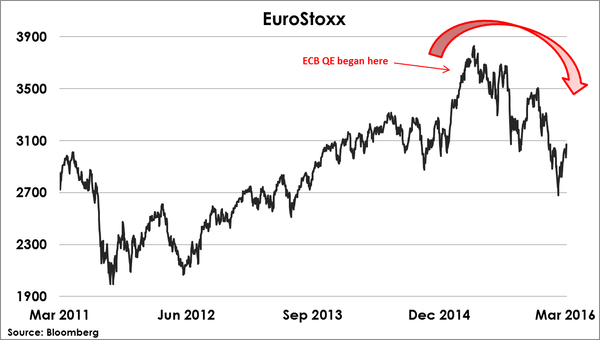 North American equity markets are even more overbought than last week courtesy of Mario Draghi and I remain a skeptic on the markets. The US Fed meets next week and markets aren't expecting much but we'll hang off Janet Yellen's every word as per usual. Stay tuned. By Christine Hughes, OtterWood Capital
Investors keep hoping the Saudis don't know what they are doing. Read…  The $9.2 Billion Bet Against OPEC Dominance
Enjoy reading WOLF STREET and want to support it? You can donate. I appreciate it immensely. Click on the beer and iced-tea mug to find out how:

Would you like to be notified via email when WOLF STREET publishes a new article? Sign up here.