Debris from the collapse hits investors left and right.
Some startups succeed beyond anyone's wildest dreams. This is the lure used to get investors from around the world to pour money into VC funds and mutual funds that invest in these miracles at ever higher "valuations" before they become miracles, before they have profits, or even revenues. The idea is to get in on the ground floor of a miracle. No price is too high. But now the miracles are deflating, reality is resurfacing, and a brutal drawn-out process has set in.
Yahoo investors are now coming to grips with this, because it's their money that went down the drain when it bought Tumblr for $1.1 billion in 2013. At the time it recognized $750 million of that investment as "goodwill," an intangible asset on which Yahoo blew tangible money. In January, it disclosed that it wrote down that investment by $230 million. And on Monday, it disclosed in its annual 10-K filing that it might write off "some portion or all" of the remaining goodwill.
But Tumblr is still out there, people are still using it, and revenues are creeping up. It's just that after all these boom years when everything soared, the rout back to reality has set in, and its valuation is now being viewed with a more realistic eye, even at Yahoo.
Numerous startups have recently raised desperately needed new money at much lower valuations, including fitness-tracker maker Jawbone, whose valuation plunged 55% in that "down round," and Foursquare, whose valuation was cut by 62%.
These are one-time occasions that happen only when the company raises new money. But when mutual funds take an ax to the startups in their portfolios and chop them down to size it can be a brutal monthly ritual.
Mutual funds are late-stage investors. They're not venture capital that takes huge risks with tiny entities chasing big dreams. Mutual funds want to get into the game after most of the risks of utter failure have been overcome. They want relatively sure bets. They expect to profit from the last boost in valuations associated with an IPO or sale. And they are willing – or rather, they were willing – to pay big bucks, thus pushing valuations even further into the stratosphere.
But that money machine has collapsed.
One of Morgan Stanley's mutual funds, the Institutional Fund Trust Mid Cap Growth Portfolio, wrote down its stake in intelligence-community and law-enforcement darling Palantir Technologies by 32% to reflect the declines in January. That's quite a plunge during a month when the Nasdaq dropped "only" 9.9%.
Since of October, Palantir had a "valuation" of $20 billion, according to WSJ's Billion Dollar Startup Club. But that Morgan Stanley's chop-down won't impact the illusory "valuation" on that unicorn list, which only changes during a round of funding.




Palantir has raised $1.9 billion over the years. Morgan Stanley made its investment in 2012 and 2013. Since then, Palantir raised funds from PE firms, but unlike mutual funds, they don't need to let their investors know about the bloodletting among their illiquid investments.
While it was at it, Morgan Stanley also axed 25% from the valuation of its stake in Dropbox, which had obtained a $10-billion valuation during the last round of funding in January 2014. And it slashed by 27% its valuation of Flipkart, an Indian e-commerce company, valued at $15 billion in April 2015.
Which shows to what extent the "valuations" listed in WSJ's Billion Dollar Startup Club have become a joke.
And now mutual fund giant Fidelity took an ax to the startups in three mutual funds – Fidelity Blue Chip Growth Fund, Fidelity Contrafund, and Fidelity Growth Company Fund – according to Fortune which analyzed the 39 startups in these three funds. The write-downs are for valuations as of January 31 compared to December 31: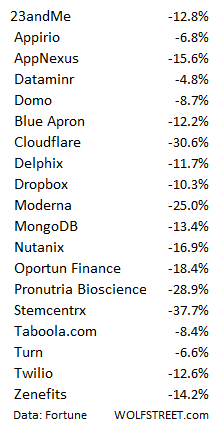 That is not to say that Fidelity has lost a ton of money on every one of its startup investments. Not yet, at least. Fortune:
Some of these marked-down shares remain well above cost basis. In some cases, such as with Dropbox, Fidelity is in the money on some of its securities (Series A stock) and losing money on some (Series C stock).
Of the remaining 20 startups that are not on the write-down list, 19 had "stable valuations," including Airbnb, The Honest Company, Jet, Pinterest, SpaceX, Snapchat, Uber, and WeWork. And one was a winner this time around, Blue Bottle Coffee, whose valuation increased by 13.3%. But according to Fortune, "it's a bit of a dubious distinction since the new carrying value remains more than 53% lower than what Fidelity paid for its shares last May."
Startup booms, despite heated protestations to the contrary during the boom, are inevitably followed by busts. The bigger the boom, the bigger the bust. The cycle impacts in dramatic ways the local economies focused on these booms, such as Silicon Valley and San Francisco.
During the boom, money washes ashore from all over the world tsunami-like and for years sloshes through the streets knee-deep, bringing in new people with huge compensation packages who spend their money. New restaurants pop up to cater to this moneyed crowd, and home prices and rents soar, and a million other things happen, including majestic construction booms which on their own push up economic activity.
But now that the boom has turned into a bust, the money is receding. And things are unwinding. Read…  This Will Crush the Insane San Francisco & Silicon Valley Housing Bubble




Enjoy reading WOLF STREET and want to support it? You can donate. I appreciate it immensely. Click on the beer and iced-tea mug to find out how:

Would you like to be notified via email when WOLF STREET publishes a new article? Sign up here.