Worst Plunge in Retail Sales since 2008. Inflation Whacks Consumers
Retail sales in Canada fell 2.2% in December from November on a seasonally adjusted basis, but not adjusted for inflation, to C$43.2 billion. "Declines were widespread as lower sales were reported in 10 of 11 subsectors, representing 97% of retail trade," Statistics Canada said.
It blamed the weather. I mean, really. "Later snowfalls and unseasonably warm weather in many parts of Canada may have contributed to lower seasonal purchases." It said this right after saying that the decline was widespread, and therefore beyond winter jackets, thermal underwear, and fuzzy earmuffs.
Motor vehicle sales dropped 3.9%, with sales at new car dealers falling 4.1%. In dollar terms, given the magnitude of motor vehicle sales, it was the largest decrease among all subsectors. But wait… "Unseasonably warm weather" in the winter is great for car sales, so they should have jumped!
On the other hand, the sub-category of "other motor vehicles dealers" includes snowmobiles, and there sales plunged 6.7%, down for the third month in a row. In this subsector of motor vehicle sales, the weather likely did played a role. But then, sales also fell 2.5% at used car dealers though warmer weather should have really helped them.
Which leaves us stumped about the weather excuse.
Then the really bad news, StatCan put it: "Store types typically associated with holiday shopping registered weaker sales in December," with sales at general merchandise stores down 2.2%, falling for the second consecutive month in a row; clothing and accessory stores down 3.6%; electronics and appliance stores down 3.0%, the fourth month of falling sales in six; sales at sporting goods, hobby, book and music stores down 2.3%.
And it was spread across the country. Retail sales dropped in nine of the 10 provinces and in all 3 territories. Only exception: tiny Prince Edward Island, where retails sales were flat.
At first glance, on a year over year basis, retail sales didn't look so bad, rising 2.6% from December 2014, propped up by British Columbia and Ontario where retail sales rose 7.1% and 5.1% respectively, but they plunged 5.5% in the epicenter of the oil bust and the third largest province, Alberta.
But then there's inflation. Just when you thought that "deflation" was the biggest risk to the universe, per the prophetic pronouncements and incessant fear-mongering by our central bankers and their economists, it's inflation that comes along and bites.
Statistics Canada reported today that the Consumer Price Index jumped a hotter than expected 2.0% in January from a year ago, even though energy prices still plunged. Food prices jumped 4% over the 12-month period; booze and beverages 3.1%. The cost of buying or leasing a passenger vehicle 3.9%. These are multi-year high inflation rates.
The Canadian dollar, which the Bank of Canada has been trying to crush with all its might, has made imports more expensive. And Canada imports a significant part of its foods from the US. It imports passenger vehicles from around the world. It imports a million other things that consumers buy and pay for with their crushed loonies.
And so, inflation is now at the highest rate since 2011 (chart by National Bank Financial's Economics and Strategy):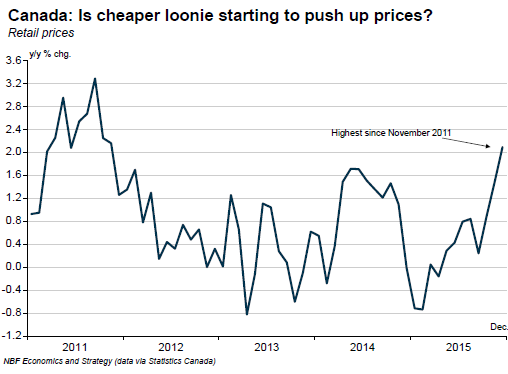 With inflation acting like this, consumers' purchasing power takes a hit. And this has an impact on retail sales. Adjusted for inflation, retail sales were up a minuscule rounding error of 0.13% year-over-year. This chart by Statistics Canada shows retail sales in current dollars (blue line) and in "2007 chained dollars" (red line). I added the black horizontal line from December 2015 back to December 2014. And note the plunge in retail sales for the month of December – the worst since 2008: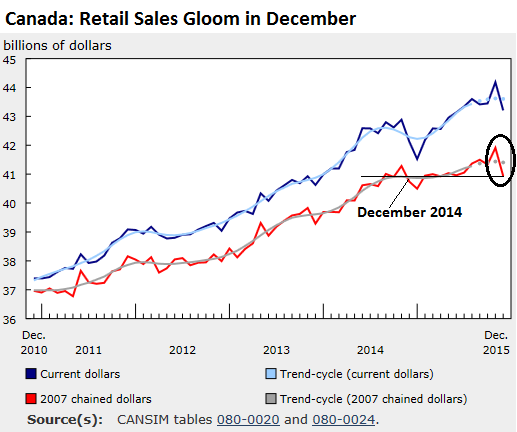 The report by Economics and Strategy put it this way: "It was not a Merry Christmas for Canadian retailers. December's volume slump was the worst in seven years."
But just because retail demand is crummy doesn't mean that retail prices can't power higher. Stagflation comes to mind. Now happening before our very eyes. And forget deflation, however much central bankers bandy the term about like a cudgel to justify their monetary policies.
No wonder that Investor Sentiment hits the worst level since March 2009. Read…  Things Are Coming Unglued for Canadian Investors
Enjoy reading WOLF STREET and want to support it? You can donate. I appreciate it immensely. Click on the beer and iced-tea mug to find out how:

Would you like to be notified via email when WOLF STREET publishes a new article? Sign up here.