Watch the banks.
For once, aggrieved investors can't blame China. Markets in China are closed for the New Year's holidays.
After a very ugly week, we expected stock markets to rise this week on the simple principle that nothing goes to heck in a straight line. But we've been wrong on this before, and that line could be straighter than we'd expect. So, the US and Europe are starting out the week with a rout.
Last week in the US was particularly ugly for momentum stocks, and for companies that had announced lousy earnings or given squishy forecasts, and even for startups with recent IPOs that were once highfliers and have now crashed. Not even the promise of share buybacks works anymore. Financial engineering has lost its effectiveness. Central-Bank imposed negative interest rates aren't propping up stocks anymore. None of these tricks works anymore. That's what markets are learning.
And today, the theme carries over. At the time I'm writing this, the Dow and S&P 500 are down about 2.4%. The Nasdaq is down 2.8%, scooting closer to a bear market: down 19% or nearly 1,000 points from its high last June.
In Europe, last week was tough: The London FTSE -3.9%, the German DAX -5.2%, the French CAC 40 -4.9%, the Spanish IBEX 35 -3.6%, the Italian MIB a juicy -7.5%. A lot of people define a bear market as a 20% decline from a (more or less recent) high. As of Friday, all of these markets, except the FTSE, were already in a "bear market."
And on Monday, the FTSE also fell into a bear market, down 2.7% for the day. The DAX fell 3.3%, which brings its six-day loss to 8%. The CAC 40 fell 3.2%, the Milan MIB 4.4%, bringing its six-day loss to about 12%. Ugly, ugly, ugly.
Europe's big banks are seriously listing. Italian banks, weighed down by immense amounts of non-performing loans, are undergoing a bailout of sorts at the moment. Shares of Deutsche Bank and Credit Suisse are getting crushed. Their CEOs have gotten keelhauled last year. New CEOs are at the helm now. Some of their bonds have gotten trampled. Credit default swaps are blowing out.
The Stoxx Europe 600 banking index, after declining six weeks in a row, the longest weekly loosing spree since 2008 when the sky was falling on the banks (and when it declined 10 weeks in a row), fell another 5.6% on Monday. It has plunged 39% since its peak at the end of July.
And yet, Draghi is doing his magic with all his might, wagging his tongue tirelessly, printing money with both hands, pushing the ECB's deposit rate into the negative with his boots, in the process also pushing yields of trillions of euros of government bonds into the negative, thus creating a magnificent financial absurdity, the consequences of which we'll find out sooner or later. Perhaps banks are the first place to look.
And this is not good.
In Asia, the totally trampled-down Shanghai Composite finally eked out a gain of 0.9% last week, which allowed everyone to breathe a little, and was mercifully closed on Monday. But at 2,763, it's below the line the Chinese government drew into the sand last summer, below which it would not let the index drop, no matter what. The composite is now down nearly 47% from its high in June 2015.
And capital flight continues as wealthy Chinese are trying to get their assets on dry land. The People's Bank of China revealed on Sunday that foreign-exchange reserves, after a record plunge of $107.9 billion in December, dropped another $99.5 billion in January to $3.23 trillion, the lowest level in over three years. The PBOC sells these reserves to buy yuan that wealthy Chinese have been selling in order to buy assets denominated in other currencies and situated in other countries…. The PBOC is trying to prevent a tailspin of the yuan.
The other major indices in Asia were "mixed" on Monday, after falling last week, when the Nikkei booked a 4.0% loss, despite the negative interest rate absurdity that the Bank of Japan instigated the Friday before. The rally that died after two days made one thing clear: central banks have lost control over stock markets. But on Monday, it finally managed a gain of 1%.
So here is the global bear market tracker. The Dow, though down 13.6%, is the second-best performer. A week ago, it was still the best performer. The Nasdaq, with its 5.4% loss last week and 2.8% so far today, has slipped further down the ladder and is approaching the bear market line, joining three other indexes in that neighborhood. Of the 18 non-US markets on the list, only five are not in a bear market (US markets as of this morning, European markets as of afternoon trading):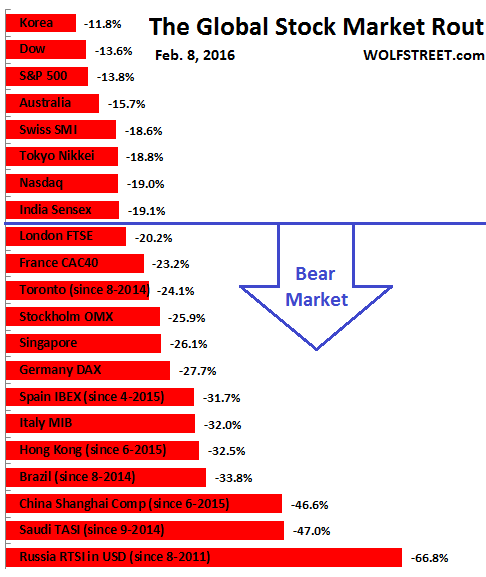 Clearly, folks are trying to bail out of equities. And they're trying to bail out of junk bonds: CCC-rated junk bonds have plunged and yields have soared to over 20%, just as they'd done during the panic after Lehman.
And folks are piling into government bonds. US Treasuries with longer maturities have been rising and yields have been falling, somewhat ironically, ever since the Fed raised rates in December. The 10-year Treasury yield is now at 1.75%, the lowest since almost exactly a year ago. These babes are hot!
Eurozone government bonds are even hotter, with the German 10-year yield at 0.22% today. Even fiscally challenged Italy gets to borrow 10-year money at 1.70%. But wait… these bonds have plunged today and yields have jumped 14 basis point from 1.56% on Friday. And Spain's debt too has plunged today, with the 10-year yield jumping 11 basis points to 1.76%. It seems, investors are getting a little spooked about those two countries.
Alas, the 10-year yield of Japanese Government Bonds is teetering near zero, while any maturity below 10 years wallows in the Bank of Japan's negative-yield absurdity.
So we still expect stock markets to rise this week, being firm believers in the principle that nothing goes to heck in a straight line. But as we said, that line could be straighter than we'd expect.
And for US stocks, there has been a sea change, and this time, it's not about oil & gas. Read…  What the Heck is Going On in the Stock Market?




Enjoy reading WOLF STREET and want to support it? You can donate. I appreciate it immensely. Click on the beer and iced-tea mug to find out how:

Would you like to be notified via email when WOLF STREET publishes a new article? Sign up here.