But there's still no panic.
Late yesterday was a propitious moment. And today, when the index was updated, it became official: The average yield of junk bonds rated CCC or below, the bottom tier of the rating scale, hit 20%.
Yields soar when bonds get crushed. The last time the average yield of those bonds jumped to 20%, on September 30, 2008, all heck had already broken loose. Lehman Brothers had gone bankrupt 15 days earlier. Liquidity had dried up. Banks were lining up to be toppled. Panic was breaking out.
Today, there's no panic.
Back during the remaining QE-glory days of early summer of 2014, during four days at the end of June, the average yield of these bonds dropped below 8%. That was the precise peak of the most incredible junk bond bubble the world has ever seen. The Fed's "wealth-effect" strategy gets much of the credit.
The BofA Merrill Lynch US High Yield CCC or Below Index shows just how much the average yield has soared since June 2014:
At the time, oil was still selling for over $100 a barrel, though the price of natural gas had been demolished years ago. Even over-indebted, junk-rated, cash-flow negative oil & gas drillers were able to borrow, no questions asked, at super low interest rates. Investors gobbled up fancy charts and diagrams of a perfect and ultimately illusory future. It never occurred to them that there were major risks, such as that the price destruction that had already hit US natural gas as a result of the fracking boom might also hit oil. The risk was there for all to see, along with numerous other risks that come with over-indebted, junk-rated, cash-flow negative companies.
It wasn't just in oil and gas. Other companies did the same. There was a reason why these bonds were rated CCC or below, the riskiest category on the scale, before D for default. These bonds have a significant risk of default, and if there's a default, recovery can be low or nil. They weren't high-grade corporate bonds. But investors didn't feel like looking at it. They played along, closing their eyes, hoping for the best, and going for the 8% yield. These folks willingly did what the Fed had wanted them to do.
"Consensual Hallucination" we've come to call it – consensual because everyone eagerly smoked the same stuff. But this hallucination is waning. Investors are coming to. And now they're vomiting up these bonds.
The last time CCC or below junk bonds had an average yield of 20% was June 29, 2009, as the Fed was dousing the market with QE, corporate bailout programs, and emergency loan facilities. Now the Fed has raised rates one notch and is flip-flopping about raising rates further.
And the day the average CCC yield hit 20% on the way up during the Financial Crisis was September 30, 2008. Lehman Brothers had filed for bankruptcy 15 days earlier. It was the largest bankruptcy in US history. Panic was cascading through Wall Street. Credit markets dried up. CEOs were begging for bailouts and emergency loans. Those times captured by the BofA Merrill Lynch US High Yield CCC or Below Index going back to 2008: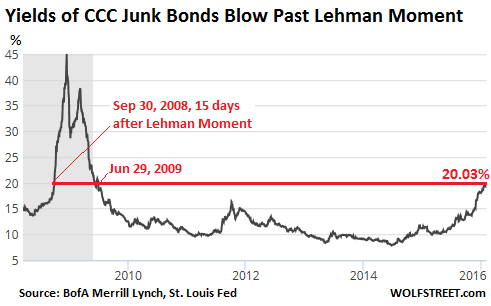 But these days, there is no panic. There's "no largest bankruptcy in US history." Bankruptcies, now a daily drumbeat, are of digestible size. The S&P 500, the Dow, and the Nasdaq are down but haven't crashed, though many individual stocks have gotten crushed, the IPO window has just about closed, and stocks in some other markets have crashed spectacularly. But here, on the surface, calm reigns.
Moody's warned late Monday that its "Liquidity Stress Index," which tracks the number of companies downgraded to the lowest liquidity rating (SGL-4), had jumped from 6.8% in December to 7.9% in January, the largest one-month jump since March 2009, and the highest level since December 2009.
Moody's wasn't kidding. Beneath that calm surface, over-indebted, junk-rated companies are running out of oxygen.
The index for oil & gas companies rose to 21.4% in January from 19.6% in December, but still below the 24.5% of its peak in March 2009.
It wasn't just oil & gas. That meme no longer holds. Oil & gas is just way ahead. Without oil & gas, the index rose to 4.5%, up from 3.6% in December, and the highest since November 2010. Six of the ten downgrades to SGL-4 in January were for non-energy companies.
The companies in the index, which also often have a CCC or below credit rating, are facing one heck of a time borrowing new money, or even rolling over existing debt, given that for them, the cost of borrowing may approach or even exceed 20%.
These companies are essentially locked out from the capital markets. Their bonds trade at a fraction of face value. Their banks are getting nervous. They will have difficulties refinancing their maturing debts. Some of them – as is currently happening – might not even be able to make their interest payments. The increasing difficulties and costs in raising new cash will lead to many more defaults.
In short, these over-indebted, junk-rated, cash-flow negative companies are in their own Financial Crisis that is now metastasizing by the day. Only this time, no one is talking about bailouts. And this is what happens when risk, long repressed by the Fed, reappears in its unpleasant manner.
And then hope came unglued all over again. Read…  The Transportation Recession Spreads
Enjoy reading WOLF STREET and want to support it? You can donate. I appreciate it immensely. Click on the beer and iced-tea mug to find out how:

Would you like to be notified via email when WOLF STREET publishes a new article? Sign up here.