Nothing goes to heck in a straight line.
Investors found some relief on Friday after getting flogged on a near daily basis since the miserably short and feeble Santa Rally ended on December 30. The bounce off the dreadful lows on midday Wednesday in the US carried through. Finally! We've been expecting this rally. We've been waiting for it. Nothing goes to heck in a straight line.
"Global stocks surged the most in 3 1/2 years, as US equities joined a rally that pushed oil to its best two days since 2009 on speculation that central banks will expand stimulus measures to counter turmoil in financial markets," Bloomberg gushed.
So on Thursday, ECB President Mario Draghi said the magic words everyone wanted to hear: the ECB would "reexamine" its already massive QE program and its absurd negative deposit rate. That was enough. More stimulus is now expected in March. Central-bank optimism took over: central banks will stop this totally unfair bloodletting!
Then on Friday in Davos at the World Economic Forum, where he was hobnobbing with the world's financial, corporate, and political chieftains, Draghi suggested that the ECB wasn't, in fact, out of ammo. OK, major Eurozone stock indexes were in a bear market despite or because of QE, but hey, there could always be more QE.
"We have plenty of instruments," he said in his inimitable Draghi speak. "We have the determination, and the willingness, and the capacity of the Governing Council, to act and deploy these instruments."
"We are not surrendering" to global pressures, he said as he was surrendering to global pressures by promising markets what they wanted.
Bank of Japan Governor Haruki Kuroda was also in Davos, soothing rattled nerves and indicating that more money-printing was always a possibility. And China's Vice President, Li Yuanchao, said that China would keep meddling in the stock market to "look after" investors.
That's what markets needed, some assurances and a little prod. By Friday, it was party time. It started in Asia. Japan's Nikkei soared 5.9% to 16,959, the highest level since, well, Wednesday. That huge move pulled it out of a bear market. Now it's down only 19.1% from its high in June 2015.
China's Shanghai Composite rose 1.3% to 2,917, the highest level since Thursday. It's still down 44% from its high in June 2015. The Hang Seng rose 2.9% to 19,081, also the highest since Thursday. Now it's down only 33% from its June 2015 peak. India's Sensex rose 2% to the highest level since Tuesday.
All of them ended the week in the red.




In Europe, the rally had already kicked off on Thursday when Draghi's vague promises were coagulating into hope of more money printing. All anyone needed was a conductor giving the buy signal, and the shorts got run over. The German DAX rose 2% on Friday. Now it's down only 21% from its peak in April last year. The French CAC 40 soared 3%, which pulled it out of a bear market.
In the US, it was party time too. The S&P 500 jumped 2% to 1,907 on Friday, its best day in six weeks. It gained a measly 0.9% for the week, its first weekly gain since the week of December 21! The Nasdaq jumped 2.7% for the day and ended the week up 1.4%
The Dow advanced 1.3%, dragged down by American Express, which plunged 12%, its worst one-day loss since 2009. It reported a dose of reality: quarterly revenues down 7.6%, net income down 38%. It issued corporate speak about "intense competition," "a number of cyclical factors in the broader economy," and wanting to cut expenses by $1 billion. It was a mess. It confirmed the corporate revenue and earnings recession. And it left the Dow in the red for the week.
Despite this bout of party time, the major markets of the world are all down in the double digits from their recent highs. Many of them are down more than 20% (below the blue line). And as ironic as it might seem, the US markets are the least bad: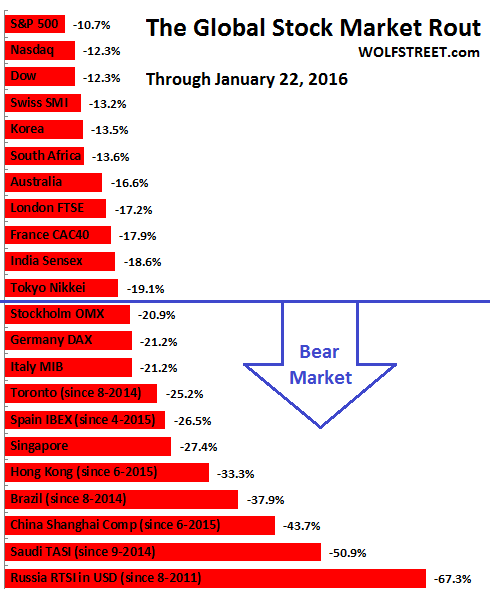 There was a lot of drama beneath the surface. As the rally from the lows on Wednesday turned into a self-fulfilling prophecy, shorts scrambled to cover their bets, and to do so they had to buy stocks, and the most shorted stocks surged the most.
Chesapeake Energy, the teetering natural gas driller and one of the most shorted stocks in the S&P 500, had dropped to $2.69 a share by mid-Wednesday, a new 52-week low, down 90% from its high in July 2014. But within in a couple of hours, shares soared 26%. And Friday within minutes after the open, shares spiked to $4.15, up 54% from their Wednesday low, wiping out shorts left and right. Moments later, it was over. Shares re-plunged 15% and ended the day at $3.51, down 1%.
Oil surged, with WTI soaring 17% from mid-Wednesday to $32.25 by Friday. These kinds of short squeezes drove this market. But the fundamentals are as dreary as they were Wednesday morning.
The Canadian dollar rose, now once again above US$0.70, ending Friday at US$0.7082. The Bank of Canada had yielded to a rebellion from Corporate Canada, which wanted a floor under the plunging loonie. So at its policy meeting on Wednesday, it didn't cut rates. And that coincided with the surge in oil.
Even the ruble surged from its brutal plunge and record lows on Wednesday and Thursday.
$7.8 trillion in perceived stock-market gains around the globe have evaporated so far this year, according to Bloomberg. Now everyone is waiting for central banks to make their next moves that will somehow solve all problems and recreate that $7.8 trillion, plus some, which shows the ludicrousness to which market players and their soothsayers have stooped.
Alas, there may be some real reasons why the hot air is hissing out of the market. "Consumers just don't seem to be showing up…." Read… Deep "Freight Recession" Hits Railroads, Trucking, Air Freight




Enjoy reading WOLF STREET and want to support it? You can donate. I appreciate it immensely. Click on the beer and iced-tea mug to find out how:

Would you like to be notified via email when WOLF STREET publishes a new article? Sign up here.