Where's the shock and awe?
The ruble plunged 3.8% on Wednesday and another 2.8 on Thursday to a new all-time low of 83.85 to the dollar, at 5:30 PM Moscow time, blowing through the previous catastrophic panic low of December 2014. At the time, the Ministry of Finance and the Central Bank deployed desperate, and ultimately very costly shock-and-awe measures to stop the ruble from spiraling out of control. And it triggered all kinds of drama.
On December 16, 2014, the Central Bank announced that it increased its benchmark rate by a brutal 6.5 percentage points to a dizzying 17%, after having already jacked up rates in the prior week to 10.5%. And the Ministry of Finance announced it would begin selling Russia's crown jewels, its dwindling foreign currency reserves, and with the proceeds mop up rubles.
It seemed to put a floor under the ruble for a few blinks of an eye, but then the ruble crashed 20% in no time, hitting 80 rubles to the dollar for a few moments, and it was going to be the end of the world, but then the ruble reversed course and spiked higher.
Today, there's no such drama. The ruble is now lower than it had ever been. It has plunged 26% against the dollar in just three months. It's also down 25% against the euro, 27% against the yen, and 23% against the yuan. This is an all-out ruble crash, not a "strong dollar" problem.
And it's down 63% against the dollar since early 2013. Back then, it took 29 rubles to buy a dollar. It took 62 rubles three months ago. It takes nearly 84 rubles now: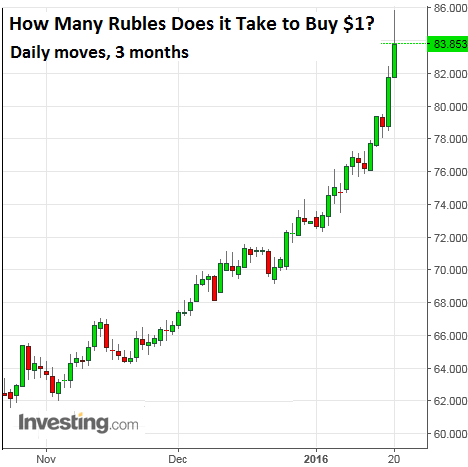 But there were no big announcements and no shock-and-awe moments. Instead, the Ministry of Finance and the Central Bank sat on their hands and let it happen. But Central Bank Governor Elvira Nabiullina did show up on TV in an interview to soothe her compatriots' rattled nerves. After all, it was their money that was getting destroyed, and she owed them a few mollifying words.
The ruble is close to its "fundamental levels," she said. "We will intervene only if we see risks to financial stability. There aren't such risks now."




The ruble doesn't matter, it seems. She's talking about the banks. Some of them already got bailed out. During the ruble crash in December 2014, it was National Bank Trust, which had been toppled by panic buying of foreign currency and a surge in deposit withdrawals. The state-owned Deposit Insurance Agency took over the bank with funds provided by the Central Bank.
No one wants to see another bank topple. But that bailout was likely a lot cheaper than propping up the ruble for months or years. It's easy to run down a currency. It's expensive to prop it up after it started crashing.
So they won't intervene. Let the ruble go where it wants. Russia has too many other problems. The foreign currency reserves could be used for more useful things than propping up the ruble for a little while. And hiking interest rates brutally, like last time, would be suicidal for the economy.
During the three months that the ruble plunged 26%, the price of Brent oil plunged 40%. This ongoing collapse of oil along with the decline of the price of natural gas in Russia's key markets has whacked the economy. The sanctions haven't exactly helped. The national budget, which relies to a large extent on oil and gas revenues, is on the chopping block. The economy shrank for five quarters straight, and more shrinkage is expected in Q4.
In its World Economic Outlook, released on Tuesday, the IMF estimates that Russia, "which continues to adjust to low oil prices and Western sanctions," is going to remain in recession in 2016. It estimates that GDP fell 3.7% in 2015 year-over-year and is going to fall another 1% in 2016. That would be 2.5 years straight of recession!
But the IMF is always optimistic in its economic projections, and as reality gets closer it adjusts its views downward. For instance, in its World Economic Outlook released six months ago, the IMF estimated that the economy would shrink 3.4% in 2015 and grow 0.2% in 2016. So its current projection of a 1% GDP decline in 2016 may well be a rosy scenario.
Inflation was 12.9% in December. Russian consumers are groaning. But the swooning ruble means that imported consumer goods, and that's a lot of them, will get even more expensive for them. Hence, inflation will get worse. A deep, long recession even as inflation is raging is a toxic mix.
To repress inflation, the Central Bank would normally jack up rates at every meeting. And to prop up the ruble, it would normally raise rates unexpectedly. Shock and awe! But the Russian economy can hardly digest shock-and-awe measures.
The benchmark one-week repo rate has been at 11% since August. At the last meeting on December 11, the Central Bank indicated it might cut rates at the next meetings (one is coming up on January 29) if inflation softens in line with forecasts.
Those forecasts have been obviated by events. Now the ruble is plunging, and inflation might take a big jump. Given these risks, First Deputy Governor Yudaeva already said she couldn't "completely" rule out a rate increase.
But higher rates would be bad for the deeply troubled economy. So far they're sitting on their hands, mumbling under their breath that there can't be any shock-and-awe interest-rate hikes to prop up the ruble, and that the foreign exchange reserves are too valuable and scarce to blow on the ruble, and that the overall economy was more important than the currency or inflation, and so it seems, they're saying, to heck with the ruble. Let it go. And the market has gotten the message.
Perhaps it is this sort of scenario that is worrying the Bank of Canada. The fear of "currency instability" is now cropping up in Canada after the loonie has plunged 33% in two years against the US dollar. Read… Canada Rebels against the Destruction of the Loonie




Enjoy reading WOLF STREET and want to support it? You can donate. I appreciate it immensely. Click on the beer and iced-tea mug to find out how:

Would you like to be notified via email when WOLF STREET publishes a new article? Sign up here.