The fear of "currency instability."
"Without precedent" — that's what National Bank of Canada's chief economist Stéfane Marion called the wholesale destruction of the loonie.
The Canadian dollar is in a tailspin. Rarely has it tumbled so far so fast, and against so many currencies. The steepness of the CAD's depreciation against the USD is without precedent, -33%, or 3.5 standard deviations, in 24 months.
In the two weeks so far this year, the loonie has dropped 5.8% against the euro, 5.3% against the greenback, and 8.6% against the yen. "Even the likes of Norway (+5.4% against the CAD) and Sweden (+3.9%) are mocking the once-mighty Canadian dollar," Marion wrote in the note. "Australia and New Zealand? Not to worry, they are also gaining ground against the CAD."
The Canadian dollar plunged to a fresh 13-year low last week and hasn't recovered since, hovering at US$0.688, below $0.70 for the first time since spring 2003.
People are getting alarmed. A lot of consumer goods are imported, including 81% of fruits and vegetables. The plunging loonie makes them more expensive for Canadians: meat prices rose 5% last year, fruits 9%, vegetables 10%. The average household ended up spending C$325 more for food in 2015 than in 2014, according to the Food Price Report. And it's likely to get worse.
When Stephen Poloz became governor of the Bank of Canada in 2013, he set out to hammer down the Canadian dollar. In 2015, he redoubled his efforts. He relied on ceaseless jawboning. He even invoked the absurdity of negative interest rates. And he cut the overnight rate twice, the infamous surprise cut in January and the telegraphed cut in July, at a time when the Fed was flip-flopping about raising rates.
"He has impoverished Canadians," Jeff Herold, CEO at asset manager J. Zechner Associates, told the Toronto Star. As the paper put it:
Canadians tend to notice when their buying power shrinks relative to their US cousins, especially given 90% of the population lives within 100 kilometers of the US border.
But consumers aren't the only ones worried. National Bank of Canada's Marion:
Currency instability has become a concern, and we think the Bank of Canada must take note. For Canadian businesses, currency depreciation has already sent the price of machinery and equipment (73% of which is imported) to a new record high. This is bound to complicate Canada's transition to a less energy-intensive economy.
His chart is eloquently fretting about a "disorderly depreciation," as he calls it, of the Canadian dollar (via NBF Economics and Strategy) and hints at worse to come: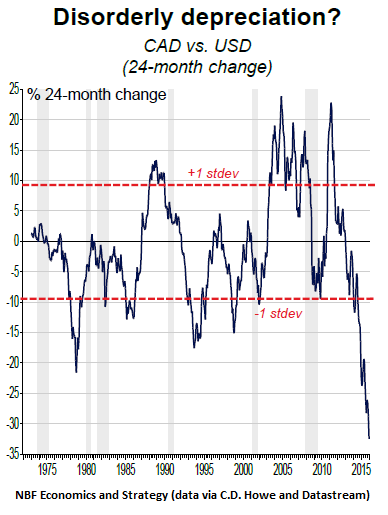 Marion:
Interestingly, all four of the chief economists of Canadian chartered banks who sit on the Monetary Policy Council advised against a rate cut. As the press release suggested, the recent sharp decline of the Canadian dollar weighed heavily on voting decisions, with some members seeing a possibility that damage to public confidence from further precipitous declines might outweigh any beneficial effect to trade-oriented sectors of the economy.

National Bank was in that camp. In our view, a January 20 rate cut would risk feeding expectations of negative interest rates in Canada and send USD/CAD to 1.50 or higher.
From 1.45 late Monday.




"A volatile currency is every bit as harmful to planning as volatile inflation," warned Douglas Porter, chief economist of BMO Capital Markets. "I've always found it interesting that the Bank of Canada is so concerned about keeping inflation stable to help businesses and consumers plan, and yet it's almost as if the currency is a complete afterthought."
Even the coddled exporters of manufactured goods, which are supposed to benefit more than anyone else from the destruction of the loonie, are getting cold feet.
Jayson Myers, CEO of Canadian Manufacturers & Exporters, the country's largest trade and industry association, told the Toronto Star that exchange-rate volatility was impeding business decisions and that the constant talk of further rate cuts was fanning concerns about the shape the economy is in. And that's bad for confidence, he said.
He went a step further: "My advice right now would be to even take a look at increasing interest rates by a quarter of a point," he said. "Interest rates are low already. A little bit of dollar stability would be better."
The Bank of Canada has a dubious theory: Grow the economy by slashing the purchasing power of consumers, on whose spending the economy depends, and by strangling the ability or willingness of companies to buy imported equipment and machinery to expand their operations and drive the economy forward.
Consumer confidence already plummeted to the lowest level in two years. And companies' hiring and investment intentions plunged to the lowest level since 2009. So this is going to get rough. Read… Canadian Stocks in Bear Market, Loonie Swoons, Crude Crashes to $16, Consumer & Business Confidence Dives




Enjoy reading WOLF STREET and want to support it? You can donate. I appreciate it immensely. Click on the beer and iced-tea mug to find out how:

Would you like to be notified via email when WOLF STREET publishes a new article? Sign up here.