Central banks have lost their aura of omnipotence.
In Saudi Arabia, the Tadawul All Share Index plunged 5.4% on Sunday and dropped further on Monday before ticking up a smidgen. It's at the lowest level since March 2011. Soothsayers blamed oil, and what Iran will do to the already oversupplied oil market now that the nuclear sanctions have been lifted. But Saudi stocks started losing it in September 2014 and have since collapsed 50%.
Russia's MICEX stock market index is down only 13% from its high in November, 2015. But the RTSI dollar-calculated index of Russian shares plunged over 7% on Monday as I'm writing this, is down 40% since May 2015 and 70% since August 2011. Every big rally in between was followed by an even bigger slide. The major difference between the dollar-calculated RTSI and the ruble-calculated MICEX is the value of the ruble, which has plunged 2% today to 79.3 rubles to the dollar, a new all-time low. It's down 57% against the dollar since mid-2014 and 64% since mid-2011. The Central Bank isn't even trying anymore to prop it up.
China's Shanghai Composite is down 44% from its high in June 2015. During that time, the yuan has dropped about 6% against the dollar. So dollar-based investors took an additional loss, with the total loss amounting to over 52% (not including transaction costs and fees).
Dollar-based investors, when they buy foreign stocks, make two bets: that those stocks rise; and that the currency of those stocks at least remains stable against the dollar. When they catch it right, with both stocks and currency going up, the returns can be breath-taking. But the opposite happens when both go down, as they've been doing recently. And dollar-based investors are getting totally crushed.
There has been a lot of moaning and groaning about the decline in US stocks, with the S&P 500 down 12% from its all-time high in May last year, the Dow down 13%, and the Nasdaq down 14%. After seven years of bull market, those declines have a bone-chilling effect. No one is used to losing money in stocks anymore. A whole new generation of traders and investors never experienced a big loss.
But those declines are still puny compared to what happened in past downdrafts in the US markets, and they're puny compared what is already happening among the major indexes around the world. In fact, the beaten-down US indexes are the world's best performers!
This chart shows the plunges or crashes of the major indexes since their respective recent highs in 2014 or 2015. The one exception is the dollar-calculated index of Russian stocks, the RTSI$, which has been a dreary affair all the way back to 2011; hence the decline calculated since that date.
Note the ever longer list of markets that have now dropped 20% or more from their recent highs (below the blue line) and are in what a lot of people call a bear market. India's Sensex and the Nikkei are a hair away from sinking below the blue line (US as of Friday close, Toronto as of Monday morning, Asia as of Monday close, Europe as of Monday afternoon):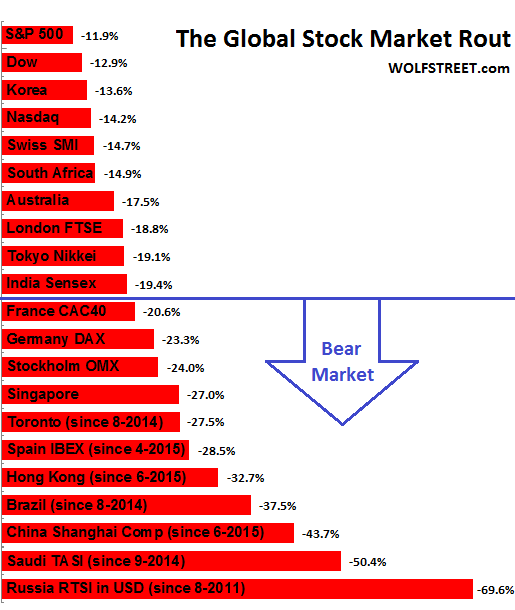 So, add those equities-based losses to the currency-based losses for dollar-based investors, and suddenly some of these indexes are starting to look like the dollar-calculated RTSI. For dollar-based investors, it has been brutal out there.
So why can't central banks step in and stem the bleeding and restart the good times?




The answer lies in the Eurozone: France is down 21% from the highs in April; Germany 23%; Italy 23%, and Spain 29%.
These are the big four economies of the Eurozone. In early 2015, the ECB has unleashed a massive wave of QE and inflicted negative deposit rates on the Eurozone in an effort to flog savers until their mood improves and to drive asset prices up into the sky to create that special wealth effect. That worked wonderfully during the run-up before the well-telegraphed QE and NIRP became reality. But since April, the wealth effect has reversed. The ECB has since enhanced QE, but stock market losses have only increased.
Turns out, our delicious central-bank alphabet soup of QE, ZIRP, and NIRP is losing its effectiveness in inflating stock prices. In fact, it may have the opposite effect. Also look at Japan and Sweden. Despite massive QE programs by their central banks, their stock markets have dropped 19% and 24% respectively.
There's no longer any guarantee that QE, even a much hoped-for QE4 in the US, will re-inflate stock markets. That era has passed. Central banks have lost their aura of omnipotence. And thus, they've lost their omnipotence.
However, when it comes to government bonds, central banks still rule; QE, ZIRP, and NIRP still pump up bond prices and repress yields. Hence the low yields prevailing in fiscally challenged countries such as Japan and Italy. But at the low end of corporate bonds in the US — the lower end of junk bonds — the bottom has already fallen out, and rot is creeping up the rating scale.
A special mention is due Canadian stocks. The TSX has been beaten down 28% since August 2014. Canada is in part a resource economy. Oil & gas, metals & mining, agricultural commodities, lumber, etc. have gotten caught up in a vicious commodities rout. But other stocks have gotten hammered too, including Canada's formerly must-own hedge-fund darling and stock-market giant Valeant.
During the time that the TSX swooned from its high in August 2014, the Canadian dollar also dropped 25% against the US dollar. A nightmare for USD-based investors.
For instance, if USD-based investors in mid-August 2014 bought US$100 worth of Canadian dollars (C$109.50) and invested them in a Canadian index fund that parallels the TSX, they would have lost C$29.67 on those stocks by Friday. If they sold on Friday, they would have obtained C$79.83. They'd then convert that fortune into USD by paying C$1.45 per greenback and end up with US$55.05. A 45% loss. More realistically, including transaction costs and fees at every step, the loss would have been over 50%.
So how well has the highly touted, strongly urged, even must-do diversification into global equities worked out recently? It has been a massive fee-generating Wall-Street bonanza for one side, and a slickly-engineered form of capital destruction for the other.
Because in the markets, something big has changed. Read… Consensual Hallucination Fades, Global Stocks Crushed




Enjoy reading WOLF STREET and want to support it? You can donate. I appreciate it immensely. Click on the beer and iced-tea mug to find out how:

Would you like to be notified via email when WOLF STREET publishes a new article? Sign up here.