NAR blames 'anomaly' for plunging sales then destroys the theory
We're always leery when something expected happens prematurely. We've seen home prices soar for years while real incomes for the lower 80% of households have declined. That math cannot work forever. We've seen sales hitting a wall here and there. And we expected that this would eventually percolate up in nationwide figures. But we didn't expect this to happen so soon.
And in November it suddenly happened. We're scratching our head. Could this already be the end of Housing Bubble 2?
November existing home sales – completed transactions of single-family homes, townhomes, condominiums, and co-ops – plunged 10.5% from October to a seasonally adjusted annual rate of 4.76 million units, according to the National Association of Realtors, the lowest sales rate since April 2014, and the worst plunge since July 2010 (-22.5%). And sales were down 3.8% from November last year.
It shocked and appalled forecasters. The Investing.com consensus was 5.35 million units, just above the prior reading, as consensus forecasts usually are.
This chart by Advisor Perspectives shows the November plunge, circled in red: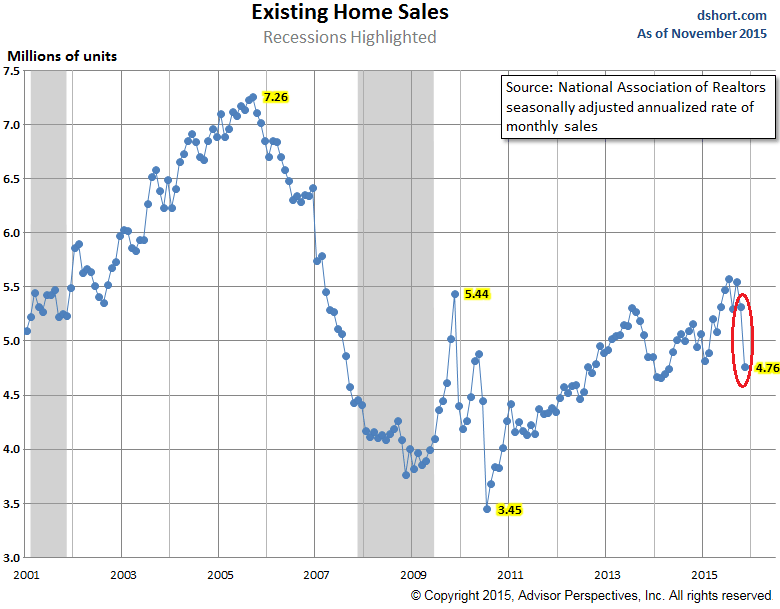 So the search for a culprit is on. The obvious reason for slowing home sales – that prices have reached a level where more people cannot buy, given their stagnating incomes, and where others refuse to buy given the ludicrous prices – was dispensed with by mentioning "affordability" in passing.
Turns out, the report also showed that the median existing-home price in November jumped 6.3% from a year ago to $220,300, the "45th consecutive month of year-over-year gains." Meanwhile, real incomes for the bottom 80% of households, the largest group of home buyers, have declined for years.
But it wasn't the primary reason, according to the report. For once the NAR didn't blame the weather, which had been too balmy. There were "multiple factors" that led this plunge, "but the primary reason could be an anomaly…."
Blaming an "anomaly" is always good.
The industry has the new "Know Before You Owe rule" to deal with, which brokers have long known about and have prepared for. Nevertheless, couched in words like "apparent," "probably," "may," and "possible," the report blamed "an apparent rise in closing timeframes that may have pushed some transactions into December."
They supported this with survey results: "47% of respondents in November reported that they are experiencing a longer time to close compared to a year ago, up from 37% in October."
Other data points were mixed. Signed contracts were "mostly steady in recent months." Homes "typically" stayed on the market for 54 days in November, down from 65 days a year ago. Housing inventory fell 3.3% to 2.04 million units, which was 1.9% below November last year.
OK, but sales in November were 3.8% below last year. So that inventory-to-sales ratio has deteriorated year-over-year. And unsold inventory rose to a 5.1-month supply at the current sales pace, from 4.8 months in October.
Only 30% of the homes were sold to first-time buyers. "Continued absence from the market," is what NAR called this phenomenon. First-time buyers were once upon a time considered the foundation of a sound housing market. At the time, they bought over 40% of existing homes. But forget that.
Instead, all-cash sales rose to 27%, up from 25% a year ago. Individual investors bought 16% of homes in November, up from 15% a year ago, with 64% of all investors paying cash.
So given this mixed data, the report found that "it's highly possible the stark sales decline wasn't because of sudden, withering demand."
"Sudden withering demand" would be a national tragedy.
It's possible the longer timeframes pushed a latter portion of would-be November transactions into December. As long as closing timeframes don't rise even further, it's likely more sales will register to this month's total, and November's large dip will be more of an outlier.
Let's hope so. And we need to wait for the December report before we know if it was an "anomaly" or "sudden withering demand." But um….
Here is why we have trouble believing the "anomaly" theory. The delay in closing sales – the "anomaly" – should affect all sales equally, including sales of single-family homes and condos, since the new rules apply to mortgages on all types of homes.
But here is what happened:
Single-family home sales plunged 12.1% for the month – worse than the overall 10.5% plunge – and 4.6% year-over-year. But condo and co-op sales rose 1.7% for the month, and they also rose 1.7% year-over-year.
Suddenly the "anomaly" theory falls flat on its face. We don't know why existing homes sales plunged in November. We're still scratching our head. But blaming the rule changes, when only single-family home sales plunged and nothing else, makes zero sense. So we might try one of the other reasons and perhaps even dabble with that "sudden withering demand."
Enjoy reading WOLF STREET and want to support it? You can donate. I appreciate it immensely. Click on the beer and iced-tea mug to find out how:

Would you like to be notified via email when WOLF STREET publishes a new article? Sign up here.