The unintended consequences of NIRP.
After negative interest rates, called "punishment interest" in Germany, became established in Europe as the latest method of flogging savers until their mood improves, all kinds of absurdities have seen the light of the day. For example, bailed-out national governments can now fund their deficits at negative rates, extracting money from their bondholders, rather than paying them. Perhaps the coolest notion was that banks would be "paying your mortgage."
That may have been an illusion – at least in Switzerland, where the Swiss National Bank slashed its benchmark rate on "sight deposits" to negative 0.75% on January 15, the day of the epic "Frankenschock." That day, the SNB abandoned its cap on the franc, which within the blink of an eye, soared nearly 40% against the euro and the dollar, wiping out currency speculators in the process and shaking up global currency markets.
The negative benchmark rate had the effect that by now, 70% of franc-denominated corporate bonds trade with negative yields, according to Credit Suisse. And the theory was that mortgages would certainly head that way.
Initially, interest rates on 10-year fixed-rate mortgages plunged to about 1%, with some quoted below 1%, and folks were already speculating about 0% mortgages or negative-rate mortgages. But then something funny happened on the way to the bank: unintended consequences kicked in.
Swiss banks somehow decided, for whatever inexplicable reason, to make a living. That's hard to do for banks when they lend out money in a negative interest-rate environment. So the biggest Swiss banks accomplished a unique feat: they've jacked up mortgage rates since then, with the 10-year fixed-rate now at about 2% and the 15-year fixed-rate at about 2.5%.
And they expect mortgage rates to rise further. Credit Suisse, in its latest report on mortgage rates, laments that the "Swiss economy continues to suffer from the strong Swiss franc" and that the economy in the third quarter "stagnated on a year-on-year basis." So it expects that the SNB will "keep key interest rates at their current level." And yet, it forecasts that over the "12-month horizon," the 10-year fixed rate will rise to 2.3% (blue line) and the 15-year fixed rate to 2.8% (purple line):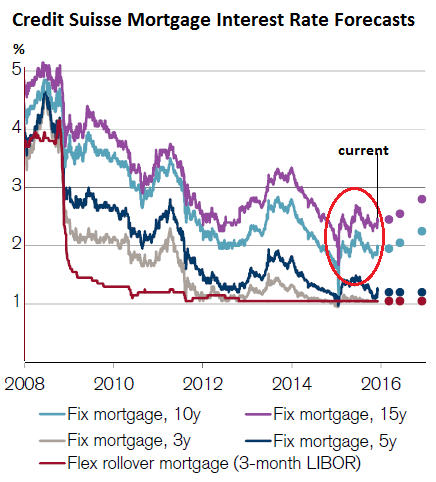 This rise in mortgage rates "highlighted how unconventional monetary policies are producing perverse and unpredictable effects in European banking," the Financial Times pointed out.
"We had some explaining to do why [mortgage] rates were not moving in parallel," Paulo Brügger, treasurer at Raiffeisen bank, told the FT.
Switzerland is a country of savers. And their deposits are, according to the FT, "the most important source of funds for Swiss mortgages, a market dominated by UBS, Credit Suisse, ZKB, and Raiffeisen." Turns out, negative deposit rates for retail bank customers would create all kinds of turmoil.
"If we introduced negative rates for client deposits, we could probably close the shop," Brügger said. "It would create a huge noise with clients. They would never understand."
The fear was that retail depositors and savers would yank out their money if they were charged for their deposits and stuff it into the freezer. So the banks decided to spare them the pain of confiscatory negative rates and instead make it up somewhere else.
And there was a another issue for banks, on the cost side of the equation. The FT:
At the same time, the costs of financing mortgages rose because of the effect negative interest rates had on capital markets. Banks had to pay a higher price to use market instruments to hedge the maturity mismatch between short-term retail deposits and long-term housing loans. As a result of increased hedging costs, mortgage rates rose.
"The market response to negative interest rates was highly logical because of the value of retail deposits," UBS finance director Tom Naratil told the FT. "The bigger question for us was: would the other banks follow us or would they look to pick up market share?"
No worries. Now the Swiss banks are in sync: ironic as it seems on first blush, mortgage rates will rise further, not despite, but because of the SNB's negative-interest-rate policy.
This absurd NIRP environment has had another perverse effect: issuance of franc-denominated corporate bonds by non-Swiss companies has plunged 28% year-to-date from the same period last year, to CHF 18 billion, on track to be the weakest year in Dealogic's data going back to 1995.
It seems investors just don't like being charged for lending money to risky borrowers – with the only hope being that rates will drop even further, which, as mortgage rates are demonstrating, is not guaranteed. Faced with soft demand for these rip-off bonds, the players in this game are keeping issuance down to avoid pushing up yields.
As the Swiss mortgage debacle shows, markets can be recalcitrant and re-develop a will of their own when things get too absurd. And they can act counter to central planning. Ah, the unintended consequences of NIRP. Absurdities breed absurdities, and they'll breed many more surprises.
NIRP is already in the toolbox of the Bank of Canada which has embarked on an all-out currency war. In another perverse side effect, there are clear winners: rich Chinese who buy homes in Canada. Read… Bank of Canada Crushes Loonie, Creates Mother of All Shorts
Enjoy reading WOLF STREET and want to support it? You can donate. I appreciate it immensely. Click on the beer and iced-tea mug to find out how:

Would you like to be notified via email when WOLF STREET publishes a new article? Sign up here.