"Pretty Soon We Have to Start Labeling this a Depression": Goldman on Brazil
Brazil, the largest economy in Latin America, now the 8th largest in the world, down from 6th place during the glorious BRICs days of 2011, is sinking deeper and deeper into trouble.
An epic corruption and kickback scandal surrounding state-run oil company Petrobras is spreading up the government pyramid to the highest levels – a week ago, the government's Senate leader was arrested for allegedly trying to meddle in the investigations. As the scandal is metastasizing, political decision-making is gridlocked, and the confidence of consumers and businesses has been demolished.
The budget deficit is ballooning as the economy is spiraling down. On Monday, the government imposed a partial shutdown and froze discretionary spending. Standard & Poor's has slashed Brazil to junk, citing government finances, the political mess, and the deepening economic nightmare. Moody's and Fitch still rate it just above junk, with their downgrade fingers itching to pull the trigger.
All this comes at the worst possible moment for the economy. GDP fell 1.7% in the third quarter, the national statistics institute (IBGE) announced today. Year over year, GDP plunged 4.5%, the sixth contraction in a row, and the worst since the beginning of modern records in 1996.
"There is no room for any growth in the coming quarters," Andre Perfeito, chief economist at Gradual Investimentos in Sao Paulo, told Bloomberg. "The situation is really, really bad," he said, likening the GDP report to "an obituary."
This is what Brazil's annualized GDP growth rates look like for the past 12 quarters: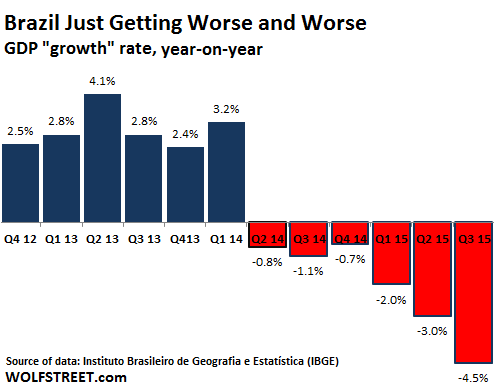 The economy was dragged down at all corners. Manufacturing fell 3.1%. Business investment dropped 4%, down for the ninth quarter in a row. But this year, even consumer spending is plunging, whacked by rising unemployment – now at 8.9%, according to the official unemployment rate – and soaring inflation, now over 10%, which is sapping the purchasing power of the lucky ones that still have jobs.
"The idea that consumers might not have income to service debt in the years to follow I think is what terrifies them," Barclays economist Bruno Rovai told Bloomberg.
To fight rampant inflation and put a floor under the real that has collapsed 46% against the dollar since June 2014, the central bank has been jacking up its benchmark rate, now at 14.25%!
With borrowing costs this high, companies that are already struggling have shelved any thoughts of investing and expanding.
So industrial Production in September, as the IBGE reported earlier, plummeted 10.9% year over year, the 19th month in a row of contraction. The problem started in 2012, when industrial production began falling, though there were spurts of growth in between. But since April 2014, it has been a bumpy downhill slope.
Business confidence in November, reported by the Confederacao Nacional da Industria (CNI), rose to 36.4, bouncing off the all-time record low in October of 35. Even during the Financial Crisis, businesses were more optimistic, with confidence never dipping below 47. Below 50 indicates a lack of confidence, and now it has been below 50 for the 20th month in a row.
"We're at the bottom of a deep pit and it seems that we're still digging," Alberto Ramos, chief Latin America economist at Goldman Sachs, told Bloomberg. "When you look at the numbers just on the domestic demand side, excluding net exports, the way this is going, I think pretty soon we have to start labeling this a depression rather than just a recession."
It looks even worse going forward. Markit just released its Brazil Purchasing Managers' Index for November: it dropped to an 80-month low of 43.8 (below 50 = contraction), last seen during the depth of the Financial Crisis. It has been below 50 for 10 months in a row. And "the rate of contraction accelerated and was the most pronounced in 79 months."
It looked terrible all around. New orders fell for the 10th month in a row, "and at a sharp rate" due to "deteriorating demand conditions and a fragile economic situation across the country."
Companies lowered production levels again and cut their purchases at a rate that "remained steep," as average purchase prices "rose at a sharp rate." Manufacturing "posted a sharp decline in output." The backlog of work fell again. Cost cutting prevailed, as companies slashed their workforce numbers at the "quickest pace since April 2009."
"The downward trend appears to be exacerbated by sharp inflation rates," Markit said, pointing at rising input costs and output charges.
The outlook for the sector looks bleak. Falling employment combined with rising tax rates, soaring borrowing costs, and a subsequent drop in income look set to deepen the country's downturn. Even the weaker currency is failing to lift foreign orders. Higher cost burdens are proving to have a greater detrimental impact on firms, which struggle to compete at the global level in an already – subdued demand environment.
Brazil accounts for over 3% of global GDP. And it's not the only major economy that is struggling. Russia is in a deep recession. Taiwan and Japan are in a technical recession. Canada just emerged from a technical recession. Italy is threatening to sink back into a recession, after having spent several years in a recession. China is slowing down. Other countries are mired in slow growth. The US faces a swoon in manufacturing and exports, weak retail sales, and ballooning inventories….
It's not an ideal situation.
You'd think that after seven years of global central bank interventions, waves of QE, relentless ZIRP, and more recently NIRP, plus record government deficit spending – the biggest stimulus of all – in addition to the greatest asset price inflation the world has ever seen, that the global economy would be hopping by now. But it appears the experiment has failed miserably.
They tried to spin it in the most favorable light in the US, and even then it was ugly. Read…  There Better Be a Miracle for Retailers
Enjoy reading WOLF STREET and want to support it? You can donate. I appreciate it immensely. Click on the beer and iced-tea mug to find out how:

Would you like to be notified via email when WOLF STREET publishes a new article? Sign up here.