CEOs, Wall Street are making hay while the storm moves in.
Pfizer's revenues have been declining for what will be four years in a row by the end of 2015. Its liabilities have ballooned to $104 billion. Its "goodwill" and "intangible assets" – future expenses temporarily parked on the balance sheet – have swollen to $95 billion. It has so much debt in relationship to its real assets that its tangible stockholder equity is a negative $24 billion. It's facing a "patent cliff," as new generic drugs are eating into sales and profits of its old drugs. It's in worse shape than even IBM.
And it no longer wants to pay taxes in the US. So it announced a miracle cure, a marvelous piece of financial and tax engineering: the $160-billion acquisition of Allergan.
It's the second largest deal ever and has become target of political scorn from all sides for one of its primary purposes: transferring Pfizer's legal headquarters on paper to Ireland in order to escape US taxes. But beyond the sound-bites, the deal propels global M&A so far this year to a record $4.2 trillion.
With over a month to go before the year is up, it blows away the all-time annual record of $4.1 trillion set in 2007, according to Thomson Reuters. US-targeted M&A activity, which accounts for nearly half of global M&A, has soared 55% from 2014 and exceeds $2 trillion for the first time ever.
Pfizer's deal pushes global healthcare M&A to $649 billion, more than 2013 and 2014 combined! No other industry comes even close. Tech M&A, though it has more than doubled from 2014, is in distant second place. And Pfizer's deal pushed pharma M&A to $416 billion, more than 2014, 2013, and 2012 combined.
Big Pharma is getting bigger. And Pfizer is the M&A queen among them: it engineered the largest two pharma deals ever, the Allergan deal and the $89-billion acquisition of Warner-Lambert in 1999. According to Thomson Reuters, six of the largest 20 pharma deals ever involve Pfizer.
Pfizer is expected to issue a ton of its overvalued shares, of which it can print an unlimited number, to buy Allergan. So in theory, the deal won't necessitate additional debt. But there will be "large-scale share buybacks, to combat post-merger dilution," S&P Capital IQ LCD reported, on top of the $5-billion pre-merger buybacks to be implemented over the first half of next year. Pfizer is expected to fund most of these buybacks by issuing a ton of new debt. And that "contributed to S&P's decision today to place the AA rating on Pfizer under review for possible downgrade."
The deal shows just how feverish M&A has become before the window closes – when the stock and bond markets deteriorate. That's already happening at the lower end of the credit-ratings spectrum. Deals by junk-rated companies are getting in trouble as their stocks, bonds, and loans have gotten hammered.
Banks lend money to make these deals happen. Since these "leveraged loans" are too risky for banks to keep on their books, they offload them to institutional investors, such as loan funds. But now, banks are increasingly finding themselves stuck with these loans, such as those for the leveraged buyouts of software company Idera, apparel maker Fullbeauty, and generic drug maker Lannett.
Leveraged buyouts by PE firms are in particular trouble. Now banks have to offer big discounts, possibly at a loss, to bamboozle portfolio managers into taking these loans. The Financial Times:
But even discounting has not been enough – underlined last week by banks being forced to postpone the $5.5-billion sale of debt to finance this year's largest leveraged buyout; Carlyle's carveout of Veritas from Symantec.
The problem? The credit cycle is ending. Finally seeing some of the risks, investors are transitioning from loosy-goosy, everything-goes – a formula the Fed has espoused since 2008 through its destruction of yield – to a sense of caution or even foreboding. And they're beginning to pull back.
Initially, junk rated energy, mining, and metals companies caught the brunt of it. But over the past two months, it spread to retail, pharma, and media companies. And this, according to the Financial Times, "has unnerved portfolio managers."
So the flight to quality, as it's called, has begun. The least risky junk bonds (rated BB) have merely edged down as their average effective yield has edged up from around 4.3% in mid-2014 to 5.85% now, according to the BofA Merrill Lynch US High Yield index. But the bottom has fallen out of the riskiest end: junk bonds rated CCC or below have swooned, and their yields have soared from around 8% on average in mid-2014 to over 15% now: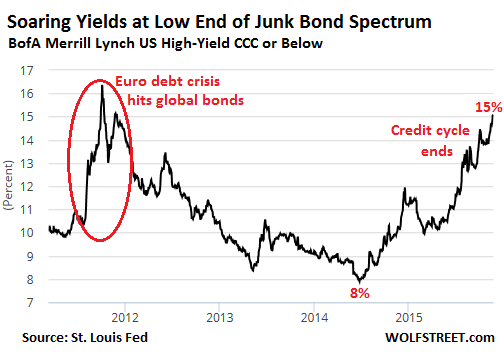 And the Fed hasn't even begun to raise rates yet.
Corporate deal makers and Wall Street aren't blind. They see that the credit cycle is ending, that lower-rated companies are having trouble issuing bonds at survivable rates. They see rising defaults. They see a few mega-caps propping up the S&P 500 index, while numerous former darlings have been abandoned. And so they're furiously making hay as the storm is moving in.
But M&A booms have consequences for the real economy. They tie up corporate resources, stifle innovation, and create bloated, unmanageable, over-indebted empires. They concentrate pricing power. They entail "efficiencies" and "synergies," so shutdowns and mass layoffs. They're the last leg in a bull market. And they're always followed by deep trouble.
Moody's has already warned about the coming credit crunch and has drawn unnerving parallels to 2008 and 1999. Read… Last Two Times this Happened, it was Mayhem.
Enjoy reading WOLF STREET and want to support it? You can donate. I appreciate it immensely. Click on the beer and iced-tea mug to find out how:

Would you like to be notified via email when WOLF STREET publishes a new article? Sign up here.