Expect the unexpected.
By Larry Kummer, editor of the Fabius Maximus website:
Mainstream economists assure us that a recession remains unlikely in the foreseeable future. They have their reasons.
They forecast steady slow growth. The Philly Fed's Survey of Professional Forecasters sees 2.4 – 2.8% real GDP rising through 2018.
Most indexes of leading indicators remain strong. The ECRI's Weekly Leading Indicator hit bottom at 105.4 in March 2009; it's remained above 130 since March 2013; it's now 132. An exception is the OECD Composite Leading Indicator, which has been slowing since last Sept ("growth losing momentum").
Most of the standard warning metrics remain low. The recession probability indicator of Marcelle Chauvet and Jeremy Piper is at 0.3; it was 3.9 in November 2007 (the start of the great recession). The Econbrowser indicator of James Hamelton didn't work in 2007 and has given odd readings since then.
These tools worked moderately well during the post-WWII era, when the Fed caused most recessions by raising rates to prevent inflation (they took "away the punch bowl just as the party gets going"). That era has ended. In this century unexpected economic shocks cause recessions, their severity depending on the size of the shock and the economy's strength.
Bubbleville in Northern California
If it were a nation, California's 2014 GDP would have been the 7th largest in the world (bigger than Russia or Brazil). It's one-eighth of US GDP. A quarter of that comes from the San Francisco Bay Area, home to one of America's most vibrant, cyclical, and cynical industries: manufacturing stock certificates (now mostly virtual) for sale to the gullible.
It's a diversified industry — venture capital, social media, biotechnology, etc. — whose specialized requirements are uniquely met by America's new city of dreams.
Consider Twitter's Q2 results: $502 million revenue for a GAAP loss of $137 million (including $175 million of stock-based compensation). Revenue up 61% year-over-year; loss down 6% year-over-year. Party on while the music lasts! For details why it might not last long see The advertising glut dooms the social media industry.
For hard core speculation look at the biotech stocks. Don't ask if there's a biotech bubble. Ask why we have another bubble.
Venture capital is the engine of the bubble. VC returns during the past several decades have been mediocre at best. Even during the first tech bubble (1987 – 2000) they were roughly similar to those of public stocks. Bubbles eventually burst when investors demand profits – or radical corporate surgery on their properties. The pop will hit the Bay Area like an earthquake. But we're better prepared for a quake, as I explain in Who will get hurt from the next stock market crash?
The resulting drag on the economy will add to the already severe downturn in the coal and oil-and-gas industries (~2% of GDP). The industries affected are geographically concentrated, but relatively small — and so are probably insufficient by themselves to start a recession (unlike the collapse in the broader tech and communications industries in 2000). The most serious and lasting damage to the nation might be the blow to our confidence from the third such crash in one generation.
Automobiles
Light vehicle sales have been one of the US economy's largest engines of growth, now risen to 18 million/year from their trough of ten million during the recession. It has brought them to a level from which they've often fallen steeply during recessions.
Auto sales have reached impressive levels, but their foundation is less so. Prices have risen to the point of unaffordability without imprudent borrowing: average loan length is an incredible 65 months, with the average loan a nosebleed $27,000 (US median household income: $53,000). Of the trade-ins, 27% had negative equity, with an average deficit of $4,257. Subprime borrowers account for about 20% of auto loans made. This cycle will not end well [Auto loans: once a boon for America, now a bane].
Even a small shock to the economy might have a large impact on the auto industry, which is about 2% of GDP (manufacturing and sales). Auto sales are the hot dot in retail sales. According to the Census Bureau, retail sales in September rose 2.5% year-over-year (not seasonally adjusted), but excluding autos and parts, they rose only 0.9%. And in August and September month-over-month (seasonally adjusted), retail sales ex-autos actually dropped: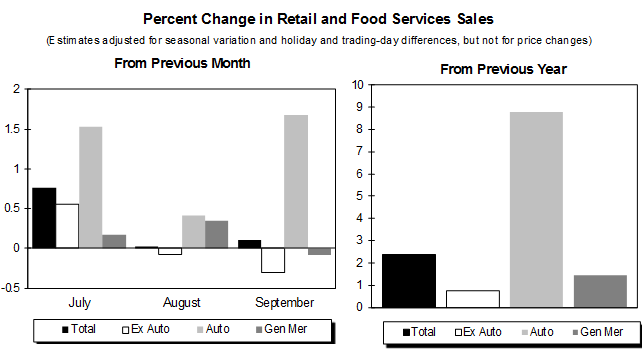 A fall in auto sales, given the size of the industry, seems likely to magnify an economic shock, but unlikely to cause one by itself.
Housing
Construction of housing provides one of the most powerful drivers of the US economy. Even now, as the Boomers begin their long downsizing — from home to retirement home to nursing home — their acceleration after the crash from 500,000 to 1.2 million units per year has provided much of the economy's growth. Like auto sales, but much more so, it depends on the flow of credit.
Housing will crash before and during the next recession, as it almost always has — but with one-third or one-half of the impact on the economy as in past recessions, given the current low rate of activity (3.3% of GDP in 2014). That's significant, but it seems unlikely to cause a recession by itself.
The Case-Shiller Indexes show that home prices have climbed back to the bubble levels of February 2005 (about 13% below their April 2006 peak). But asset price changes by themselves have little economic impact. The mass foreclosures of the great recession have left most surviving homeowners in good shape, with large-scale problems remaining in areas with local problems.
Inventories
Recessions are usually caused by a downturn of the major cyclical industries, often after a buildup of inventories. And inventories have built up since late last year, as aggressive ordering coincided with lackluster sales. So in August, wholesales declined again, wholesale inventories rose again, and the crucial inventory-to-sales ratio reached 1.31, a level it hit in October 2008, just after the Lehman moment.
A similar scenario is playing out with manufacturers' and trade (retail) inventories. Their combined inventory-to-sales ratio in August reached 1.37, a level also associated with the economic fiasco following the Lehman moment.
Once businesses start trying to get their inventories under control, they will slash orders. These orders are sales to their suppliers. And so it cascades through the economy, which can trigger all kinds of unpleasantries, including a recession [Last Time that Ratio Soared like this, Stocks Crashed].
Exports
Despite claims that the US don't make nothing, exports' share of GDP has tripled — to over 13% of GDP. Exports are diversified both geographically and across industries. That means that their typical 10% drop during recessions can knock a point or so off nominal GDP. That would hurt, with nominal GDP running at 2.5 – 3.0% since Q2 2014.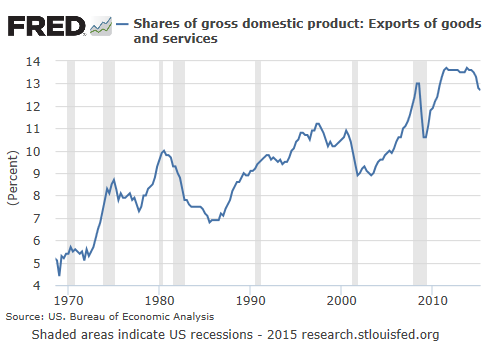 Here we have another sufficiently large and volatile factor that might knock the US into a recession on its own. Such a drop might already have begun as our exports drop due to slowing growth in China, Brazil, and the world's commodity exporters. And Citi's economists worry this could cause a US recession in 2016.
It has been six years since the end of the previous recession, and there are obvious weaknesses in the US economy that combined in some form or one of them by itself – such as exports – could cause the next recession.
The bad news: the US economy has grown only slowly since the crash, making it vulnerable to a shock. The good news: this slow growth appears to have created few of the imbalances that create long deep downturns. But most of us thought this was true in 2007.
We are in a new age where many of the standard economic patterns and relationships of the post-WWII era no longer apply. Expect the unexpected. By Larry Kummer, editor of Fabius Maximus
The government has some strange and awesome powers to throw around when the next one hits. Read… And What's Going to Happen at the Next Recession?
Enjoy reading WOLF STREET and want to support it? You can donate. I appreciate it immensely. Click on the beer and iced-tea mug to find out how:

Would you like to be notified via email when WOLF STREET publishes a new article? Sign up here.