Are US markets next?
Germany is ahead this time, rather than behind. German stocks have plunged. The DAX was down another 2.1% today. It's down 23.5% since its Draghi-QE peak in April, and sinking deeper into a bear market.
The Volkswagen fiasco didn't help. Its shares plunged 7.5% today to €99.30, the biggest loser in the DAX, and the first time since 2010 that they dropped below €100. Back then, Volkswagen was recovering from the Financial Crisis. Today, there's no recovery in sight. Shares are down 61.4% since April.
Bottom-fishers beware: This scandal continues to metastasize with new revelations bubbling up on a daily basis about just how long this has been going on, who has warned about it in 2007, and who knew about it among current and former executives and board members of Volkswagen and among current and former politicians who have a revolving-door relationship with the German auto industry, and with Volkswagen in particular. This is going to fester.
But Volkswagen was in trouble before the scandal.
About a third of its revenues come from China, its largest market. But its sales in China plunged 10% in August. It's losing market share in an already shrinking market, despite big price cuts, and amid a massive investment in yet more assembly plants to build yet more vehicles for the Chinese market.
As this is turning into an investment into overcapacity, all hopes are now riding on new SUV models. But the Chinese don't like to be cheated and lied to by a car company any more than Americans do.
Its bonds are in trouble too. Prices have plunged, yields have jumped. Currently, it can't raise new money at a reasonable cost. It has to rely on its own cash and bank loans. But it faces billions in costs related to the scandal. It faces plunging sales. It faces a daunting marketing challenge. And forget "clean diesel" as a motto.
Unless a miracle happens and this scandal goes away, and its sales in China and the US suddenly surge rather than plummet, it might look to the government for a bailout. But given what Volkswagen has accomplished, in terms of pissing off tens of millions of German consumers and taxpayers, such a bailout could be politically very unpalatable – and thus, if it happens, punitive for stockholders.
The other big automakers also got hit. A special mention is due Porsche Automobil Holding. It plunged 7.2% today and is down 60% since April. Like Volkswagen, it has plummeted 40% since the scandal broke. It owns 52.2% of the common stock of Volkswagen (don't even get me started about Volkswagen's screwed-up ownership, voting rights, and government control).
But it's not just the automakers.
The number two loser was scandal-infested Deutsche Bank, down 4.7% for the day and 29% since April. In third position, K+S AG. It's into fertilizers, salt, and potash. It got hammered down 4.5% today. Industrial conglomerate ThyseenKrupp dropped 4.3% today and is down 41% since April. RWE, one of the largest utilities in Europe, fell 4.1% today. Its shares have plummeted 63% since May and are down 90% from their peak in 2008.
So it's not just Volkswagen. And it's not just this week. This is a major stock market rout: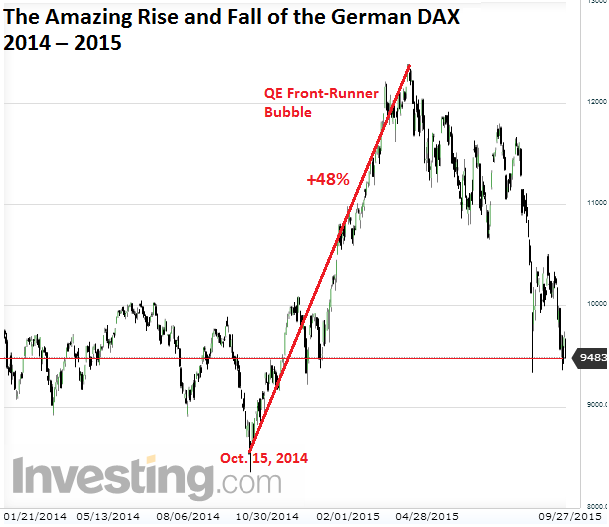 Timing is a bit unfortunate: The year of Draghi's QE was supposed to be the IPO year in Germany, not of startups, mind you, but of big industrial companies.
Three Big IPOs were supposed to be happening right now.
Bayer's Covestro became a separate unit just this month and was to be set free via an IPO. The company makes plastics, coatings, adhesives, etc. And the auto industry is a big customer. It was supposed to raise about €2.5 billion, which would make it Germany's largest IPO since the bubble of 2000.
But investor demand has been tepid. Reuters reported that the books for the IPO "scheduled for Friday are still not fully covered, two sources familiar with the transaction said." One of the people told Reuters, "In this market environment, investors are holding back. The deal will likely be pulled together at the last moment."
Bayer had hoped that by selling Covestro it could raise some desperately-needed cash to pay down its mountain of debt after its $14-billion acquisition of Merck and Co.'s consumer-health business.
Shipping group Hapag Lloyd already scaled down its IPO from the originally rumored €1 billion or so, given the enduring bad weather in the stock market. The global container carrier is now planning to offer about €450 million in shares, "sources familiar with the deal" told Reuters today.
"Caution was the imperative. Hapag's shareholders opted to float the smallest possible stake to avoid offering more than investors are willing to buy and having to scrap IPO plans," one of the people told Reuters.
But the pressure is on to get this deal done, one way or the other. Europe's largest tourism operator TUI Group owns 13.9% of Hapag and wants to dump these shares, some of them via the IPO, and the remainder via follow-on offerings.
"You can never catch the perfect time for an IPO," explained Hapag CEO Rolf Habben Jansen. He named three critical reasons to move forward, among them: "We need the money for further growth…" – in an industry that is being eaten up by a to-the-death price war fought by building overcapacity to wipe out weaker competitors, at a time of lousy global trade.
And family-owned auto component maker Schaeffler AG was planning to go public on October 5. But given the debacle in German stocks and in auto-related stocks in particular, the IPO has been delayed. The company was supposed to announce the IPO price range today but has now postponed the announcement until the second half of this week, sources told Reuters:
"We lost two days last week as investors were only asking questions on VW," one of the sources said, adding that volatile markets had not helped in promoting Schaeffler shares.
But this week, the stock market isn't starting out any better. And due to the mess in China, Schaeffer had already cut its outlook for the full year. The company is also a major shareholder of the German auto supplier and tire maker Continental, a result of Schaeffler's failed effort to swallow Continental during the Financial Crisis; what's left is a pile of debt.
"But we never had a rigid time table, the timing can be adjusted to the market environment," the person added. "Investor demand remains high."
Ah yes, and Volkswagen is one of its largest customers.
Eventually, these IPOs will happen. Investors might lose money, as is happening more and more. But future IPOs will struggle as that window that only opens fully during stock market booms is about to close.
Funny how reality keeps intruding into the markets these days, after years when central banks had banished it. Germany is rarely ahead in these things. But this time, it is. A market rout in Germany isn't going to stay in Germany. This is likely to spread to the US – and by the looks of things, it already has.
But stocks are the smaller end of the capital markets. The bond market is far larger. And now there's the rising toxic miasma of "distressed debt." Read… This is When Bonds Go Kaboom!
Enjoy reading WOLF STREET and want to support it? You can donate. I appreciate it immensely. Click on the beer and iced-tea mug to find out how:

Would you like to be notified via email when WOLF STREET publishes a new article? Sign up here.