Rosy scenario gets tangled up in reality.
The rout in Chinese stocks, the deteriorating Chinese economy, the subsequent rout in US stocks, and nagging questions about the US economy – they all got blamed for the unceremonious collapse of the confidence Americans have in our rosy scenario.
It's sinking in. Even NPR has been talking about it. Whatever you do, "don't sell," was their admonition today. Those kind of shows first thing in the morning don't fit into our rosy scenario.
That scenario looked a lot rosier in early January, when after a long hard climb the economic confidence of Americans reached the highest level in the Index since Gallup started collecting the data on a weekly basis in 2008. At the time, Gallup credited lower gas prices for the miracle.
At +5 in January, the index wasn't exactly wallowing in exuberance, given its theoretical range of +100 to -100 (it hit -65 during the Financial Crisis). But these folks don't live in the Wall-Street economy. They struggle with their daily challenges in the real economy. And it's tough out there.
Yet, even at that level in January, lousy as it was, it was practically exuberant compared to what it is today.
In February, the economic confidence began to zigzag south. At first, it looked like statistical noise, the normal volatility of weekly data. But month after month it got worse. And for the week ending August 23, which Gallup released today, the index dropped to -14. The culprit, according to Gallup:
Growing concerns about China, which devalued its currency and saw major losses in its stock market, led to a global stock sell-off, including in the U.S., where the Dow Jones declined by more than 500 points by market close on Friday.
However, the mayhem in these departments that has happened since Friday hasn't made it into the index yet.
So the index has dropped back to where it had been in the week ending July 14, which had been the worst level since September: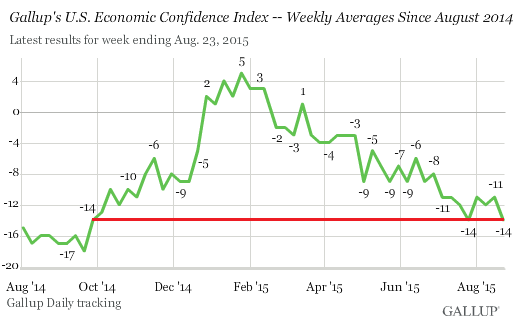 But the most troubling part is simmering underneath the overall index. The index is a composite of two sub-indices: one tracks how Americans perceive current economic conditions; the other tracks how Americans see future economic conditions.
The current economic conditions index has been trending down gradually, and today's reading remains stuck at the dreary -6, where it had been more or less since late May, with 24% of Americans saying the current economy is "excellent" or "good," while 30% said it's "poor."
An interesting way of shedding light on the Fed's designer economy: for 30% of Americans, it sucks.
But the real issue is outlook on what's coming down the pike, the index for future economic conditions. And this time, the score plunged 6 points from an already very crummy -15 last week to -21 now, the lowest since July 2014, with only 37% of Americans saying the economy is "getting better," and a whopping 58% saying it's "getting worse":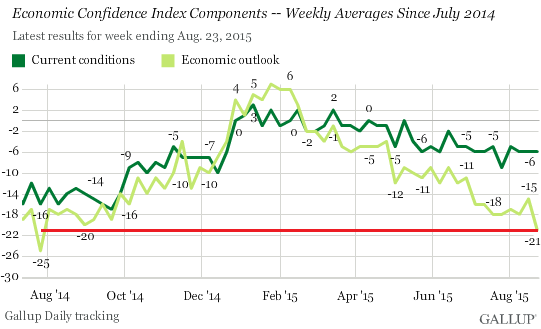 The chart is not exactly a propitious sign. It speaks of a process by which people, who're working in the real economy and are struggling with everyday things, are looking around and are seeing increasingly ominous signs, and their economic outlook is getting hit. The chart speaks of an unraveling.
Gallup points at the source of this unraveling:
Now, with the Chinese economy showing signs of weakness, and its government responding by devaluing its currency, investors abroad are showing concern. The questions surrounding China's economy appear to be a major reason for losses in the global markets, including in the U.S.
This hasn't yet "greatly shaken" – as Gallup put it – Americans' overall economic confidence, based on the slowly degrading current conditions index. But it has slammed into Americans' economic outlook. And it's likely to get worse:
The situation in China may continue to reverberate in the U.S., with U.S. stocks closing much lower on Monday and European markets starting the week with large drops. To the extent stock markets continue to suffer, particularly if this affects broader aspects of the economy, Americans' confidence could be shaken further in the coming week.
But there may be more to it than just Chinese and US stocks. Many Americans don't own stocks and don't pay attention to stocks even if they do own them in their retirement accounts.
They care about job prospects, promotions, and incomes, which aren't really going anywhere; and health care expenses, college expenses, housing costs, and the like, which are soaring. For many Americans, this economy is tough. And it has nothing to do with the collapse of stock market bubbles in China or in Germany or in the US or the devaluations of one or the other currency. Their deteriorating outlook is a reflection of their end of the real economy in the US.
And now even the stock market catches the blues. "Capitulation," that's what I'm hearing a lot, which is ironic. Read… This is when Bullard Usually Says the Fed Should Restart QE
Enjoy reading WOLF STREET and want to support it? Using ad blockers – I totally get why – but want to support the site? You can donate. I appreciate it immensely. Click on the beer and iced-tea mug to find out how:

Would you like to be notified via email when WOLF STREET publishes a new article? Sign up here.

Classic Metal Roofing Systems, our sponsor, manufactures beautiful metal shingles:
A variety of resin-based finishes
Deep grooves for a high-end natural look
Maintenance free – will not rust, crack, or rot
Resists streaking and staining
Click here or call 1-800-543-8938 for details from the Classic Metal Roofing folks.