"Saturation" is the new Economic Reality. But this is Worse.
Smartphones conquered even impoverished consumers in desperately poor countries, giving them access to things they couldn't even imagine a few years ago. The devices and the activities they spawned have been one of the world's growth engines. China's consumers adopted them at stunning rates. But even that growth engine is slowing down on a global basis. And in China, it just skidded backwards into the ditch.
Globally, smartphone sales in the second quarter rose 13.5% to 329.6 million units, the slowest year-over-year growth rate since 2013, Gartner reported today. What drove growth were cheaper 3G and 4G smartphones in emerging markets in Asia/Pacific – excluding China – Eastern Europe, the Middle East, and Africa. The winners in these markets were Chinese and local brands.
But in China – the world's largest market for smartphones, accounting for 30% of global sales last quarter – unit sales fell 4%, the first decline ever.
Gartner's explanation of the phenomenon, after years of mind-bending growth, featured the very unwelcome S-word:
China has reached saturation – its phone market is essentially driven by replacement, with fewer first-time buyers. Beyond the lower-end phone segment, the appeal of premium smartphones will be key for vendors to attract upgrades and to maintain or grow their market share in China.
It's getting tough in China. "Saturation" inspires fear. It turns a market into a war zone of pricing and innovation, of margin pressures and profit declines. There will be shakeouts and losers. But in China, it's worse: the market actually shrank.
Don't blame Apple. Its large-screen iPhones have been kicking butt in China – and elsewhere. Globally, Apple's market share rose by 2.4 percentage points to 14.6%. Unit sales rose 36% to 48.1 million. Apple saw strong iPhone replacements in all markets, but "particularly in China," according to Gartner. In China, iPhone sales soared 68% to 11.9 million units.
But Samsung, still number one globally, saw its market share drop 4.3 percentage points in Q2 to 21.9%. And unit sales fell 5.3% to 72.1 million.
The chart shows global smartphone sales. The declining sales of Lenovo include those by Lenovo and Motorola in both quarters. Note how super-hyped Chinese maker Xiaomi is falling further behind Huawei and Apple.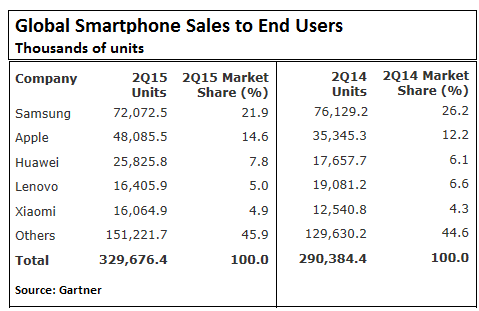 Apple ate their lunch….
Apple's double-digit growth in the high-end segment continued to negatively impact its rivals' premium phone sales and profit margins. Many vendors had to realign their portfolios to remain competitive in the midrange and low-end smartphone segments. This realignment resulted in price wars and discounting to clear up inventory for new devices planned for the second half of 2015.
China dished out a brutal lesson in operating systems. For a company to grow in a shrinking market it must surgically remove market share from other players. And that's what Apple's iOS did, taking share from Android for the third quarter in a row. Android lost out with a shrinking share of a shrinking market.
That debacle in China dragged down Android's global growth to 11% year-over-year. Its global market share dropped 1.6 percentage points to a still phenomenally successful 82.2%.
And Microsoft's operating system? Forget it. Gartner, gently: "In light of Microsoft's recent cuts in its mobile hardware business, we'll await signs of its long-term commitment in the smartphone market." I wasn't quite as gentle when I wrote a few weeks ago, Microsoft Tallies True Costs of M&A Boom: Layoffs, Write-Offs, Shut-Downs, and Economic Decline
The fact that smartphone sales in the world's largest smartphone market declined in the second quarter, for the first time ever, is another warning that the official GDP growth figure of 7% is delusional.
"Saturation" is becoming a new economic reality in China. For years, global companies have been spoiled with hyper-growth. That era is over.
But actually shrinking sales are worse than what could be expected in a merely "saturated" market, which would imply flat or slowly growing sales. It's hard to blame "saturation" for shrinking sales. Something more complex is going on, something that the official figures refuse to acknowledge.
Smartphones are not the only consumer item facing this debacle of shrinking sales in China after years of breath-taking growth. Numerous other products are now wading through the same mire. For example, passenger vehicles sales in China, the largest auto market in the world both in terms of manufacturing and sales, declined in June and July from a year ago. But incredulous manufacturers are still building plants and adding capacity.
So Volkswagen, whose sales in China – its largest market – have declined three months in a row, is now busy denying that it's slashing production to deal with ballooning overcapacity; yes, it's slashing production, but for other reasons, it said. Overcapacity is too terrible in the car business. It simply cannot be publicly acknowledged.
And GM has already figured out how it will deal with its overcapacity in China. Read… LEAKED: GM Sees Overcapacity Fiasco in China, Hopes Americans Will Buy Lots of Chinese-Made Buicks
Enjoy reading WOLF STREET and want to support it? You can donate. I appreciate it immensely. Click on the beer and iced-tea mug to find out how:

Would you like to be notified via email when WOLF STREET publishes a new article? Sign up here.