Greatest oil glut in history exacts its pound of flesh.
The ugly data for oil – ugly for those who've been hoping for, and hyping, a quick rebound to Nirvana – keeps piling up. But for two months, the price of oil was immune to it, trading in a range of around $60 per barrel for the US benchmark West Texas Intermediate.
It stirred up false hopes that lured yield-desperate investors into plowing more money into the industry, which allowed companies to raise many billions in new debt and equity capital so that the permanently cash-flow-negative business model of fracking could soldier on.
But on June 24, reality did start to hit. From that day's high of $61.50 a barrel, it has been one nasty ride. Currently, WTI trades for $52.67 a barrel, after a 7.5% plunge since Thursday (Friday had only limited trading) to settle at the lowest level since April 13, down 14.4% since June 24. This is what the swoon looks like in 5-hour increments: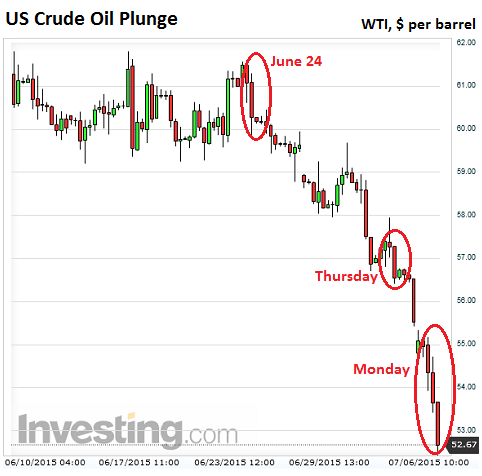 OPEC, which is furiously fighting for market share, has no intention of cutting back production. While its limit has been 30 million barrels per day (bpd), reality has been making a mockery of it. In June, production rose 170,000 bpd to 31.28 million bpd, the fourth months in a row of increases, and the highest level since August 2012, according to Platts' report released today.
While some OPEC members experienced declining production and lost market share in June, Saudi Arabia increased production to 10.35 million bpd and Iraq added a phenomenal 330,000 bpd to produce over 3 million bpd.
Output "seems to be on the way up, and at a time when the market could be looking at a lot more oil from Iran," explained Margaret McQuaile at Platts.
So add Iran to the OPEC mix. If negotiators of the six powers and Iran are able to agree to a nuclear deal this week – there are indications that they might – and if sanctions are lifted, Iran wants to nearly double its crude oil exports, boosting them from around 1.2 million bpd currently to 2.3 million bpd. It would put Iran on collision course with Saudi Arabia, and it would set the world markets up for a flood or Iranian oil.
And for a majestic oil glut, as in the US, production is still soaring.
The new money flowing into the US fracking industry and the $60-per-barrel price range that has been hyped as the survival price had the net effect that drilling activity picked up again, with the oil rig count rising for the first time since early December, after having plunged 61% since October.
The EIA reported that its weekly guesstimate of US oil production, as of June 26, was 9.6 million bpd, just a hair down from the prior week which had been a multi-decade record. The trend is simply relentless: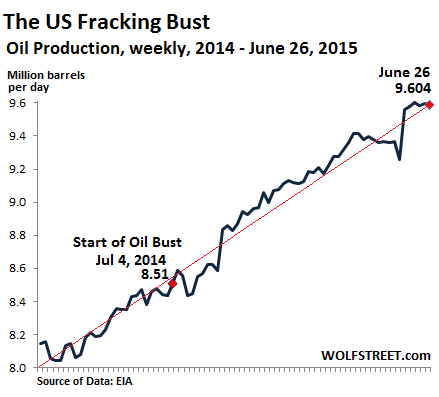 The supply glut in the US took on a chilling nuance when crude oil inventories rose last week, even though it's driving season when inventories are supposed to fall rapidly. They remain at historic highs for this time of the year. Inventories are also high in all developed economies.
Then there is that floating inventory, tankers full of crude oil, anchored off shore around the globe. This was the trade of the decade: buy physical oil while the price was low, sell futures at a higher price, deliver the oil when promised, and pocket the difference minus the storage costs. This trade now contributes in its manner to the greatest oil glut in history. A miracle could stop glut, but miracles have become rare [read…  Biggest Glut in Recorded Crude-Oil History Taking Shape].
Then there's the demand side of the equation. Chaos in Greece that might bleed into parts of the Eurozone and the vastly more important collapse of the stock market in China have a potential to wreak havoc on demand.
China's economy has entered a hard landing. In its desperation, the government has encouraged consumers of all stripes to plow the maximum amount of borrowed money into the booming stock market to get rich quick, and then to spend these gains from the imaginary economy in the real economy, in order to goose GDP. It worked for a year. But three weeks ago, it began to collapse. Due to leverage, numerous of those small-time investors got wiped out.
The problem for oil is this: China, with imports of 7.4 million bpd, became the world's largest oil importer in April, ahead of the US. The International Energy Agency still expects it to account for 29% of global demand growth in 2015. All hopes rest on China!
Now the worry is that demand for oil in China, given the sinking economy and crashing stocks, might get hit at the worst possible time. Even if demand in China just remains flat, it would be a fiasco for the desperately hoped-for growth in global demand. And what might happen if demand in China actually declines is simply too ugly to contemplate.
So government is now going all out to stop the implosion of the stock market bubble. Is it worried about popular upheaval? Read… Panicked Chinese Government Imposes Desperate Measures to "Aggressively" Rescue a Lot More Than Just Crashing Stocks
Enjoy reading WOLF STREET and want to support it? You can donate. I appreciate it immensely. Click on the beer and iced-tea mug to find out how:

Would you like to be notified via email when WOLF STREET publishes a new article? Sign up here.