It could be that Chinese stock market participants have no idea that there is something wrong beneath the officially rosy covers. Or they might already know in granular unofficial detail, and fearing the worst, they're wagering everything they have, plus some, on stocks to get rich quick while they still can. They're opening up brokerage accounts at record pace and borrowing on margin to ride the wave. If the limits in China get in the way, they head to Hong Kong to set up trading accounts and borrow even more.
It has worked so far. The Shanghai Composite Index jumped 8.9% this week and 146% over the past 12 months. It closed above 5,000 for the first time since 2008. The valuation of companies with a primary listing in China skyrocketed by $4.7 trillion this year. People are feeling flush and are hoping for a another governmental tsunami of money to bail them out. What transpired in other countries over the past six years is now transpiring in China in condensed form. And the countdown for the crash has started [read… The Dumbest Man in China].
One thing the Chinese authorities cannot do is crank up the global economy and demand for Chinese goods. These goods are shipped by container to the rest of the world. But containerized freight rates from China have totally collapsed.
The China Containerized Freight Index (CCFI), operated by the Shanghai Shipping Exchange and sponsored by the Chinese Ministry of Communications, has not been put through the beautification wringer that other more publicly visible statistics, such as GDP growth, are subject to. It tracks spot and contractual rates for all Chinese container ports. And it plunged 3.2% this week to a multi-year low of 862, down 20% from February.
The trajectory of this terrible 3-month plunge: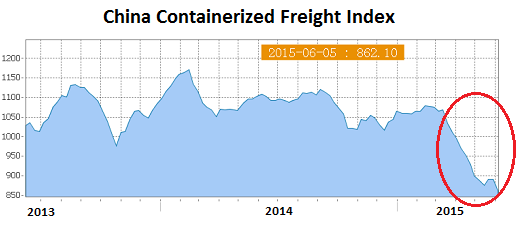 For perspective, the index was set at 1,000 on January 1, 1998. Today, the index is 14% below where it was 17 years ago!
The pricing dynamics in the spot market of containerized freight – so excluding contractual rates – are reflected in the Shanghai Containerized Freight Index (SCFI). It's reacts more quickly to changes in spot rates than the CCFI. It gives an unvarnished if noisy view of the immediate pricing environment for containerized freight from Shanghai to major destinations around the world.
This week, it plunged another 5.8% to 623, the lowest level in its history. It has now collapsed 43% since February. The index was set at 1,000 on October 16, 2009; today's reading is 38% below its level during the Financial Crisis!
The same sort of gloom shows up in the World Container Index for routes from Asia to the Americas and Europe, which Drewry cites: it has plummeted 45% since January to $1,200 per FEU (forty-foot container equivalent unit).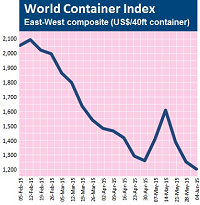 The big jag in the chart, starting at the end of April and collapsing in mid-May, shows that carriers have tried to impose hefty rate increases but couldn't make them stick. Now they're hoping, because it has failed so many times before, that the next round of rate increases might stick.
And all this while fuel costs have jumped, with bunker fuel up 22% since mid-March to $335 per metric ton for IFO 380 in Rotterdam (chart). Collapsing shipping rates and soaring coasts make a toxic mix for carriers.
It's not just containerized freight rates. The Baltic Dry Index, that has been tracking the price of shipping major raw materials by sea since 1986, is hovering near its all-time low set earlier this year!
Maritime shipping rates are a function of supply and demand. On one hand, demand for goods manufactured in China has been weak, and perhaps getting even weaker. A reflection of the state of the global economy along with a China-specific problem: multinationals are diversifying their supply chains to cheaper countries.
This already dreary scenario is made worse by an oversupply of shipping capacity. Since the Financial Crisis when the Fed and other central banks have started flooding the world with cheap money, executives have swallowed hook, line, and sinker the meme that this would fire up the economies in the US, the EU, and around the world. They were drunk with the very optimism that central banks were purposefully spreading around luxurious C-suites.
In a historic leap of faith, they ordered a large number of ships, including monsters that can carry 19,000 containers and are too large for many ports. Ships take years to build. Now they're going into service, even as the carriers are confronted with a sobering reality: despite the flood of money, or perhaps because of it, the global economy has remained stuck in low-growth mire. What's left are inflated asset prices and overcapacity that has demolished, among others, commodity prices and shipping rates.
But inflated asset prices face a New Normal: "volatility and repricing" – a euphemism for losses. Read… Get Used to Selloffs, Central Bankers Say as They Fret about the Terrifying Moment When Liquidity Evaporates
Enjoy reading WOLF STREET and want to support it? You can donate. I appreciate it immensely. Click on the beer and iced-tea mug to find out how:

Would you like to be notified via email when WOLF STREET publishes a new article? Sign up here.