Good thing – for once – that the US has a service-oriented economy. Otherwise some states would be in terrible shape. Because, for many manufacturers in Texas, Oklahoma, New Mexico, and a number of other states, life is getting tough. And don't just blame the oil bust. That's what the Kansas City Fed reported last week, and that's what the Dallas Fed reported today.
"Perceptions of broader business conditions worsened further" in May, the Dallas Fed said in its Texas Manufacturing Outlook Survey. "Labor market indicators reflected employment declines and shorter workweeks," with only 12% of the firms reporting net hiring, but with 21% reporting net layoffs.
The general business activity index dropped to -20.8, in the negative for the fourth month in a row, worst level since June 2009: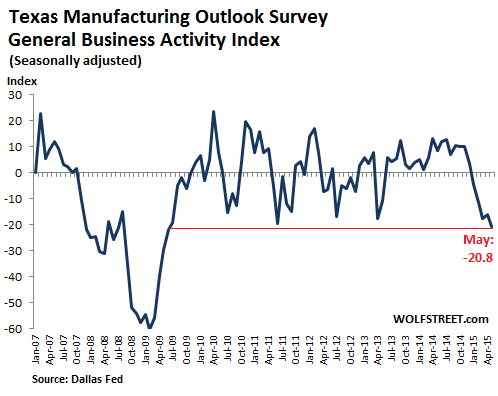 The company outlook index fell to -10.5, for the fifth month in a row in the negative and at the worst level since July 2009. The shipments index plunged to -13.2, the worst since October 2009. The "key" production index dropped to -13.5, the worst since May 2009: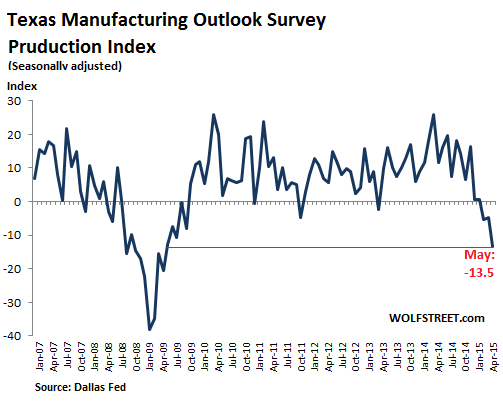 But these folks who have to fight it out on a daily basis in the trenches of the deteriorating Texas economy remain an admirably optimistic bunch when it comes to the future, which is turning outright rosy:
The index of future general business activity surged 11 points to 4.9, and the index of future company outlook jumped 10 points to 15.1. Indexes for future manufacturing activity also moved up markedly, pushing further into solid positive territory.
For some manufacturers, everything seems to be hunky-dory – "Our business has been good this spring, and we expect it to stay that way through the third quarter," one of them said. But others are not so lucky, and deep worries permeate their comments. Some blamed the oil bust. Others blamed the wet weather, the tightening labor market in the Dallas-Fort Worth area (even as other areas are hit by layoffs), and foreign competition that is eating their lunch:
Primary Metal Manufacturing:  "Imported steel continues to be a big problem in Houston, but it is also negatively affecting volume and pricing in the entire country."

Fabricated Metal Manufacturing:  "We don't feel confidence anywhere, but we are feeling cost pressures." Or: "The oil and gas exploration and production industry continues to worsen since last year's peak."

Machinery Manufacturing:  "We've maintained the position that we need to give the oil market time to settle, so our goal has been to survive until the third quarter."

Computer and Electronic Product Manufacturing:  "Our company, which ships internationally, is facing increased stiff competition from South Korea, China, and India. We are losing sales primarily to these three countries."

Wood Product Manufacturing:  "We sell to new single-family home builders. Wet weather has slowed down the development of raw land into ready lots and the home construction process as well. It has affected our shipments for the last two months…."

Printing and Related Support Activities:  Our headcount is down as we've lost employees to competitors and other opportunities. We actually need to hire several employees in the next couple of months to hit staffing goals, hopefully tapering off by the end of the year. The labor market has become very competitive in Dallas–Fort Worth. We're battling to keep our best young talent.

Miscellaneous Manufacturing:  "The California shipping strike hurt our inventories and shipping. It is still backed up. The oil drilling slowdown has made a number of good people available for work until the next drilling pickup. Recent rain and floods may hurt May retail."
But it's not just in Texas.
"Factories in our region saw an even sharper decline in May than in March or April, as exports fell further and energy-related producers saw another drop in orders," reported the Kansas City Fed last week in its Manufacturing Survey. The District covers the western third of Missouri; all of Kansas (aircraft manufacturing hub Wichita), Colorado, Nebraska, Oklahoma, and Wyoming; and the northern half of New Mexico.
The month-over-month composite index plunged to -13 in May, the third month in a row in the negative, and the worst level since April 2009.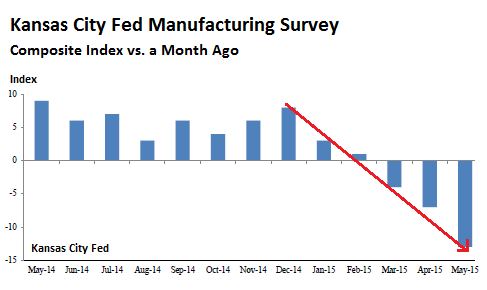 The report pointed out that production "fell most sharply in energy-producing states like Oklahoma and New Mexico, but it was also down in most other District states." Again, there's more going on than just the oil bust.
Faced with this terrible manufacturing scenario in that part of the US, we are – for once – relieved that manufacturing only accounts for 12% of the US economy, after manufacturers spent decades offshoring much of their labor content to cheap countries. So fast-food joints, retailers, the startup bubble in biotech outfits and app makers, people driving their own cars for Uber, and a million other activities will have to fill the holes that manufacturing is leaving behind. If not, it could turn into a real drag.
Manufactured goods, unlike apps, biotech research, and the like, are shipped globally. But something is happening that isn't supposed to happen. Read…  Global Trade Dives Most since the Financial Crisis
Enjoy reading WOLF STREET and want to support it? You can donate. I appreciate it immensely. Click on the beer and iced-tea mug to find out how:

Would you like to be notified via email when WOLF STREET publishes a new article? Sign up here.