No one is backing off.
It was a breath-taking one-week rally for crude oil. West Texas Intermediate soared nearly 15%, from just above $47 a barrel on April 1 to over $54 a barrel yesterday at noon. It settled at $53.98 in the open-outcry session, the highest since December 30. End of the oil bust?
Part of the enthusiasm was based on the EIA's Short-Term Energy Outlook yesterday, which shaved projections for US production fractionally from its outlook a month ago, to an average of 9.2 million barrels per day in 2015 and to 9.3 million bbl/d in 2016. Yet even the lowered outlook still adds up to production increasing by 5.7% and 6.9% respectively over average production in 2014. So, not exactly a decline in production, just slower growth. But it was enough to goose the markets.
It all unraveled unceremoniously when Saudi oil minister Ali al-Naimi, at a conference in Riyadh, carefully opened his mouth in front of reporters. And his words were underscored by two terrible crude-oil storage reports yesterday and today in the US. As I'm writing this, WTI has been beaten down 6.3% from its peak yesterday to $50.60 a barrel.
It was a purposeful maneuver. Saudi Arabia, he said, had produced a record 10.3 million bbl/d in March. It beat the prior record in the recent data series of 10.2 million bbl/d set in August 2013. He left it up to the imagination of the raptly listening world as to why Saudi Arabia was increasing production during these trying times, when everyone had hoped for the opposite.
Production wouldn't drop any time soon, nor would OPEC cut production without cooperation from non-OPEC producers, al-Naimi said.
So Saudi Arabia is pumping at record levels. US production has been soaring. And Russia too has ramped up production and is now nearing the record set in 1972 during the Soviet Union. Those are the three largest oil producers in the world. And they're not backing off. On the contrary.
The only thing missing is rising demand.
Al-Naimi laid out the strategy on how to "restore the supply-demand balance and reach price stability. This requires the cooperation of non-OPEC major producers, just as it did in the 1998-99 crisis," he said.
A supply glut will eventually get the market to that point by repressing the price and forcing out weaker, over-indebted, cash-flow challenged producers, particularly the scrappy, junk-debt-funded players that have been the drivers in the US shale revolution. Fracking depends on prodigious quantities of new money, and when this new money dries up, production might go down. That's the calculus. Then… "Prices will improve in the near future," al-Naimi said.
The Saudi data came on top of fears that Iran, following the nuclear deal with the US & Co., would dump the oil it has in storage on the already oversupplied world markets, and that it would ramp up its own production though that might take a while in the current climate.
There have been speculations that production is already dropping in the US, and a number of estimates and data points have been cited to support this notion. But then came the US crude oil inventory reports.
Late Tuesday, the American Petroleum Institute added to the supply-glut fears by reporting that crude-oil stocks jumped by 12.2 million barrels last week, while analysts had expected a rise of only 3.4 million barrels.
Today, the EIA confirmed the scenario when it reported that crude oil inventories during the latest week jumped by 10.9 million barrels to 482.4 million barrels. To put this into perspective: US production is about 9.3 million barrels per day; in just seven days, US crude oil stocks gained by over a day's worth of production! Total stocks are now at the highest level in the data series going back 82 years. And they're up over 25% from where they were a year ago. Driving season better start soon: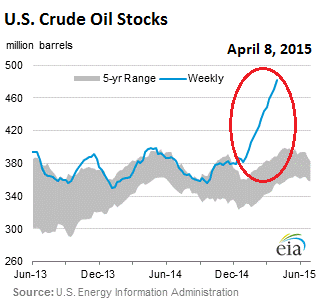 This horrendous growth in crude oil inventories is defying any theories that US production is already declining, and that these scrappy US frackers would somehow willingly and easily give in to pressures exerted on them by producers in Saudi Arabia and Russia. None of these three horsemen of the global oil glut are about to give in to the other two. They'll keep producing until the money runs out.
Layoffs and the collapse of oil exact their pound of flesh in Canada. Read… Calgary Housing & Office Markets Crushed, Alberta Sinks, Vacancies Spread Across Canada, but Vancouver…
Enjoy reading WOLF STREET and want to support it? You can donate. I appreciate it immensely. Click on the beer and iced-tea mug to find out how:

Would you like to be notified via email when WOLF STREET publishes a new article? Sign up here.