Total Dominance over the Media
Some companies excel in getting their name into the media. "Buzz," it's called. The media plaster adulatory articles, pics, and videos all over the place. It doesn't last forever, but it can go on for a long time before the media finally get disenchanted, and the whole thing turns sour.
Tesla – or rather CEO Elon Musk – used to excel at it. For years, every news outlet bombarded its readers or viewers with some fawning piece on Tesla whose electric cars would change the world into a better place. And if it wasn't Tesla itself, it would be something like the Hyperloop or the Gigafactory or something.
But now even the media has figured out that these $75,000+ small-batch production cars that few people can afford don't amount even to a rounding error in global car sales. Manufacturing and selling a lot of cars at a profit is really, really hard. And making losses into the future as far as the eye can see, according to Musk himself, isn't the ideal business model for an automaker.
Until that unfortunate turn of events, Tesla used the hype to extract a few billion dollars from investors. And it's now busily burning through this money.
Media adulation is in part based on gravity-defying shares. In early August last year. Tesla shares traded at nearly $300, giving the company a market valuation of $37 billion. This is what media adulation can accomplish.
These shares have since zigzagged down by 35%, trading at $189 as I'm writing this, on their way back to some ultimate reality. And media adulation is beginning to curdle.
But now we read about Tesla's current difficulties in the largest auto market in the world, China, where nearly 20 million passenger vehicles were sold last year, of which an imperceptibly small number – about 2,500 – were Teslas. Tesla is cutting back in China where other automakers are expanding like crazy. It will lay off 180 of its 600 employees there, according to Chinese media reports, a number that Tesla spokesman declined to confirm, though admitting that "some people will go."
Perhaps it started last fall. In November, Tesla had a media run-in. BMW insiders said that Musk "is using us for PR purposes," that stung by Daimler's and Toyota's exit from Tesla, he wanted to "decorate" himself with the name BMW. Very unpleasant for a media darling [BMW Smacks Down Elon Musk's Tesla Collaboration Hype].
Over the years that Tesla's media magic succeeded, there was only one company that was better at it: Apple.
Apple is a different animal with phenomenal global products, enormous sales and profits, and a stellar balance sheet. It has been for years the absolute media darling in the US. But the fawning coverage Apple and its products get during normal times pales compared to what happens ahead of, during, and after an Apple event.
Last week it was the hoopla that arouse when Apple's stock was anointed to be in the Dow Jones Industrial Average. Now it's the watch.
Apple is creating buzz for its watch, years after American consumers have given up on watches. Even lowly flip phones told the time, date, and day of the week 20 years ago. And why carry two devices that do the same thing? It took us years, but we finally figured it out.
So now Apple is out trying to persuade millions of people that the latest must-have device is a watch, the same sort of thing their parents used to wear back in the day. It's going to be a slog. But OK, this watch is different: it can do some of the things a smartphone can do.
The market is already crowded with the products of other smartphone makers: LG Watch Urbaine LTE, Moto 360, Pebble, Samsung Gear S … but to heck with them.
So this morning, you couldn't turn on the radio or look at news sites without being confronted with Apple. MarketWatch, a division of the Wall Street Journal, is an example. After it soured on Tesla, it's certainly doing its part in promoting Apple and its latest gadgets.
This is a screenshot of its front page this morning, ahead of Apple's "Spring Forward" event, that would feature the watch: Apple, its products, and its stock were depicted 8 (eight!) times: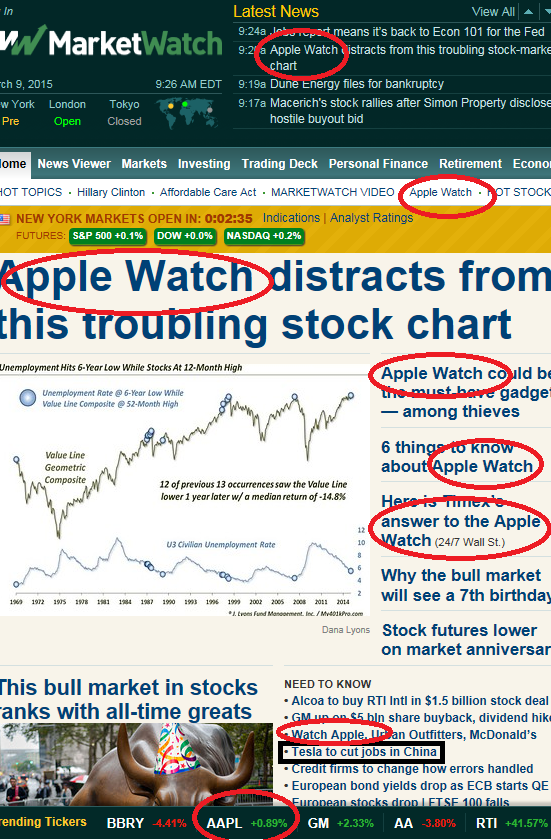 Is that enough free promo – at least, I assume it's free – by just one publication, with similar adulation being multiplied by countless publications spread across the internet, for a company and a watch?
The answer is NO. Of course, it's not enough free promo for Apple. Every new version of its iPhone gets a similar treatment. No other company comes even close to being able to this extent to show consumers, without incurring the cost of ads, these mobile options that are available.
After the event started, I took the screenshot below (at 10:45 AM Pacific Time). It now features, if iCounted (?) correctly, 16 mentions of Apple and its products, including a photo of the event with CEO Tim Cook speaking. A later version had an Apple-produced close-up pic of the watch – better than a banner ad. That's how you do it: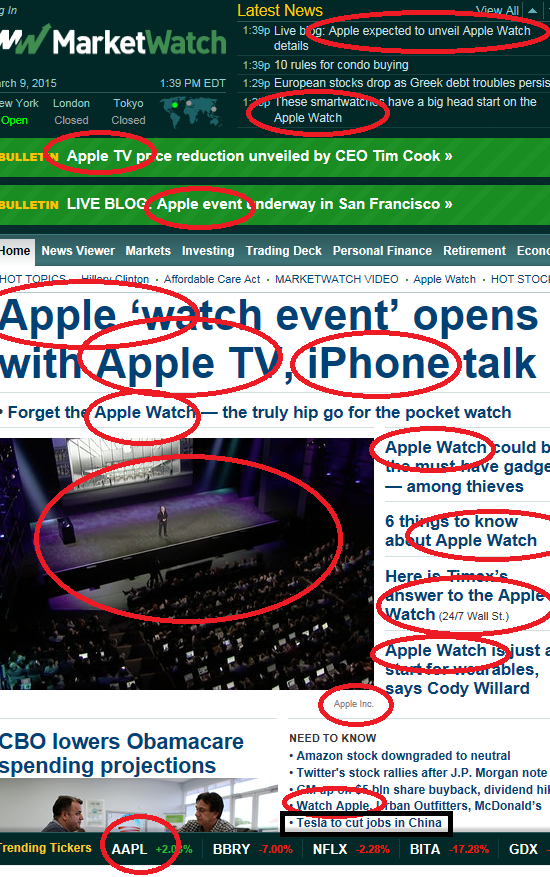 So Apple comes out with a watch, hundreds of years after the pocket watch was invented, and look what happened. Anything else going on in the world? Hardly.
It is proof that the media's unquestioning and adoring love for anything Apple remains red-hot. And Apple has got the media wrapped around its little finger.
On the other hand, note the mention that the erstwhile media-darling Tesla got at the bottom. I marked it with a black rectangle. Very unflattering, after all the China hype that Tesla was able to drum up last year and that ended up propelling its stock to nearly $300 a share. But that's like so over.
In the broader context, corporate America has a very chilling message about the US bond market. Read…   A "Crush" of Bond Sales Before the Market Goes to Heck
Enjoy reading WOLF STREET and want to support it? You can donate. I appreciate it immensely. Click on the beer and iced-tea mug to find out how:

Would you like to be notified via email when WOLF STREET publishes a new article? Sign up here.