The floodgates opened in December. Perhaps it had something to do with oil, Canada's number one export product, whose price went into free-fall in November and triggered extensive bloodletting in the Canadian oil patch. Or perhaps foreign investors got spooked by something else.
Until then, they'd been sanguine: from January through November, they'd added C$72.5 billion in Canadian securities to their holdings. But in December, they suddenly dumped C$13.5 billion – the most in 18 months.
That included C$8.5 billion in Canadian government and corporate bonds, according to Statistics Canada, which defines bonds as debt with an original term to maturity of more than one year. This wholesale dumping of bonds was partially offset by an increase of C$2 billion in money market instruments. They went looking for the safety of short maturities.
And as Canadian stocks fell a barely perceptible 0.8% in December, these frazzled foreign investors who'd splurged on Canadian equities from January through November by adding another $32.3 billion to their holdings, suddenly dumped C$7.0 billion of their shares, the most since February 2013.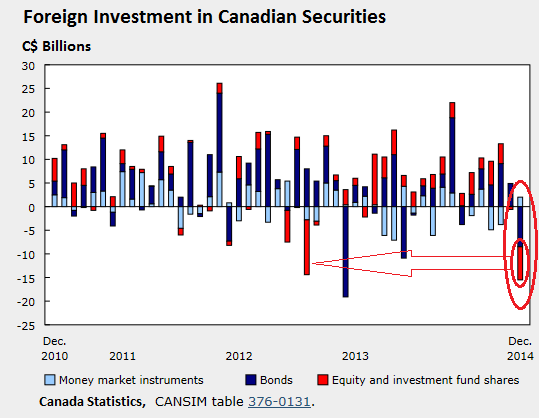 But it wasn't just foreign investors who got frazzled in December. Canadians too ran scared and sent C$13.9 billion of their hard-earned money across the border – the most since December 2000!
The bulk of it went into US Treasuries. In October, with QE in the US petering out, Canadians were still trying to get rid of their Treasuries. But in November, they reversed course. And in December, they piled back in and bought C$8.5 billion in US Treasuries, an all-time record!
They also bought C$1.4 billion in other foreign bonds and increased their holdings of foreign equities by C$3.9 billion, mostly US stocks. Unlike Canadian stocks, US stocks rose 0.7% in December, Canada Statistics helpfully pointed out. For the year, Canadians bought C$35.7 billion in foreign stocks – nearly two-thirds of them non-US stocks – the largest annual buying spree of foreign stocks since 2000.
These fund flows exclude transactions in equity and debt instruments between affiliated enterprises, classified as foreign direct investment in the international accounts.
Note in the chart below the high proportion of foreign equity purchases for much of the year until November and December, when US Treasuries, considered a safe haven, became the investment of choice: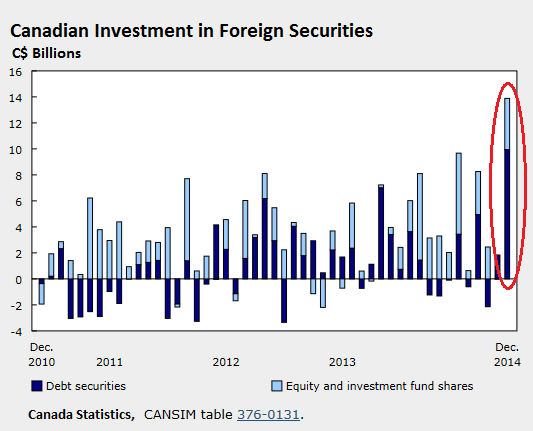 With foreigners bailing out of Canadian securities and with Canadians taking their money and investing it in foreign securities, the total outflow of funds from the Canadian economy for December reached C$27.4 billion.
The turn came suddenly: in the prior months, foreigners were still busily buying Canadian securities. But the December outflows dragged down the entire fourth quarter. With total outflows of C$15.7 billion, it was the worst quarter since Q4 2007 as the Financial Crisis was worming itself into the system.
The December outflows also dragged down the fund inflows for the entire year to $3.4 billion. It was the seventh year in a row of net inflows, but the lowest since 2008 during the Financial Crisis.
Perhaps these investment decisions were based on the assumption that the US economy would be strengthening, which has been predicted for years. But maybe the assumption is that this time, the predictions would actually come true.
Or maybe a bitter whiff of a toxic mix is worrying these investors.
Back in July, ratings agency Fitch had already warned about Canada's housing bubble and "high household debt relative to disposable income" that "has made the market more susceptible to market stresses." In September, the Bank of Canada too warned about the housing bubble and what an implosion would do to the banks. Then in January, oil-and-gas data provider CanOils found that "less than 20%" of the top 50 Canadian oil companies would be able to sustain operations with oil at US$50 per barrel. And these fears are now coming to pass. Read… Canada Mauled by Oil Bust, Job Losses Pile Up – Housing Bubble, Banks at Risk
Enjoy reading WOLF STREET and want to support it? You can donate. I appreciate it immensely. Click on the beer and iced-tea mug to find out how:

Would you like to be notified via email when WOLF STREET publishes a new article? Sign up here.