The oil industry is dead-serious when it talks about slashing operating costs and capital expenditures. It has to. Preserving cash is suddenly a priority, after years when money was growing on trees.
In the US, the cost cutting has reached frenetic levels. One place where it shows up on a weekly basis is the number of rigs actively drilling for oil. And that rig count dropped by 94 to 1,223 in the latest week, as Baker Hughes reported today. A phenomenal plunge, by far the worst ever. In January, the rig count crashed by 276, the most ever for a calendar month. That's 18.4%! the rig count is now down 386 from its peak on October 10, by nearly a quarter!
And yet, it's still just the beginning. The chart shows the breathless fracking-for-oil boom that started after the financial crisis. Not included are the rigs drilling for natural gas. That fracking boom had started years earlier and ended in a glut and total price destruction that continues to this day (chart). Note the two-month cliff-dive, the worst ever. During the financial crisis, the oil rig count fell 60% from peak to trough. If this oil bust plays out the same way, the rig count would drop to 642! The bloodletting in the industry would be enormous.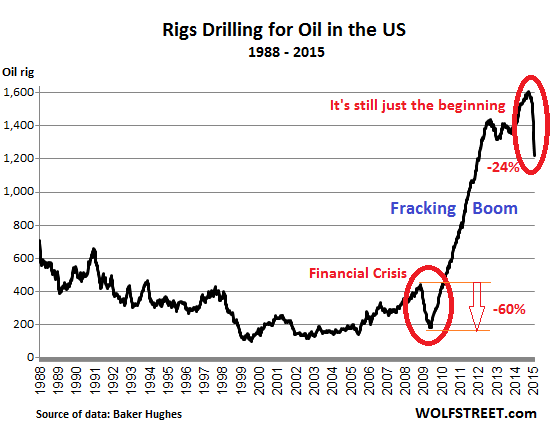 When the rig count was released today, West Texas Intermediate spiked nearly 9% to $48.32 a barrel, fired up by a big bout of short-covering. It now trades for $47.74, up 7.2% for the day. And yet, it's still below $50!
But the cutbacks in investments and drilling activities have not yet had any impact on actual production. That is a function of existing wells. New wells are constantly being completed, and their production adds to existing production. So what really needs to happen for the oil bust to end is a decline in production – because demand isn't picking up the slack. But that just isn't happening, not yet.
Production continues to rise, internationally and in the US. Oil company by oil company, they're all projecting further increases in production. They're cutting drilling activities, they're laying off people, they're closing facilities, but they're pumping as much oil as they can to salvage what's left of their fizzling cash flow.
The US Energy Information Agency projects production from US wells (except from Alaska and the Federal Gulf of Mexico) to continue rising into 2015 with a tiny bit of tapering toward the end of the year. In this chart, which the EIA released on January 26, the maroon line represents the total rig count for oil and gas (rather than just for oil,as above). The colored areas (dark blue to green) represent production from new wells each quarter. Their drooping lines are a reflection of the steep decline rates inherent in fracked wells. In other words: new wells have to be drilled constantly just to keep production flat. If the rig count drops by enough, there won't be enough new wells to make up for dwindling production from legacy wells. That's when production will begin to taper off.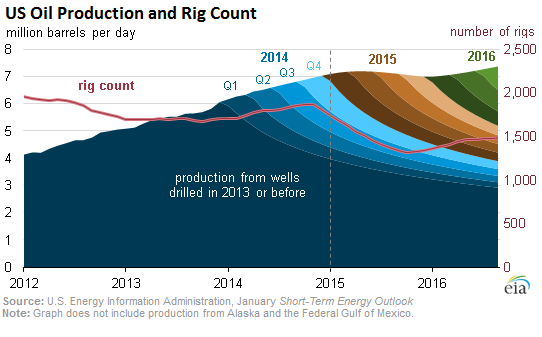 Meanwhile, rising production in the US, combined with slack demand growth, is ballooning crude oil inventories. In the latest reporting week, these inventories (excluding the Strategic Petroleum Reserve) rose by another 8.9 million barrels to 406.7 million barrels, the highest level for this time of year in "at least the last 80 years," the EIA reported. These inventory levels (blue line) are on a terrific upward trajectory that defies the 5-year range and seasonal fluctuations: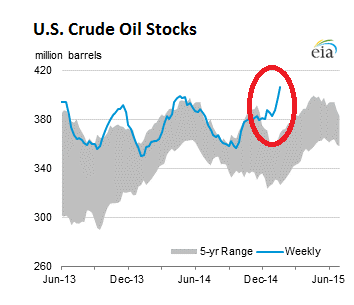 Every rally in oil over the last six months has gotten hammered down brutally. Eventually, the oil glut will end. Everyone knows this. But we haven't seen demand pick up or production decline to make a dent in the glut. And the wave of defaults and bankruptcies that needs to happen to shake out over-indebted, less efficient players has only just started. So it appears that folks who are trying to catch this falling knife may get some of their fingers sliced off.
But time and money are running out for junk-rated energy companies. Read…  Debt and Fracking at Low Oil & Gas Prices: Wave of Defaults, "Outright Liquidations" Next
Enjoy reading WOLF STREET and want to support it? You can donate. I appreciate it immensely. Click on the beer and iced-tea mug to find out how:

Would you like to be notified via email when WOLF STREET publishes a new article? Sign up here.