KB Home, one of the largest homebuilders, reported earnings on Tuesday. It was all hunky-dory. Shares rose 3.6% in premarket trading. But then, at 11:30 AM ET came the conference call. And what these folks said about the housing market wrecked KBH. The carnage spread to other homebuilders and torpedoed a big-fat rally in the broader market.
So what the heck is going on in this glorious housing market of ours?
Since the implosion of the housing bubble, we the people bailed out Fannie Mae and Freddie Mac. We had home-buyer tax credits from state and federal governments. We got HAMP, HARP, mortgage write-downs, and banks that were delaying foreclosures to pump up prices. We got the Fed's ZIRP, QE-1, QE-2, "Operation Twist," and QE-3, during which the Fed purchased mortgage-backed securities, in addition to Treasuries,  to repress long-term interest rates, including mortgage rates, to goose home prices. We got multi-billion dollar fines and settlements from TBTF banks who never admitted any wrongdoing. We got private equity funds pouring the Fed's free money into the housing market, buying up hundreds of thousands of single-family homes to rent them out and drive up their prices.
After all these trillions and taxpayer guarantees and no-cost capital for Wall Street, you'd think the housing market would be in great shape with first-time buyers, the bedrock of a sound housing market, flooding the scene to buy homes at affordable prices, borrow like mad to equip them with furniture and appliances, and push the economy to the next level.
Instead, home prices have jumped – in some hot areas, such as San Francisco, far above the crazy levels of the prior housing bubble. Homes have become unaffordable for many people. Sales are languishing. And everything is off kilter.
But one thing these heroic efforts did accomplish: they managed to decouple the relationship between homeownership rates and home prices. Ever since the post-war boom, there had been one constant: higher homeownership rates led to higher prices. The principle held during the Financial Crisis when homeownership rates and prices fell in sync. Then, as the heroic efforts to heal the housing market kicked in, home prices began to soar, and homeownership? It dropped relentlessly.
"The first national housing boom in the postwar era that has not been supported by an increased demand for owner-occupied housing," that's what a report by the St. Louis Fed called it.
In this chart from the report, homeownership rate (blue line) peaked in 2005 at 69%, "accompanied by a steep increase in home prices," namely the housing bubble, as depicted by the CaseShiller home price index (orange line).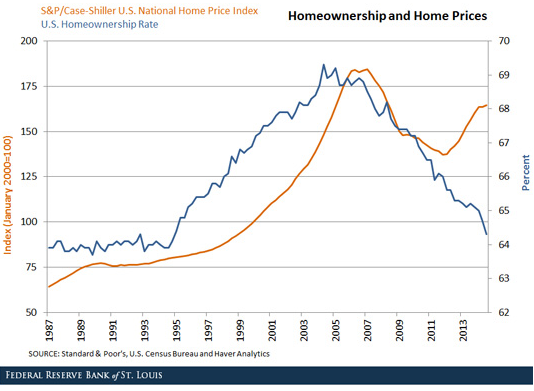 The biggest decline in homeownership was among households headed by individuals age 35 and under, hence "first-time buyers," the report explained, concluding that it's now "possible to have housing booms driven entirely by investors." And the chart depicts how America has changed from a nation of homeowners chasing the "American Dream" to a nation where Wall Street is the biggest landlord.
This is the environment homebuilders are facing.
So KB Home reported that revenues for the fourth quarter, ended November 30, increased 29% from a year ago to $796 million, due to two factors: deliveries increased 9%; and the average selling price soared 17% to $351,500. Orders and backlog were up as well. Net profit jumped to $852.8 million, a feat accomplished via a tax benefit of $824.2 million. Without the tax benefit, the profit was $28.6 million, up a smidgen from a year ago. Those numbers lit a fire under the shares, and they rallied premarket and in early trading before they lost steam.
At 11:30 AM came the conference call.
CEO Jeff Mezger said that during the prior earnings call, he'd still expected "a slow yet steady recovery" of the housing market, and that gross profit margins would improve sequentially going forward. But the opposite happened. There was a "softening in demand" and "increased pricing pressure" while costs of labor and materials were rising (transcript, Seeking Alpha).
CFO Jeff Kaminski added that the average selling price had increased 18 quarters in a row on a year-over-year basis, but for Q1 he projected it to drop 7.5% to $325,000.
This is the toxic mix that hit them: They delivered fewer homes than "previously expected." Given "tighter market conditions," they had to cut prices and throw in more sales incentives. And "cost pressures" were building up in labor and materials.
So adjusted gross margin edged down to 18.7%. It would continue to be lower "for some time," Mezger said. Year-over-year, Q1 gross margin will "drop significantly," before ticking up during the rest of the year, but it won't reach the "goal of 20% in 2015 as we have hoped."
There was one more thing: California.
The company booked inventory impairment charges of $34 million. Of that, $23 million was for some land in the Coachella Valley area, near Palm Springs in Southern California. The remaining $11 million were for other areas in inland California and also in Arizona. While coastal California is booming, with the Bay Area being "as good as it's ever been," the inland areas – the Inland Empire in Southern California and the Central Valley – were "quite a bit softer than they have been." And so they had to pile on sales incentives and slash prices in "the magnitude of 8% or 10%," he said. "It hit pretty hard out there."
And it's "possible" that there would be "additional impairments in the future," he said.
Then there's Orange County, a wealthy enclave. It "softened a little," he said. He blamed the "Chinese buyer." Real estate agents were steering them to resale homes because they were a better deal, after new home prices had ballooned so much. And as Chinese demand wanes, "it ripples inland, and the further inland you go the more the ripple is felt…."
KBH had traded in the green for part of the morning, while the Dow was up over 200 points. But word of what was in the script must have leaked out, and KBH soon turned red. The conference call started at 11:30 AM ET. At 11:36 AM, as Mezger was reading off the script, KBH began to plunge in a nearly straight line then zigzagged down further to lose 16% for the day, and 44% for the last eight months.
Other homebuilders, after rallying, got hammered too. DR Horton dropped 4.8%, Lennar 1.7%, PulteGroup 2.5%, and the iShares US Home Construction 2.5%. The Dow began losing its grip at about 10 AM and dove over 400 points peak-to-trough, then bounced off and settled 27 points in the hole.
Broader home sales have been terrible. The bitter irony of the Fed's handiwork. Read… Last Time Inflated Home Prices Strangled Sales Like This, the Housing Market Crashed 
Enjoy reading WOLF STREET and want to support it? You can donate. I appreciate it immensely. Click on the beer and iced-tea mug to find out how:

Would you like to be notified via email when WOLF STREET publishes a new article? Sign up here.