Gaming revenues have been soaring in Macau, the world's largest gambling hub and the only place in China where gambling is legal. Hefty double digit year-over year gains have been the rule, driven by newly rich Chinese high rollers and their love for betting. Their bitter losses are Macau's sweet revenues. But something happened, and revenues are now in free-fall.
The last quarter in 2013 had been the first ever to exceed 100 billion Macau patacas ($12.5 billion) in gross revenues. And the first three months this year came in with MOP 102.2 billion. There simply was no stopping the gambling juggernaut.
But then June happened – the first year-over-year revenue decline (-3.7%) since financial-crisis year 2009, according to the Gaming Inspection and Coordination Bureau. At the time, the debacle was blamed on the World Cup. Perhaps the Chinese were too busy betting on soccer games. VIP revenues, which made up 66% of total revenues during the VIP heydays, were down an estimated 20%, only partially offset by the rest of the gamblers, the penny pinchers, who lost 30% more than a year earlier.
July would see a post-World Cup bounce. That was the hope. But revenue dropped again by a similar amount. And the World Cup as an excuse evaporated. So the corruption crackdown in China was blamed. At the time, the investigation of Zhou Yongkang, former head of state security, was plastered all over the media, and it was blamed for scaring VIPs into suddenly taking the crackdown seriously, though others called the anticorruption campaign a convenient cover for a political purge.
Then in early August, the Taiwan branch of Macau casino operator Melco Crown Entertainment was indicted by the Taipei District Prosecutors Office for alleged violations of banking and foreign-exchange laws. A day later, it reported a 7% revenue decline and crummy earnings. And Macau's gaming revenue dropped 6.1%. Junket promoters – commissioned by the casinos to entice VIPs to Macau with a variety of services, such as getting around China's currency controls – were getting hammered.
In September, it got worse. The little people still flocked to Macau to hand their hard-earned money to the casinos, but it wasn't enough to compensate for the VIPs. And total gambling revenue fell 11.7%.
Then October happened. Casino revenues plunged a record 23.2% to 28 billion MOP ($3.5 billion). The debacle looks like this: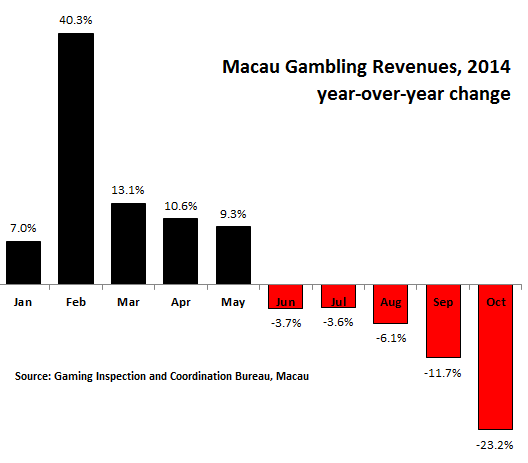 It dwarfed the prior record plunge of 17.1% that had occurred in crisis-year 2009. October was the fifth straight month of declines. The record is a seven month decline during the financial crisis, from December 2008 to June 2009. But even in 2009, revenues ended up rising 9.7%, Macau's worst annual performance in the history of its data going back to 2002. During those years, Macau has never seen a year with declining revenues!
But it's about to.
For the first five months of the year, revenues were still up 15.8%. And year to date revenues, at MOP 304 billion ($38 billion), are still 2.3% higher than for the same period last year. But November and December already look more than gloomy: 2014 is shaping up to be the first year with a revenue decline.
Now they're blaming the collapse in gaming revenues on Chinese President Xi Jinping who'll stop by Macau in December for the 15th anniversary of the city's handover to China. And VIPs are going to stay away, apparently. In the third quarter already, VIP revenue had dropped to a record low 56% of total revenues. And it's getting worse.
"Our current expectations of December being down 24% year-on-year include further disruption to the VIP segment because of Xi's visit," explained Union Gaming Research analyst Grant Govertsen. He saw ''no reason" for this debacle to get better in the first quarter of 2015.
The casino operators have all gotten hit: Sands China Ltd., Wynn Macau Ltd., Melco Crown Entertainment Ltd., MGM Macau, Galaxy Entertainment Group Ltd., SJM Holdings Ltd…. It's tough out there.
After the World Cup excuse had turned out to be silly, the corruption crackdown and now Xi's visit to Macau are being dragged out as excuses. But is China's crackdown on corruption – whether or not it's a cover for a political purge – really the main culprit? Macau's final quarter of 2013 and the first quarter of 2014 broke all revenue records. But that crackdown didn't just start in June. It started two years ago!
And blame is spreading to the pro-democracy protests in Hong Kong. Macau is an hour by high-speed ferry from Hong-Kong. Many mainland Chinese like to combine a trip to both. So perhaps they're staying away from both during the protests. Macau's new visa regulations that shorten the time gamblers can stay on the island have been blamed too, as have been the new curbs on the UnionPay credit card with which gamblers can get around China's currency controls. And we already know what they're going to blame for the debacle in November: the smoking ban in casinos that became effective in October.
But are they really responsible for this sort of crash in revenues?
That leaves a larger issue: the slowing Chinese economy. Official economic data coming out of China is not credible. So we sort through unofficial data. Many of these high-rollers made their money in sectors that are now in deep trouble, such as the property sector, construction, and heavy manufacturing. Over-leveraged, dogged by declining sales and prices, and in some sectors by rampant over-capacity, while facing tighter credit conditions, some of these folks might be staring down into a financial abyss. And going on a VIP junket to Macau might no longer be a big priority.
There have other unofficial indicators. Global consumer products company Unilever, instead of seeing a global recovery, sees a sudden and broad slowdown – with a plunge in China. Read… What Unilever just Said About Consumers Around the World: "It's Really Tough out There"
Enjoy reading WOLF STREET and want to support it? You can donate. I appreciate it immensely. Click on the beer and iced-tea mug to find out how:

Would you like to be notified via email when WOLF STREET publishes a new article? Sign up here.