Homebuilder KB Homes, when it reported earnings for the quarter ended August 31, revealed that the average price of the homes it sold rose 9% to $327,000. In the West, prices jumped by 20% to $579,700. With these juicy price increases, sales in dollars were up 7% from a year ago. But the number of homes it sold actually declined by 2%. That's how the housing market in America operates these days – even at the high end that KB Homes serves.
At the same moment, the Commerce Department reported that new home sales suddenly jumped by 18% in August from July, and a breath-taking 33% from August last year, after having been in the doldrums or declining for months (PDF). But the margin of errors are elephantine (±16.3% and ±21.7% respectively), so a grain of salt comes in handy.
With such an enormous jump in sales, if it doesn't get revised back down next month, you'd think that inventories of homes for sale would have been drawn down during the month. On the surface, that happened: supply dropped from 6 months to 4.8 months. But…
The actual inventory of new homes still for sale at the end of August, despite the burst in sales, rose 2% to 206,000, from July's 202,000 – and was up 16% from August a year ago. August and July were the only two months in the 12-month period when inventory was over 200,000 new homes. Among these homes, the inventory of "completed" homes – rather than "not started" and "under construction" – jumped 23%. These homes, despite the presumed spurt in sales, are stacking up!
Now RealtyTrac found that sales of all residential properties – single family homes, condominiums, and townhomes – in August dropped 0.5% from the already dismally low level of July to an estimated annual pace of just over 4.5 million. Year over year, a 16% plunge!
Until mid-2013, the annual rate had been rising toward 5.5 million homes. Investors had been scouring the hottest markets, buying up homes by the thousands, and driving up prices in the process. But they succeeded so well in driving up prices that their equation wasn't working anymore. And they walked. What was left was a toxic mix [read…. After Mucking up the Housing Market, Investors Flee].
Mid-2013, everyone thought the housing market was once again entering the paradise of eternally rising prices and sales. But in the fall, the hot air started hissing out of it. Sales spiraled down, amidst a slew of now ludicrous industry excuses.
This chart shows the change of the annual rate of sales every month, starting January last year (fat line, left scale). Note how beautifully it rose toward 5.5 million homes in mid-2013. Then investors began to bail out. The light blue bars (right scale) indicate the year-over-year percentage changes in the annual rate of sales, which has plummeted relentlessly over the last 12 months: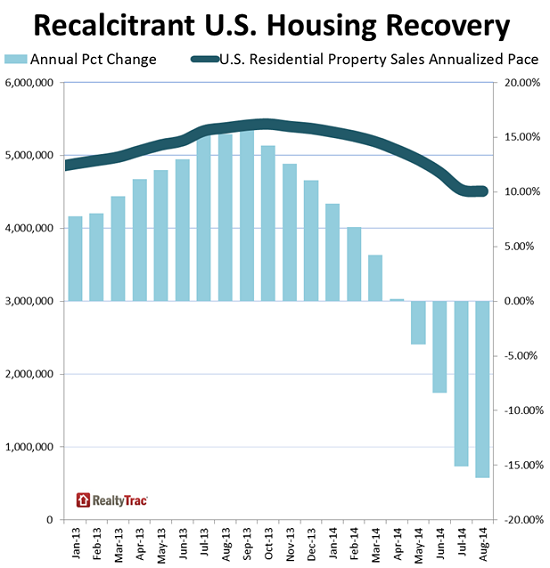 But here is the miracle: Despite plunging sales, the median price rose 3% from July to $195,000 – the highest since August 2008 – and was up 15% from a year ago. These soaring prices are hurtling along on the same time-honored collision course with plunging sales. In the past, that type of race ended in a crash.
And there is a Fed-induced twist to just about everything in this economic "recovery": the higher end, where the beneficiaries of the Fed's "wealth effect" operate, is doing well, while the bottom is falling out at the lower half: The share of sales in the price range below $200,000 dropped 9% year over year. With the median sale price at $195,000, over half of the homes sold were in this miserable category.
But the categories above $200,000 gained in share. Homes over $1 million saw their share explode by 38% year over year – even as the total home sales pie shrank by 16%!
This chart shows how the overall sales pie is split up, with the lower half of the housing market in terrible shape, while at the expensive end, the Fed's "wealth effect" has kicked in nicely. The problem? The number of people who can afford a $1 million home is minuscule.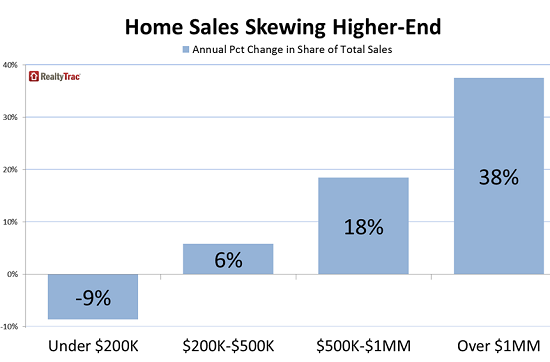 The housing market has become Exhibit A of what happens when the Fed is trying to engineer a "recovery" by dousing Wall Street with free money that then needs a place to go. It went everywhere, and in late 2011, it found fertile grounds in the American Dream. The middle class had no chance against the hundreds of billions of dollars that suddenly poured in. Now it's largely priced out of the market.
Sellers are feeling it too. They're still clinging to their dreams of big gains even if they can't sell the home because potential buyers can't afford it. Then something gives. This is precisely where the last housing crash began.
The Fed has liberally taken credit for this "recovery" of the housing market, but it is doubtful that it will liberally take credit for the main-street consequences of its actions.
And that American Dream? It's not for millennials, apparently. Read…. California Home Sales Dive, Prices Hit Wall, Millennials Blamed
Enjoy reading WOLF STREET and want to support it? Using ad blockers – I totally get why – but want to support the site? You can donate. I appreciate it immensely. Click on the beer and iced-tea mug to find out how:

Would you like to be notified via email when WOLF STREET publishes a new article? Sign up here.

Many experts agree that metal roofs are a great defense against wildfires. Click here or call 1-800-543-8938 for details from our sponsor, the Classic Metal Roofing folks.
Classic Metal Roofing Systems, the leader in fire safe roofing for residential applications, manufactures products that are 1/20 the weight of most tile products and eligible for Class A, B, or C fire ratings as determined by roof preparation.