With home prices rising for three years in much of the country, and soaring at dizzying rates in a number of metro areas, the inevitable is happening: sales stalled. But prices have continued to rise, even as sales have deteriorated further. Something has to give. And it's not going to be maxed-out American consumers. They're not going to all suddenly inherit enough money to buy these mid-range homes that have moved beyond reach.
But something else is happening.
In the Las Vegas-Paradise metro area, one of the epicenters of the former housing bubble, and one of the epicenters of Housing Bubble 2, the ratio of homes sold to absentee buyers (mostly investors) as a percent of total sales in July plunged by a quarter year-over-year, according to DQNews, a division of CoreLogic. The ratio of homes sold to cash buyers plunged by a third. The ratio of homes flipped swooned. Total home sales have dropped year-over-year for the past 10 months; in July, they were down 11.8% to 4,260 units, the lowest for any July since crisis-year 2008.
And the median price? $190,000, up 9.6% year-over-year. The highest since November 2008. It has now booked 28 months in a row of year-over-year gains that reached up to 36.5%. Crazy! But July was the first month in two years with "only" a single-digit gain.
These price increases have moved homes up the price ladder across the board, and potential buyers looking at the lower end found their American dreams evaporate: the number of homes that sold for less than $100k plunged 32%; the number of homes that sold for less than 200k plunged 21%; but the number of homes selling for over $500k rose 11%.
And not just in Las Vegas. So Redfin, an online broker represented in the major markets across the country, analyzed what happened to the crucial "middle price range" of homes for sale where most buyers are looking. In July 2011, that range was $130k to $375k. But by July 2014, the number of homes for sale in that range had dropped 17%. The number of homes priced below $130k had plummeted 50% from 2011. But the number of homes priced above $375k jumped 16%.
"The issue seems to be that a lot of what's on the market is overpriced, and buyers are feeling uncertain about whether it's a good time to buy," explained a Redfin broker in Phoenix.
In Las Vegas, the number of homes for sale in the middle range ($77k to $177k in 2011) plunged by 51.5%; same thing in Sacramento, down 48.6%. As prices have soared over those three years, that "middle range" has moved up-market – and increasingly out of reach of the middle-range buyer whose real income has stagnated.
This chart shows to what extent the problem has spread across the country: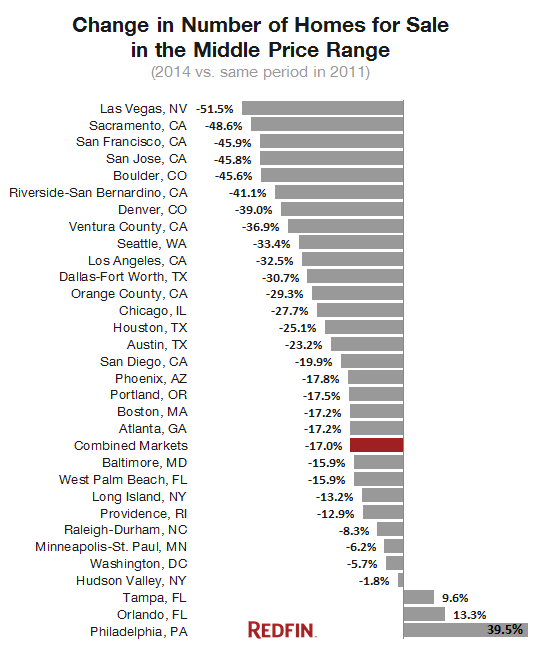 On the other hand, the number of homes for sale toward the more expensive end has skyrocketed from 2011: by 69% in Phoenix for homes over $270k, by 67% in Philadelphia for homes over $365k, by 51% in Riverside for homes over $475k. (here is the list)
And the middle price range of homes for sale has gone ballistic: Across Redfin's markets nationally, it soared 37% to range between $155k and $429k. Only Philadelphia saw a slight decline of 3.2%. In Phoenix, it was up 77% ($160k to $399k); in Sacramento up 76% ($235k to $532k); in Las Vegas up 66% ($130k to $297k); and in the San Francisco metro area up 63% ($650k to 1,695k … yup, $1.7 million, which causes some rational people to scratch their heads).
What gives, as incomes of prospective home buyers haven't budged?
Home sales across the country have declined steeply. In the nine-county San Francisco Bay Area, in July, home sales dropped 9% year over year. In San Francisco itself, they plunged 24%. Anecdotal evidence: in June, two homes went up for sale on my block where nothing had gone up for sale since 2011. In August, one of them finally sold. The other one still hasn't sold. It's tough out there, at these insane prices.
Sales have also been eviscerated in San Diego, Phoenix, Washington, D.C., and other cities where, as Redfin noted, "price growth has been the strongest." This is the wall, and home prices have run into it. Even buy-to-rent investors and home flippers are bailing out because their business models no longer work at these inflated prices. Who's going to pick up the slack? The student-loan debt-slave first-time buyer? Hardly.
What will happen to prices? In July, sellers got nervous, and started to lower their listing prices: in Denver 38% of the homes for sale had their prices lowered; in Ventura County, CA, 35%; in Sacramento 34%. Across the nation, 24%. Bidding wars are history. The price pressure is on. And home flippers are see that the magic mix has become toxic. Read… Home-Flipping Collapses in San Francisco, Losses Spread
Enjoy reading WOLF STREET and want to support it? You can donate. I appreciate it immensely. Click on the beer and iced-tea mug to find out how:

Would you like to be notified via email when WOLF STREET publishes a new article? Sign up here.