President Obama's proposal to cut the deficit by x trillion dollars over ten years is just another punch line in the serial joke that our political machinery has been telling us for too long: that somehow, deficits will be "cut" in ten years, while tax cuts and spending increases (the jobs bill, for example) are needed immediately.
OK, cutting taxes and increasing spending are politically expedient. We love to receive handouts—spanning the entire spectrum from the homeless guy down the street to Goldman Sachs, GE, and AIG, and even Silicon Valley stars like Solyndra and Tesla.
Raising taxes and cutting spending and are painful procedures. People get upset. Consumption might edge down. Companies that have gotten fat on handouts get in trouble. Wall Street blows up again. So we defer it. Meanwhile, the deficit hovers around $1.5 trillion, year after year, 40% of the federal budget, 10% of GDP. Gross national debt has reached 100% of GDP—after Obama signed the debt-ceiling law, it jumped $238 billion in one day. Next year, it will flirt with 110%, and the year after with 120%. Neither Obama's proposal nor anything that has emerged from Congress addresses that fiasco. They're talking about making micro adjustments years down the road. That's a tired joke. And we've stopped laughing long ago.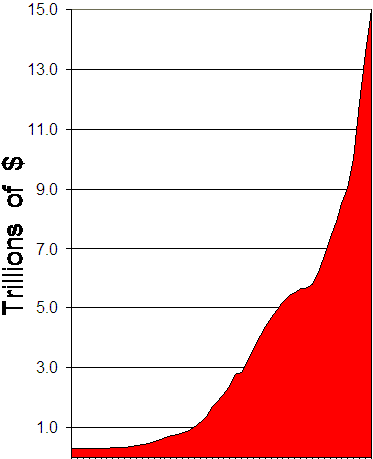 $15 trillion will be added to our gross national debt over the next ten years if deficits continue to pour at the current rate, doubling it to $30 trillion. Even if $3 trillion in cuts were to see the light of the day, gross national debt would still increase to $27 trillion. A catastrophic situation. And the scary graph will look a heck of a lot scarier.
And worse: Ten-year budget forecasts are ridiculously optimistic. A little over ten years ago, a "surplus" had conveniently been forecast for the next ten years. Now, when we look back, we see that the surplus was ephemeral, and that a deficit rose from it like a mushroom cloud. Since then, the deficit has become structurally embedded in our economy. Like an addictive drug, red ink is now required in ever greater quantities to eke out puny rates of growth, and in the future, even $1.5 trillion of red ink may not suffice.
The solution isn't more deficit spending. The solution is to get off the drug. And to get off now. Due to the sheer magnitude of the deficit, both tax increases and spending cuts have to be on the table. For those who want to balance the budget via spending cuts alone: You'd have to cut 40% out of every government program, including defense and intelligence, congressional salaries (good luck), highways, entitlements, bridges to nowhere, bailouts, etc. Hardly possible. But a good part could be cut, and the rest will have to be dealt with through tax increases.
There will be no free lunches. Since government spending adds directly to GDP (consumption + investment + government spending + exports − imports), any cuts will lower GDP. Taxes, which are not part of the formula, have a more complex relationship to GDP. Raising taxes on those who spend their entire income will lower consumption, and thus GDP, while raising taxes on those who spend only a portion of their income may not have a measurable impact on GDP. However, if taxes are perceived as confiscatory at the upper end, it will lead to perverse effects. It's vital that our tax code be seen as fair, where everybody pays their share, and changes to it should take that into account.
One of the primary reasons we even have this huge deficit is, you guessed it, the Fed. It has been the great enabler. So that the Treasury could sell its trillions of new debt at near-zero yields, the Fed printed money and monetized the debt. In doing so, it insulated the government from the tough discipline of the capital markets. Now, there no longer is any market-based incentive to address the deficit problem because Congress knows that the Fed will print us "out of trouble."
But the costs of printing money have been steep. Income streams from bonds, CDs, savings accounts, etc. have been demolished, inflation in goods and services is rising, yet real wages are declining. This insidious combination is one of the forces behind the impoverishment of the American middle class, which in turn, is one of the reasons why the economy can't take off.
Enjoy reading WOLF STREET and want to support it? You can donate. I appreciate it immensely. Click on the beer and iced-tea mug to find out how:

Would you like to be notified via email when WOLF STREET publishes a new article? Sign up here.