Consumers are being lackadaisical again with their plastic.
Consumer debt – or euphemistically, consumer "credit" – jumped 4.9% in the third quarter compared to the third quarter last year, or by $182 billion, to almost, but no cigar, $4 trillion, or more precisely $3.93 trillion (not seasonally adjusted), according to the Federal Reserve this afternoon. As befits the stalwart American consumers, it was the highest ever.
Consumer debt includes credit-card debt, auto loans, and student loans, but does not include mortgage-related debt: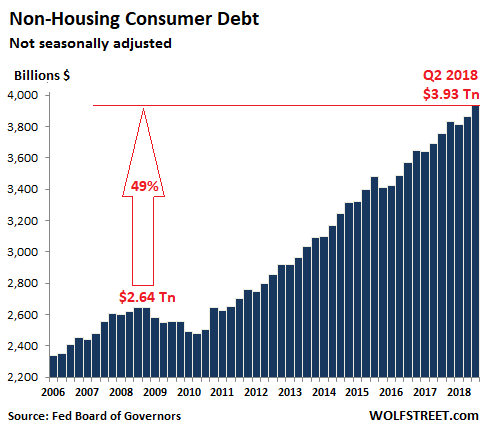 The nearly $4 trillion in consumer debt is up 49% from the prior peak at the cusp of the Financial Crisis in Q2 2008 (not adjusted for inflation). Over the same period, nominal GDP (not adjusted for inflation) is up 39% — thus continuing the time-honored trend of debt rising faster than nominal GDP.
But a hot economy is helping out: While over the past 12 months, consumer debt jumped by 4.9%, nominal GDP jumped by 5.5%. A similar phenomenon also occurred in Q2. This is rather rare. The last time nominal GDP outgrew consumer credit, and the only time since the Great Recession, was in the three quarters from Q1 through Q3 2015.
Auto loans and leases
Auto loans and leases for new and used vehicles in Q3 jumped by $41 billion from a year ago, or by 3.7%, to a record of $1.11 trillion. These loan balances are impacted mainly by these factors: prices of vehicles, mix of new and used, number of vehicles financed, the average loan-to-value ratio, and duration of loans originated in prior years.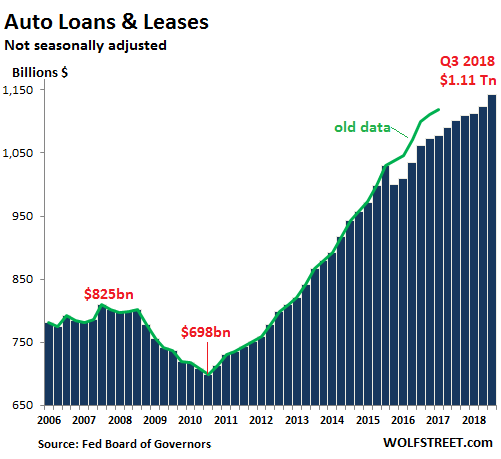 The green line in the chart represents the old data before the adjustment in September 2017. These adjustments to consumer credit occur every five years, based on new Census survey data. Most of the adjustments affected auto-loan balances, reducing them by $38 billion retroactively to 2015.  I included the green line to show that it wasn't a forgotten collapse of the car business in Q3 2015 that did this.
Revolving credit
Revolving credit is composed of credit card balances and other types of unsecured loans, such as a personal loan or an online loan. It has bedeviled economists and bankers for years that consumers aren't going hog-wild borrowing on their credit cards. This is a problem for two reasons: Credit cards carry enormous interest rates, and bankers feel deprived if consumers don't use them. And two, spending cranks up the economy, and if otherwise cash-strapped consumers would charge more on their credit cards to spend money they don't have, Corporate America could show higher earnings.
So credit card debt and other revolving credit in Q3 rose 3.9% year-over-year to $1.0 trillion (not seasonally adjusted). Given that nominal GDP rose 5.5% over the same period, consumers clearly didn't do their jobs with their credit cards. Compared to the prior peak a decade ago, credit card debt is about flat (Sheesh, makes economist, shakes head):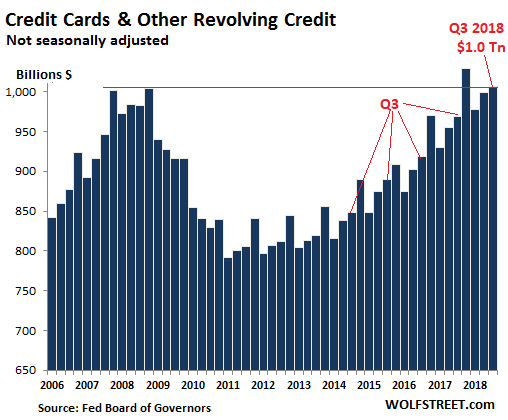 The student-loan GDP scam
Student loans in Q3 jumped by 5.6% year-over-year, or by $83 billion, to $1.56 trillion (not seasonally adjusted), another sad record: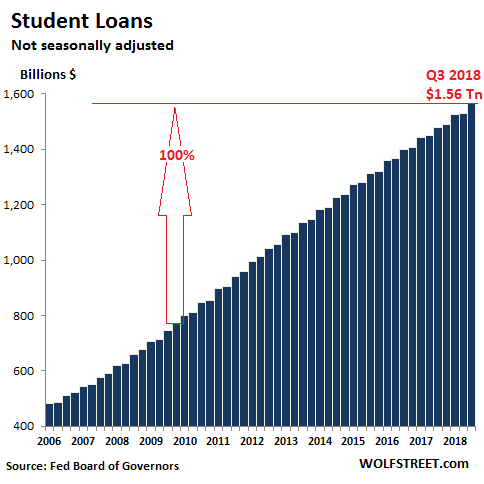 Looking at the sharp and steady surge of student loan balances, you'd think that student enrollment is booming, as millions more Americans must be enrolling in college to lean what it takes to be successful in this economy. But no.
Turns out, the opposite is the case. Higher-education enrollment peaked in 2010 at 18.1 million  and then declined 6.6% to 16.9 million by 2016, according to the latest data available from the National Center for Education Statistics. And yet, even while enrollment declined since 2010, student loan balances nearly doubled, from $800 billion to $1.56 trillion.
So the cause of the fiasco isn't that there are too many Americans getting an education – I wish that were the problem. Instead a mix of factors stick out:
Colleges are charging too damn much;
Entire industries, such as consumer electronics and the student housing sector – a thriving subcategory of commercial real estate – are relentlessly sucking on those student loans;
And occasionally, just a wee bit, the students themselves need to do some navel-gazing; These kids get this borrowed money, and it's easy money to spend (iPhones, concert tickets, video games, nice housing rather than a dump, clothes…); later, it turns into hard money to pay back, and they're left wondering how not to buckle under the debt.
And what do these factors of the student loarn fiasco have in common? Ha, this is what makes the American economy tick: They all add to debt-fueled GDP!
"It's time to wait patiently as the air is slowly let out of this bizarre Ponzi balloon created by the venture capital industry," says a Silicon Valley investor who has been accused of being outspoken before and, after this, will likely be so accused again. Read…  Startup Boom a "Dangerous, High-Stakes Ponzi Scheme": Silicon Valley Investor
Enjoy reading WOLF STREET and want to support it? You can donate. I appreciate it immensely. Click on the beer and iced-tea mug to find out how:

Would you like to be notified via email when WOLF STREET publishes a new article? Sign up here.