Despite what you may think, it's not due to protectionism.
World Trade has been on our worry-list for a while, most recently in December [World Trade Falls to 2014 Level, just in Time for a "Trade War"]. Why has world trade refused to boom recently? And it wasn't just last year. But last year was particularly crummy. Lackluster global demand gets blamed. But that's using a broad brush to sketch a troublesome development.
Now the alarmed World Bank, in its report, Trade Developments in 2016 (PDF), barely blames the usual suspects for this lackluster global demand, but identifies a new and dominant one: "policy uncertainty."
It points out that 2016 was the fifth year in a row of "sluggish trade growth." 2015 had already been the weakest year since 2009, when global trade collapsed as a result of the Financial Crisis. But 2016 was even worse than 2015.
World trade is devilishly hard to quantify, and so the estimates for 2016 vary:
The World Bank's Global Economic Prospects estimates world trade growth in goods and services at 2.5%.
The IMF's World Economic Outlook and the OECD's Economic Outlook peg growth in goods and services at 1.9%.
The World Trade Monitor by the CPB, Netherlands, estimates growth of merchandise trade at merely 1.1% (in the first 11 months of 2016 compared to the same period in 2015).
Despite the differences in the data, "there is a consensus across data sources that 2016 will register the lowest growth in trade volumes since the Great Recession of 2008–2009," the report explains. Based on these sources – the IMF, the CPB, and the World Bank – the report estimates trade growth in 2016 at 1.9%: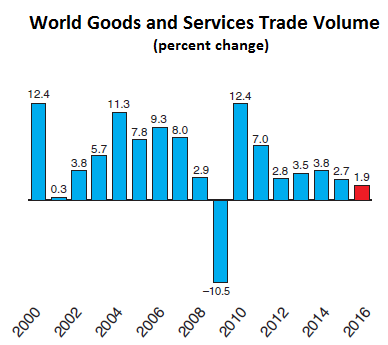 And 2016 was different from "other post crisis years": this time, "trade sluggishness" was spread across both advanced and emerging economies.
So why is this happening?
There are the usual suspects, or as the report calls them, the "enduring structural determinants":
Maturing of global value chains (GVCs)
Rising protectionism
"Notably slow global growth"
The decline in commodity prices; but after the lows in early 2016, they've been rising, so this wasn't a large factor in 2016, though it was a larger factor in 2015.
"Macroeconomic rebalancing" in China toward an economy that is less dependent on exports, property investment, and industrial production
And then there's the new, now dominant factor: the surge in global "policy uncertainty," as quantified by Economic Policy Uncertainty Index. The report:
Economic policy uncertainty may influence trade through two main channels.

First, a rise in economic policy uncertainty reduces trade by reducing GDP growth. In a less-certain environment, firms may choose to postpone investment decisions, consumers may cut back spending, and banks may increase the cost of finance.

Second, to the extent that the surge in economic policy uncertainty is due to trade policy uncertainty in particular, this may affect trade directly…. [T]rade policy uncertainty delays firms' entry into foreign markets.
In their analysis, the authors found that trade growth (brown line) from 2012 to 2016 tracks economic policy uncertainty (blue line) with a lag of a few months: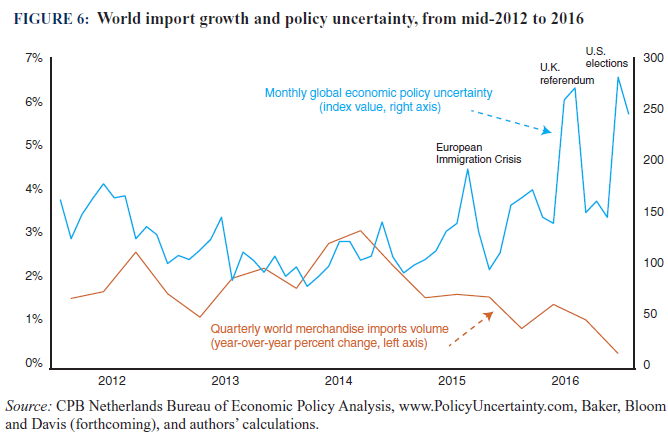 There was plenty of policy uncertainty before 2016, including the European Immigration Crisis. But the UK's Brexit vote in June 2016 and the US election in November caused it to spike. And that is having an impact. Via a regression analysis, the report found:
A 1% increase in uncertainty is associated with a 0.02-percentage point reduction in goods and services trade volume growth.

This implies that the increase in uncertainty in 2016 may have reduced trade growth by about 0.6 percentage points.
Without this spike in policy uncertainty, global trade growth would have been 2.5% (1.9% + 0.6 points), though it would have still down from 2.7% in 2015. In other words, three-quarters of the year-over-year decline in growth was due to policy uncertainty.
Recently, the meme emerged that the decline in global trade growth in 2016 was due to rising protectionism around the globe. But the report pooh-poohs that assertion:
According to the WTO, the flow of new traderestrictive measures for the first 10 months of 2016 was in line with that of previous years. This evidence suggests that it is not a surge in protection that accounts for the exceedingly weak performance of world trade in 2016 although trade policy may have been a contributing factor….
Instead, "it is likely that trade policy uncertainty" – such as the uncertainty surrounding the new trade pacts, including the now scuttled TPP – "contributed to the surge in overall policy uncertainty."
How will that work out in 2017? It already started on the wrong foot: In January, the economic uncertainty index surged to a new record high in the data series going back to 1998! More dark clouds over global trade!
Are stocks grounded in some sort of new reality? LOL. Read…  S&P 500 Earnings Stuck at 2011 Levels, Stocks up 87% Since
Enjoy reading WOLF STREET and want to support it? You can donate. I appreciate it immensely. Click on the beer and iced-tea mug to find out how:

Would you like to be notified via email when WOLF STREET publishes a new article? Sign up here.