The Hot Money returns, bets on Oil Nirvana.
The costs of borrowing for the US government are jumping. On Monday, the US Treasury auctioned $34 billion of three-month bills at a discount rate of 0.53%, the highest since October 2008.
These short-term bills sell for less than face value and are redeemed at face value. The difference is the yield for investors. For a three-month bill with a face value of $10,000, the price was $9,986.60. Holding this bill for three months until redeemed will make investors $13.40 in yield. That's an annualized rate of 0.538%.
During the rest of trading on Monday, the yield settled down a bit, but today is up again, currently at 0.55%. While still low by historic measures, it's up from about zero in October last year (chart through Monday's close, via Trading Economics):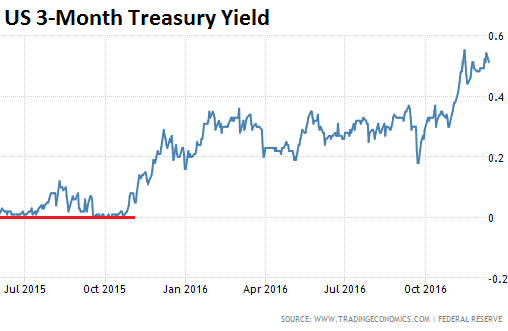 The Treasury also auctioned $28 billion of six-month bills on Monday at a discount rate of 0.645%, the highest since November 2008. It brought the annualized yield to 0.656%. It settled down later on Monday, but today it rose again, and as I'm writing this, it's at 0.67%!
The Treasury also auctioned $20 billion in 10-year notes on Monday. In the melee, the yield briefly spiked to 2.53%, before settling at 2.49%. Today, it briefly hit 2.50% again. As I'm writing this, it is back at 2.48%. In July, it was at 1.38% (chart through Monday's close, via StockCharts.com).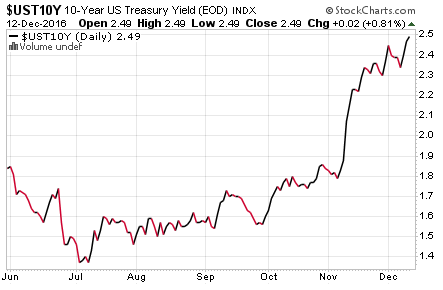 This has been the continuation of weeks of bond drama that has been called variously, "rout," "carnage," "meltdown" and the like [read… Government Bond & Mortgage "Carnage" Enters Sixth Week].
And it's a global thing. Fewer and fewer sovereign bonds around the globe trade at a negative yield. Some analysts have already pronounced the end of the NIRP era, with both the ECB and the BOJ backing off ever so slightly from their scorched-earth monetary policies.
In the process of rising yields among government bonds, and falling bond prices, $1.7 trillion of the bond bubble's gains went up in smoke in November alone, according to Bloomberg.
But even as the government bond bubble is bursting, it's party time at the bottom end of the bond market. The prices of the worst of even the worst energy junk bonds have soared, as have the prices of many other junk bonds. The junk-bond market is now pricing in a return of oil-nirvana.
The deal that OPEC and non-OPEC countries worked out may well disintegrate into pandemic noncompliance. And the US shale producers have no appetite for cutting production, especially now that new money is flowing back into the sector. The US rig count has already jumped 54% from the low point in May to 624 rigs in the latest week. Everyone in the industry is licking their chops. This oil bust is over. Drillers are getting busy again. Production growth is back.
This phenomenon – OPEC and non-OPEC noncompliance along with rising production in the US – is going to have consequences for the oil glut that continues unabated today. But no matter. The hot money is rushing back into the sector.
And so with Treasury bonds getting beaten down and Treasury yields jumping, while the opposite has been the case month after month at the junk-bond end, particularly in the energy sector, the spreads between Treasury yields and junk-bond yields have collapsed.
Here is the options adjusted spread between Treasuries and BB-rated junk bonds (the higher end of junk). The spread of 2.66 percentage points is the lowest since September 2014, when QE was still going on, albeit in tapered form, and before the oil bust was taken seriously: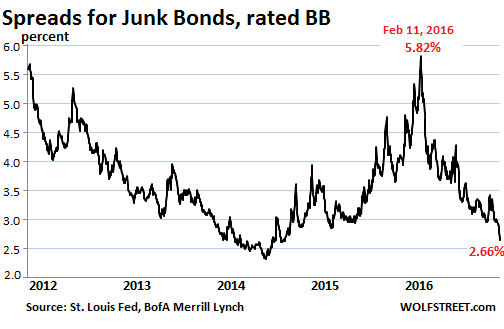 And the low end of the junk-bond spectrum, the riskiest end, where bonds are teetering somewhere near default, has become the place to be for the hot money, as these bonds, many of them energy bonds, have soared in price, and yields have dropped to bond bubble levels. The current yield spread of 10.1 percentage points over Treasury bonds is less than half of where it had been on February 11: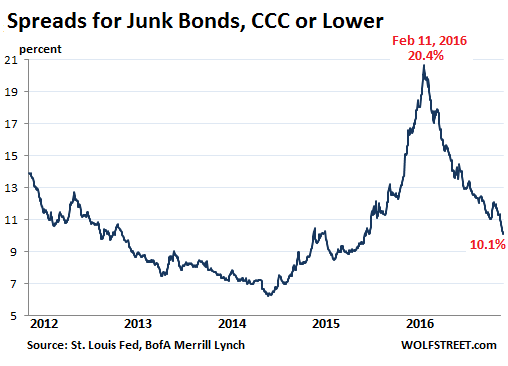 In other words, the junk-bond bubble is back, alive, and well, driven largely by the recovery in energy junk bonds, as if the losses, restructurings, and bankruptcies had never occurred.
To make this equation work, the hot money is, ironically, banking on some kind of miracle that OPEC and non-OPEC producers, particularly Russia, are going to perform, apparently out of the goodness of their hearts: cutting their own production in order to give US shale drillers another chance, allow them to gain market share, and enrich their investors.
But something tells me that somewhere along the line, something doesn't add up in this equation, and that this renewed junk bond bubble is immensely vulnerable.
What are bank insiders seeing from their perch that we don't? Read… If Everything is so Bullish, Why Are Bank Insiders Dumping Their Shares at Record Pace?
Enjoy reading WOLF STREET and want to support it? You can donate. I appreciate it immensely. Click on the beer and iced-tea mug to find out how:

Would you like to be notified via email when WOLF STREET publishes a new article? Sign up here.