Erode that confidence, and you have a crisis on your hands.
Japan has invented QE and zero-interest-rate policies. It conducted umpteen iterations of them over the past two decades. Throughout, it has demonstrated and documented with ample evidence that QE and ZIRP do not stimulate demand in the economy, though they can have all sorts of other effects. Now once again, Japan is out on front.
This week, something interesting happened, even by the standards of the NIRP-absurdity currently in vogue. The 10-year yield of Japanese Government Bonds (JGBs) rose sharply. It had been negative ever since the BOJ announced its negative interest rate policy in February and had dropped as low as -0.30% by late July.
But on July 28, the BOJ, to show it's easing further, expanded its QE program by announcing yet another stock market pump-up scheme: it would nearly double its annual purchases of equity ETFs from about ¥3.3 trillion to ¥6 trillion ($60 billion).
At that point, 10-year JGBs began to lose ground and yields began to rise to where they nearly kissed 0% last Monday and Wednesday. On Friday, the 10-year yield edged down to -0.03% (there's still a decimal difference between where it had been at the end of July, -0.30%, and today, -0.03%). So something is up.
Here's Christine Hughes, Chief Investment Strategist, at OtterWood Capital: 
We had a lot of drama in the markets this week courtesy of confusing information out of the Bank of Japan (BOJ).
Many of the macro problems currently plaguing the developed world started in Japan decades ago (deleveraging, deflation) so changes in Japanese bond yields tend to lead global yields. Also, Japan has been a pioneer in terms of experimenting with unorthodox monetary policy. We had another taste of it this week.
News that the BOJ would carry out a "comprehensive assessment" of its monetary policy next week saw the biggest weekly rise in the long-end of the JGB curve in over 3 years sending bond prices plummeting worldwide. Also BOJ board members have leaked policy options to the press to gauge the market's reaction (see here for details).
So far, we're having an important problem with confidence in the BOJ. Firstly, while they have jawboned long bond yields higher, inflation expectations have actually dropped. These two metrics are supposed to move together. It means the market is not buying the BOJ's rhetoric. This is not good.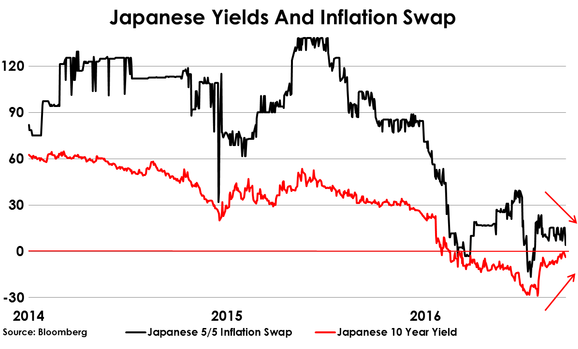 Secondly, Japanese banks have fallen while the BOJ has jaw-boned the yield curve steeper (see here for more on what the yield curve is). This too means Mr. Market is balking at the BOJ's latest policies. Not good either.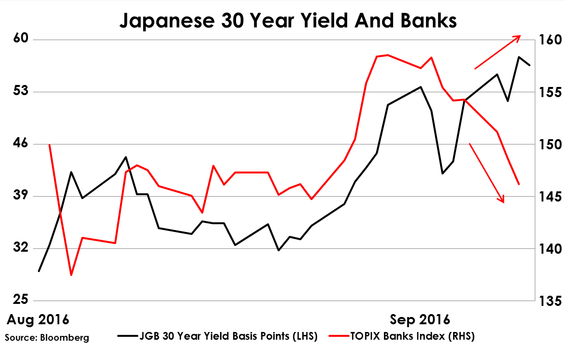 Markets are quickly losing faith in central banks this year and of particular concern is the recent dismissal by the market of the BOJ's latest experimentation with the yield curve. In a world where our currencies are not backed by anything finite like gold, confidence is critical. Erode that confidence, and you have a crisis on your hands. Market reaction to any actual announcements out of the BOJ next week will be important. By Christine Hughes, OtterWood Capital.
The two biggest buyers of the shares of Japan Inc. are flying blind, and they don't care. Read…QE, End of the Private Sector? Japanese Government Now Largest Shareholder of 474 Big Companies
Enjoy reading WOLF STREET and want to support it? You can donate. I appreciate it immensely. Click on the beer and iced-tea mug to find out how:

Would you like to be notified via email when WOLF STREET publishes a new article? Sign up here.