Decade of Stagnation of Industrial Production in the US, Japan, EU
Adding to the picture of crummy demand for goods around the world, the CPB Netherlands Bureau for Economic Policy Analysis, a division of the Ministry of Economic Affairs, just released its preliminary data of its Merchandise World Trade Monitor for June.
Trade volumes rose 0.7% in June from May, after falling 0.5% in May, but were about flat year-over-year, and below the volumes of December 2014!
On a quarterly basis – it averages out the monthly ups and downs – world trade fell 0.8%, contracting for the second quarter in a row.
The CPB recently adjusted its world trade data down, going back many years. The new data now depicts a post-Financial Crisis recovery of global trade that was a lot weaker than the original data had indicated. These downward adjustments of 2% to 3% came in a world where economic growth, according to the IMF, is stuck at 3.1% in 2016.
This chart of the CPB's World Trade Monitor index shows the old data released as of July 2015 (blue line) and the newly adjusted data released today (red line). Note the 4.4% drop from the peak in global trade volumes in the original data for December 2014 and in the current data for June 2016!
World trade is a reflection of the goods-producing economy. Services don't get shipped around the world. Goods do. So industrial production, excluding construction, is key. And here the trend is awful for advanced economies.
Global industrial production, excluding construction, rose 0.6% in June, after a 0.3% decline in May. The index for industrial production in advanced economies rose to 102.5, below where it had been in January (103.4), a level it had hit after the Financial Crisis in December 2012, but down from the glory days before the Financial Crisis when the index peaked in February 2008 (107.8).
And here's a tidbit: the first time that the index hit the current level had been in April 2006. A full decade of stagnation.
To varying degrees this happened in the US, Japan, and the Eurozone. Only "other advanced economies," according to the CPB, have by now exceeded their pre-Financial Crisis levels.
Industrial production has shifted to emerging economies ("cheap labor" economies) for many years, such as China, as companies in the US, decades ago, and eventually in Europe and Japan began outsourcing and offshoring production to emerging economies. Hence, industrial production in emerging economies has surged over this period. This was particularly the case after the Financial Crisis when companies in the US, Europe, and Japan redoubled their efforts to get production relocated offshore.
This chart shows the CPB's industrial production index globally (green line), and also separated by advanced economies (the dismally flat-ish blue line at the bottom) and emerging economies (brown line at the top):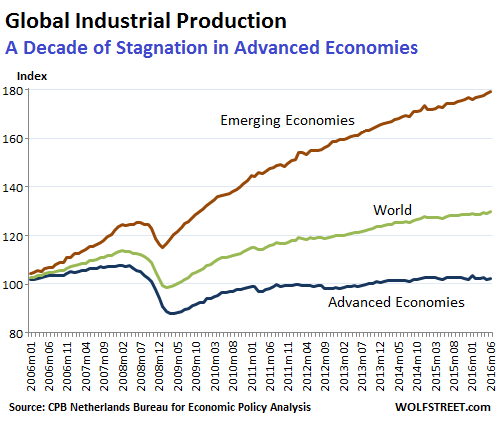 While industrial production plunged in advanced economies during the Financial Crisis and never recovered to pre-Financial Crisis levels, it barely dipped in emerging economies and then began to re-soar. It's the essence of the multi-year stagnation in industrial production in advanced economies – the very economies that have been shifting to a "service-based" model where economic growth has been languishing for years.
Yet, totally unperturbed by reality, stocks have continued to march higher, causing the head of credit strategy at Citigroup to lament so eloquently, "Everything feels distorted and unnatural." Read…  "Mother of all Shorts" when Stocks Cave to Reality?
Enjoy reading WOLF STREET and want to support it? You can donate. I appreciate it immensely. Click on the beer and iced-tea mug to find out how:

Would you like to be notified via email when WOLF STREET publishes a new article? Sign up here.