For them, asset bubbles just aren't helpful. On the contrary.
Gallup's weekly survey has been trying to determine to what extent American consumers would get hit by the Brexit vote and the financial volatility that came with it: the two-day dive, the central-bank agitations, the massive dip-buying, the big rally since. Throughout, the survey found that Brexit bypassed Americans. But something else hit them, and economic confidence has been falling despite the market highs. Gloomy comes to mind.
In Gallup's report today for the week ending July 17, the overall Economic Confidence Index dropped to -17, the lowest point so far this year, matching the prior lows in late June and in August 2015: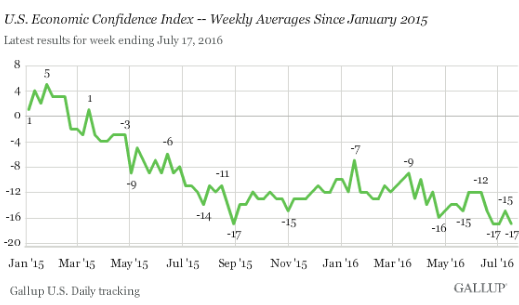 In January 2015, the index reached +5. Americans weren't exactly wallowing in exuberance at the time, given the index's theoretical range of +100 to -100 (it hit -65 in November 2008), but it was the most positive level since the Financial Crisis. But for the past 18 months, the trend has been south.
In the spring and summer 2015, that trend south was fairly pronounced, but then gas prices dropped through the winter. And that, according to Gallup, perked up consumers. Now, this honeymoon is over.
The overall index is an average of two components: how Americans see current economic conditions; and how they see future economic conditions – whether the economy is going to get better for them, or worse.
The Current Economic Conditions index has been stagnating in negative territory, with a downward trend. Today's reading of negative -7 is the a result of 24% of Americans saying the current economy is "excellent" or "good," and 31% saying it's "poor."
This has been consistently the case during these recent "good times": about one-third of Americans think the economy they live in as individuals is "poor." We'll get to that again in a moment.




But the gloom for Americans in the real economy isn't so much in the present. It's in the future. The index for future economic conditions dropped to -27, even lower than August last year – which was the time "when the stock market plummeted over concerns about the Chinese economy," as Gallup reasoned at the time. Now US stocks have hit new highs, and the outlook is getting even gloomier!?
Only 34% of Americans said the economy is "getting better," while a normally stunning but now new normal 61% said it is "getting worse."
This chart from Gallup shows the Current Conditions index (dark green line) and the Future Conditions Index (light green line). Note the gaping difference between the two, though there was hardly any difference in early 2015: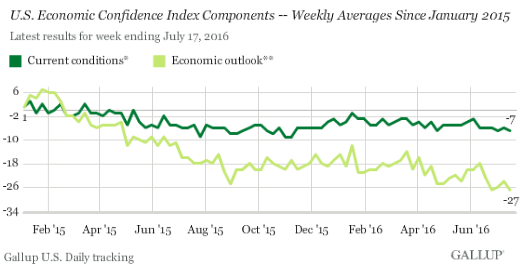 So how can pessimism fester like this when a global flood of liquidity is driving the prices of US stocks, bonds, and homes to new highs, and interest rates to new lows?
Gallup grapples with this question:
The reasons for lower public confidence in the economy since mid-June compared with the beginning of the year are unclear.
But it's not Brexit – nor fears about "national security":
Economic confidence initially fell the week ending June 19, before the Brexit decision on June 23.

Concerns about national security and its effect on the U.S. economy in the wake of international terrorism also do not appear to explain the dip. For instance, confidence remained level after the attack in Nice, France, last Thursday, averaging -18 for Monday through Thursday and -17 for Friday through Sunday.
And the notion that the economy is once again hunky-dory is, inexplicably, not helping those Americans feel better either:
Notably, several positive economic signs have not boosted confidence. National gas prices remain low; U.S. stock prices hit record highs last week; consumer spending is sturdy; and job creation, as reported by the U.S. Bureau of Labor Statistics, picked up in June after a disappointing May.
So Gallup goes on a fishing expedition…
One possibility is that the U.S. presidential election is creating uncertainty about the future of the economy.
And stumbles on a logical answer….
Another possible explanation is that Americans need to see more evidence of GDP growth, wage growth, and sustained improvement in the job market before their confidence in the economy will show signs of life.
Indeed, consumers don't live in the Wall Street economy. Their double-digit credit-card interest rates don't necessarily reflect the Fed's zero-interest-rate policy. Mortgage rates are low, but home prices have soared, and mortgage payments, taxes, and insurance have soared along with them. Car loans are cheap, but cars have gotten a lot more expensive, and despite record low interest rates and over-stretched loan terms, payments are pushing the envelope of the possible. Health-care expenses have soared. As have rents. Over the past few months, gas prices have started to tick up. And if you're going to send your kids to college, you're in for some rude surprises.
Real household incomes have languished for the lower 80%, which most likely includes the 61% in the Future Conditions Index above that expect the economy they live in to get worse for them, regardless of how perfect those conditions will be for corporate CEOs.
And real incomes have declined for the bottom third, if they even have jobs. This includes most likely those 31% in the index above who found that the current conditions of the economy they live in are "poor" for them, regardless of how beneficial they might be for those Fed-coddled folks that are holding a lot of inflated assets. For them, it's immensely tough out there, and asset bubbles just aren't helpful. On the contrary.
But unlike stocks, a housing bubble can only go so far. Read…  Why this Won't Work out: Rampant Rent Inflation Collides with Stagnant Incomes




Enjoy reading WOLF STREET and want to support it? Using ad blockers – I totally get why – but want to support the site? You can donate. I appreciate it immensely. Click on the beer and iced-tea mug to find out how:

Would you like to be notified via email when WOLF STREET publishes a new article? Sign up here.

Classic Metal Roofing Systems, our sponsor, manufactures beautiful metal shingles:
A variety of resin-based finishes
Deep grooves for a high-end natural look
Maintenance free – will not rust, crack, or rot
Resists streaking and staining
Click here or call 1-800-543-8938 for details from the Classic Metal Roofing folks.