The worst plunge since the Financial Crisis
OK, this is anecdotal evidence supplied graciously by the Dallas Fed, via the comments in its Texas Service Sector Outlook Survey. It's how a business in "Professional, Scientific and Technical Services" sees the Texas economy. There are other businesses that are doing well, and some of the comments confirm that. Not everyone is getting slammed. But….
We were up 7.5% for the year through March. April alone put us down 2% year to date. That is what is going on out here in the real world … dang little! We are a 56-year-old family-owned company that averages 17% growth per year.

This economy is in and headed deeper into the tank faster than all the talking heads can spin their silly data and metrics to portray the story most beneficial to whatever lines their pockets best today. That said, Texas and our commodity-driven markets may set us apart as some sort of dark anomaly.
The stories are now piling up of oil-bust contagion working its way deeper into the overall economy of oil-producing states, including Texas. Unlike some other oil producing states, Texas has a vast and diversified economy. So from the beginning, it was said that this time, the oil bust won't hurt like it did last time; the pain would be contained in its isolated corner of the economy. But this theory is now falling apart. It comes on top of the weakness of the overall US economy.
And consumers are reacting.
Sales tax collections in May, for sales in April, plunged 7.1% year over year, according to the Texas Comptroller of Public Accounts. It was the worst year-over-year decline since March 2010 at the very bottom of the last retail crash during the Financial Crisis and the oil bust that ended in a V-shaped recovery as the Fed's bailouts, QE, and ZIRP started taking effect.
The $2.4 billion in sales taxes collected in May was also lower than two years ago, a first since the depth of the Financial Crisis.
In March and April, collections had risen 2.1% and 3.1% respectively, a brief respite, after having declined every month since October. Despite that respite, for the first five months this year, sales tax collections are down 2.8%.
Over the past 12 months, collections have dropped 8 times on a year-over-year basis. Total collections for the 12-month period are down 1.8%.
This chart by "David in Texas," who obtained the data from Texas Transparency, shows how the 5-year retail boom, as depicted by sales tax collections, is hitting the skids. I circled the months with year-over-year declines: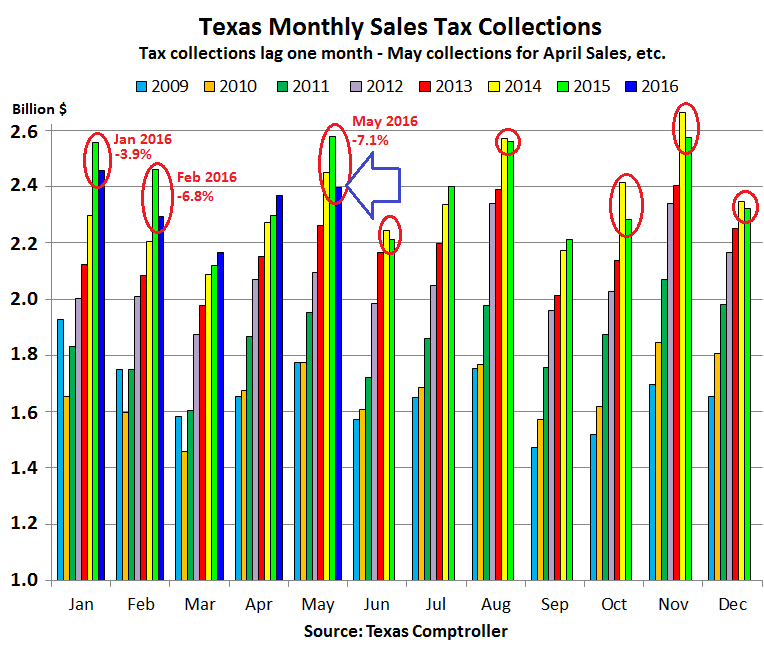 Retail in Texas thrived after the Financial-Crisis, and sales tax collections soared nearly 50% from the first half of 2010 to the first half of 2015! That was one heck of a party!




But then it got tripped up: in June and August last year, sales tax collections declined year-over-year for the first time since March 2010.
Sales tax collections don't capture every retail sale. Many food products like flour, sugar, bread, or vegetables are exempt. Taxes on motor vehicle sales and rentals are reported separately. The data is not seasonally adjusted. So it can only be compared year-over-year. Unlike other retail data, it's not based on estimates, surveys, or economists' opinions, but on real dollars that real consumers actually spent during that month. It's a raw and unvarnished glimpse of reality.
And yes, Amazon charges sales taxes on items shipped to Texas, including on shipping and handling fees. So the decline in sales tax collections is not due to a sudden shift by consumers to online retailers.
Not every place in Texas is feeling the pain. Some people might wonder what all the fuss is about in Houston and elsewhere. Home-flipping is still the rage in Dallas. There's anecdotal evidence that Chinese investors seeking refuge in US real estate have finally discovered Dallas. The startup scene in Austin might still seem exuberant, albeit with the same ripples now showing up in Silicon Valley and San Francisco: a select few startups are attracting a lot of money, and many others are left twisting in the wind. Every city has its own economy. But overall, consumers are realizing that this is no longer a blip, but a new reality, and they're adjusting their spending.
Houston has special problems: "See-through buildings" – that's how the empty shells of office towers were called during the oil bust of the 1980s that took down 9 of the 10 largest banks in Texas – are once again getting dumped on the  market. Read…  This is how the Houston Office Market is Melting Down




Enjoy reading WOLF STREET and want to support it? You can donate. I appreciate it immensely. Click on the beer and iced-tea mug to find out how:

Would you like to be notified via email when WOLF STREET publishes a new article? Sign up here.