This is what we can look forward to this week.
Apple will report earnings on April 26 for the quarter ending March 31, its second quarter. According to Zacks, the ex-bad-items non-GAAP consensus earnings forecast is $1.97 per share. FactSet pegs it at $2.00 per share. A year ago, Apple reported $2.33 a share.
This would be a 15% year-over-year decline. It would be the first since the decline in the July-September quarter 2013. Apple could throw in miscellaneous disappointments in its numbers or its outlook – because it has been tough out there.
There has already been a slew of disappointing tech reports last week – the week of bad omens. On Monday, highflier Netflix scared investors with its lagging subscriber growth. Shares crashed 14%. They're down 28% from their peak in January yet still sport a nose-bleed PE ratio of 330!
Other tech companies also reported inglorious results last week, such as IBM whose revenues fell for the 16th quarter in a row. The only hope is that it can continue to lay off people and buy back enough of its own shares – until what? No one knows.
On Friday, Microsoft rattled investors with a further decline in revenues, down 5.5% from a year ago. For the first three quarters of its fiscal year, revenues are down 9.4%. Among analysts, this triggered some "growth concerns" apparently. Its shares plunged 7.2% on Friday.
And Google, or rather Alphabet, rattled investors with disappointing profits and margin concerns stemming from higher mobile phone use and the growth in automated ads. Its shares dropped 5.4% on Friday. Between Netflix, Microsoft, and Alphabet, $68 billion in illusory stockholder wealth evaporated.
But Apple is bigger than any of them. According to FactSet, "Apple is expected to be the largest contributor to the blended earnings decline for the Information Technology sector for Q1 2016."
These "blended" earnings are based on a mix of companies that have already reported and the consensus forecast for those that have not. FactSet's numbers are based on non-GAAP ex-bad-items earnings. As reported under GAAP, earnings tend to look a lot grimmer.
And this blended ex-bad-items earnings "growth" for the tech sector is a decline of 7.4%!
Apple is the giant in the group. Based on these estimates, Apple is going to be responsible for 3.3 percentage points of that 7.4% decline.




The last time the tech sector in the S&P 500 had any earnings growth without Apple was in Q4 2014. All last year, tech earnings without Apple declined. Apple single-handedly propped up the tech sector's earnings growth!
But Q4 was the first time in this cycle that Apple's earnings weren't strong enough to prop up the charade for the tech sector, and the sector's earnings fell year-over-year even with Apple included. And Q1 this year is going to be a lot worse. This time around, Apple is going to drag down the already crummy earnings of the entire tech sector (chart by FactSet):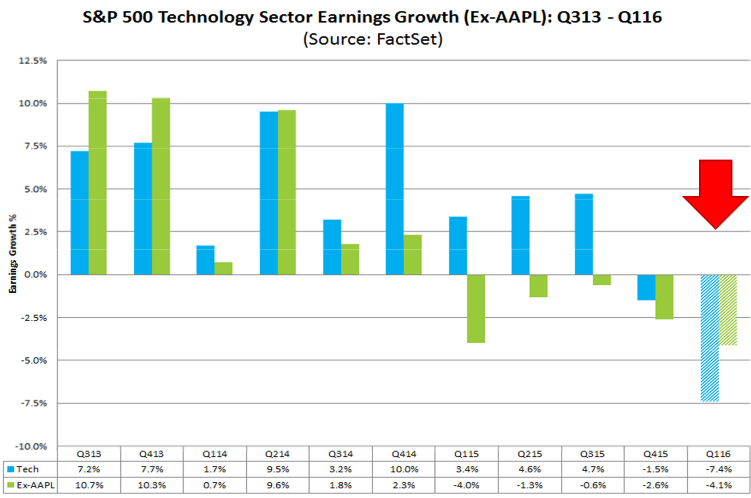 This 7.4% earnings decline in Q1 2016 comes off Q1 2015, when the tech sector without Apple had already booked a decline from Q1 2014. So for the tech sector without Apple, it would be the second year in a row of Q1 declines!
Turns out, Apple has, let's say, a little bit of an iPhone problem, including what is estimated to be a year-over-year iPhone-revenue crash of 18%. FactSet:
Over the past three years on average, the iPhone product segment has accounted for nearly 60% of the total revenues generated by Apple. In four of the past five quarters, the iPhone product segment has reported year-over- year revenue growth in excess of 35%.

However, last quarter (Q4 2015), the segment reported year-over- year revenue growth of only 7%. For Q1 2016, the segment is projected to report a year-over-year revenue decline of -18%.
This iPhone revenue crash would "mark the first year-over-year decline in iPhone sales since FactSet began tracking sales for this product segment in the calendar fourth quarter of 2010." This chart shows just how important the iPhone has become to Apple, and by extension, to the overall tech sector: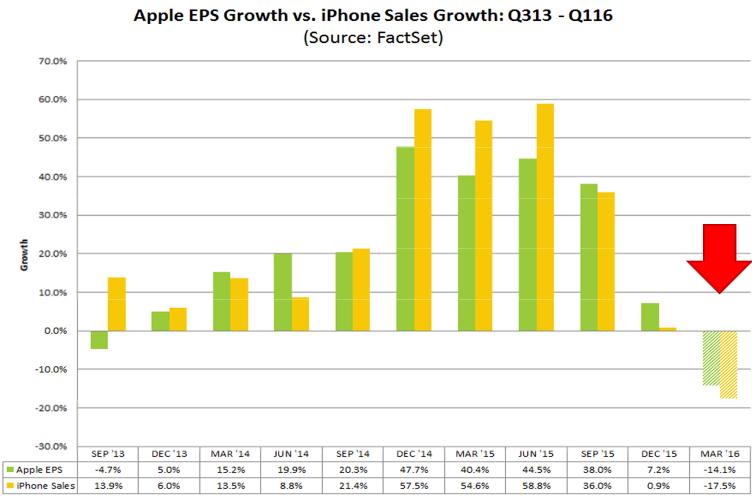 It used to be that "tech" was synonymous with "growth." Tech was one of the big engines of the US economy. Much of this growth was centered on the PC ecosystem (hardware and software) and the internet. It then migrated from the PC ecosystem, which is now sinking into irrelevance, to the smartphone ecosystem and the "cloud." That was going to be the new savior.
Now the smartphone ecosystem is struggling with growth. There's a myriad of app-makers — from games and home-delivery services to car-hailing services. But they aren't really tech. They're retail, consumer services, and the like. They simply take a slice of the finite consumer-spending dollars, at the expense of other companies, such as brick-and-mortar retailers or taxi drivers, rather than adding to the overall economy.
It may be a needed renewal. But it isn't helping the economy because it doesn't come even close to filling the holes left behind by the decline in tech, which has become so dependent on the iPhone ecosystem – and the smartphone ecosystem more generally – just when this ecosystem has begun to deteriorate.
And on the other side of the equation, brick-and-mortal retailers are slithering into an existential crisis. Read… Retailer Bankruptcies Are Hailing Down on the US Economy




Enjoy reading WOLF STREET and want to support it? You can donate. I appreciate it immensely. Click on the beer and iced-tea mug to find out how:

Would you like to be notified via email when WOLF STREET publishes a new article? Sign up here.