NIRP Absurdity Soars to New Heights.
The most indebted government of the world is at it again, and this time even more vigorously.
Japan's national debt is between 230% and 250% of GDP, depending on who does the counting, compared to debtor-nation USA, at 105%. It has one of the worst credit ratings of any major developed economy; Standard & Poor's rates it A+, four notches below the top.
The Bank of Japan has been printing about ¥80 trillion ($716 billion) a year for three years – QQE, it calls this – on top of the money it printed in prior years, and uses the proceeds to buy Japanese Government Bonds and other securities. It now holds ¥410 trillion ($3.7 trillion) in total paper. That's 82% of GDP, versus money-printer-nation USA, at 25% of GDP. Among the goodies it has so far acquired:
¥354 trillion in JGBs
¥7.7 trillion in equity ETFs
¥6.5 trillion in foreign currency assets
¥3.2 trillion in corporate bonds
¥2.1 trillion in commercial paper
¥1.3 trillion in stocks
¥0.29 trillion in Japanese REITs.
And yet, despite this enormous stimulus from dizzying money-printing and ceaseless deficit spending – in many years, half or more of the outlays are paid for with borrowed money – Japan's economy has been vacillating between growing a little and shrinking a little for years.
Now it's shrinking again. It shrank in the October-December quarter, and it's likely to shrink in the January-March quarter. That would be a technical recession.
Just today the Nikkei Flash Manufacturing PMI dropped from 49.1 in March (below 50 = contraction) to 48.0 in April, the fastest deterioration in three years. The output index dropped from 49.8 in March to 47.9 in April, the fastest deterioration in two years.
The indices for new export orders, new exports sales, and employment all plunged to 44. Both output and input prices fell further. The report: "The sharp drop in total new work was underpinned by the fastest fall in international demand since December 2012…."
The data does not yet fully reflect the effects of the two earthquakes on the island of Kyushu, one of the important manufacturing regions. But following the supply-chain disruptions they've caused, the future of the "producing sector now looks especially uncertain."
Japan is a great country, and it has a vibrant culture that I love (and that, full disclosure, I'm married to … see my mother-in-law Japanese doll artist, Tomoko Ikeda), but it's a terrible fiscal sinkhole.




In a free market where money-printing didn't exist, Japan would have already defaulted on its debts because it could not afford the interest rates investors would demand to buy its crappy debt, and so it would not be able to service its old debt with the proceeds from issuing new debt. That inability defines a default – and the harrowing debt crisis it would engender.
Turns out, no one is buying Japanese debt, other than the Bank of Japan, which buys every JGB (via its "primary dealers") that the government issues and every JGB that isn't otherwise bolted down. This relentless buying pressure, topped off with the BOJ's new negative-interest-rate policy (NIRP), has driven yields for much of the huge mountain of government debt into the negative.
In Europe, the ECB plunged into the NIRP absurdity in 2014. Switzerland, Denmark, and Sweden are even deeper into NIRP. Japan only got started. Already, the 10-year JGB yield is minus 0.126%! According to Bloomberg data, $5.17 trillion in Japanese government debt sports negative yields: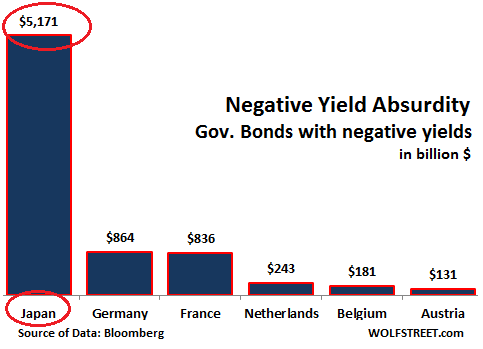 So the government – the worst fiscal sinkhole among developed economies – gets paid to borrow. The more it borrows, the more it gets paid. Its horrendous deficit has become a profit center. An absurdity.
But there is a price to pay….
These policies, while they've failed miserably in stimulating the real economy, have created enormous distortions. They've screwed up economic fundamentals, such as pricing of risk. They're depriving consumers (retirees, like my in-laws) of income from their savings. They're looting pension funds. Consumers and businesses have responded by cutting back spending and investing in Japan. These policies are strangling demand.
And it's still not enough.
Now the BOJ is considering diving even deeper into the NIRP absurdity by offering banks a negative rate on some loans, "according to people familiar with talks at the BOJ," as Bloomberg put it today:
Such a discussion could happen in conjunction with any decision to make a deeper cut to the current negative rate on reserves, said the people.
An excellent effort at market manipulation. As soon as it was leaked Friday morning in Japan, bank stocks rallied, and stocks globally recovered after having been rattled by the disappointing earnings reports from Microsoft, Alphabet, Starbucks, and the like.
The BOJ's loans to Japanese banks at negative rates aren't going to increase lending and investment in Japan. Interest rates on loans are already low. The problem is there's insufficient demand! And there's insufficient demand because, among other reasons, these policies are strangling demand!
So Prime Minister Shinzo Abe is getting ready to announce an umpteenth "supplementary budget" of ¥10 trillion ($9 billion), the same strategy that has gotten the Japanese economy totally addicted to government-deficit-spending and that has failed miserably in boosting growth.
The new package is promising all kinds of things, such as higher salaries for childcare workers (on the public payroll). The government will have to borrow this additional money. But no problem. The BOJ will mop up the additional bonds when they're issued. It's "helicopter money" pure and simple, just in electronic form. They've done it for years. And it hasn't boosted the economy. But it has succeeded in leaving the country in the worst fiscal mess imaginable.
But nothing matters anymore these days in the Japanese economy except the Bank of Japan. It is far beyond the point of no return. Absurdity has taken over. And absurdity will rule.
It's all about QE and financial engineering in the US, too. Not about productive investment and employment, or rising demographics, innovation, and productivity. The final bubble since 2009 is an illusion. And as an illusion, it will disappear much faster than it was created. Now you see it… now you don't. Read….  "A Total Illusion from QE and Financial Engineering"




Enjoy reading WOLF STREET and want to support it? You can donate. I appreciate it immensely. Click on the beer and iced-tea mug to find out how:

Would you like to be notified via email when WOLF STREET publishes a new article? Sign up here.