A "Warning about March Nonfarm Payrolls"
It has been a daily drum beat. Today "people with knowledge of the matter" told Bloomberg that BlackRock, the world's largest asset manager, would whittle down its workforce of 13,000 by about 3%, or 400 jobs, the largest round of layoffs at the firm ever.
Yesterday, The Seattle Times reported that Boeing will trim off 4,000 jobs by June. It could get much worse. According to documents the paper had obtained, at least one unit is targeting cuts of 10% overall: "And people with knowledge of what's planned say that's roughly the percentage of jobs expected to be cut statewide. That would translate to as many as 8,000 jobs being eliminated."
Layoffs in the tech sector, including startups, have graced the news recently. Layoffs in oil and gas have been going on since 2014. Other sectors have been trimming here and there. Corporate sales are down. Earnings are down even more. And the pressure is on to do something about it. Hence the efforts to cut expenses.
But it's not happening in huge numbers. It's a steady trickle. And so far, it has not shown up in the weekly unemployment claims reported by the Department of Labor, which remain low.
There appear to be still enough job offers out there – except in oil and gas, where the entire industry is laying off – so that many of these laid-off workers can be absorbed by other companies, and they might already have a new job lined up by the time they leave their current employer. So they would not file a claim for unemployment insurance and would thus stay out of the unemployment claims data reported every Thursday.
And there is still a lot of hiring going on to more than make up for these job losses, according to ADP which reported today that private-sector employment in March increased by 200,000 from February on a seasonally adjusted basis.
"The Trade, Transportation, and Utilities sector had its best month of employment gains since last June," according to the report. "Steady employment growth and accelerating wage growth in the workforce appear to be benefiting the Trade segment in particular."
The report also quoted Mark Zandi, chief economist of Moody's Analytics:
"The job market continues on its amazing streak. The March job gain of 200,000 is consistent with average monthly job growth of the past more than four years. The only industry reducing payrolls is energy as has been the case for over a year. All indications are that the job machine will remain in high gear."
Alas, the ADP report has an intriguing relationship with the market-moving Nonfarm Payroll (NFP) report which the Bureau of Labor Statistics releases the Friday after the ADP report – so in two days.
ADP's report and BLS's NFP report rarely match, but they sort of average out over time. This chart by Advisor Perspectives juxtaposes ADP's numbers (blue bars) with those from the BLS (green bars). Some months the ADP numbers are higher, other months the BLS numbers are higher: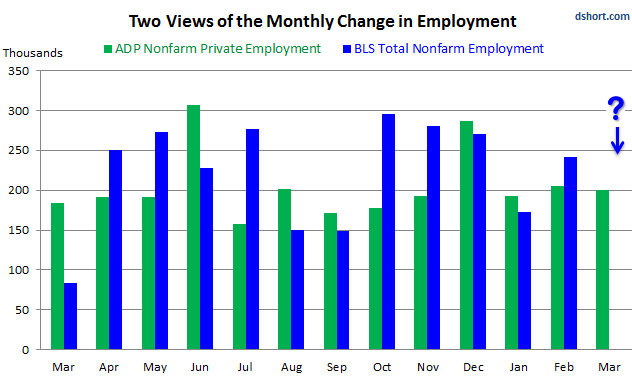 And this relationship could turn into a nasty surprise on Friday, warns Krishen Rangasamy, senior economist at NBF Economics and Strategy.
It points out that the ADP number was above consensus expectations, thus "reinforcing market expectations that there will be yet another 200K+ print for non-farm payrolls." But these folks might get disappointed.
The three NFP reports for the fourth quarter topped the ADP numbers by about 190,000 jobs, "so much so that the gap between the two surveys in Q4 was the largest ever recorded," Rangasamy wrote. "Historically, such a gap tends to be corrected the following quarter."
This chart shows how the differences between the two reports on a quarterly basis bounced from one extreme to the other, thus balancing out over time. Note the historic difference in Q4 on the right side of the chart with the ADP report showing 190,000 fewer jobs than the NFP (the line that plunges to the bottom of the chart). And that line is now expected to revert: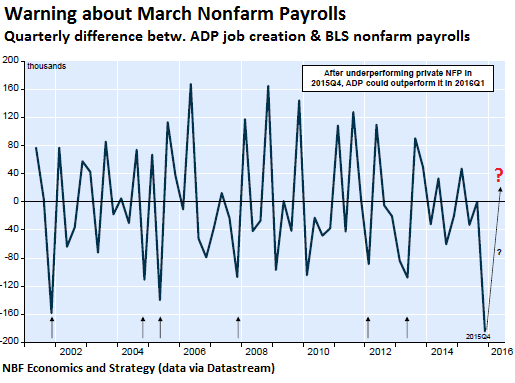 Now we're in the last month of that "following quarter." Just to revert to the historic mean, the BLS's reports for the three months in Q1 would have to be about 190,000 jobs lower than ADP's. ADP's first quarter total is just under 600,000 jobs. So the BLS's total, including Friday's numbers, would have to be 410,000 new jobs. But in January and February, the BLS already reported a combined total of 413,000 new jobs.
So, if the difference between the two reverts back to historical averages in March all in one fell swoop, the BLS could release a disastrous report of zero new jobs.
Even if the numbers revert back more slowly to the historic alignment with ADP, it would still be a huge disappointment for "consensus economists," and all heck would break loose — either a gut-wrenching swoon in stocks, or a blistering rally as Wall Street would start clamoring for more QE….
That statistical correction would simply align the BLS with the fundamentals facing businesses in the US, which are not "conducive to a hiring spree in Q1," as Rangasamy points out. Business revenues and profits have slumped for more than a year, productivity is declining, and economic growth in Q1 is starting to look very ugly, with the Atlanta Fed's GDPNow model plunging to 0.6% growth annualized, a hair from stagnation, and down from 2.4% earlier in March.
And this crucial link between business sales and jobs growth is becoming a party pooper. Read…  And this is When the Jobs "Recovery" Goes Kaboom




Enjoy reading WOLF STREET and want to support it? You can donate. I appreciate it immensely. Click on the beer and iced-tea mug to find out how:

Would you like to be notified via email when WOLF STREET publishes a new article? Sign up here.