Falling electricity demand and the energy glut!
The Fukushima meltdown, the consequences it produced in Japan, the contamination it's spreading around, the expenses of trying to contain it… none of these issues turned Americans against nuclear power. But now, cheap energy and declining demand for electricity have accomplished that.
In 2011, "a few days before" Fukushima melted down, when Gallup conducted its annual Environment poll, 38% of Americans were against nuclear energy, and 57% were in favor of it. A year later, with the Fukushima disaster in the news on a daily basis? Against nuclear power: 40%; in favor: 57% – unchanged from before the fiasco.
But the in-favor levels of both years were already down from peak popularity of nuclear power in the survey's history going back to 1994. In 2010, 62% of Americans were in favor of nuclear power. The question Gallup asked:
"Overall do you strongly favor, somewhat favor, somewhat oppose or strongly oppose the use of nuclear energy as one of the ways to provide electricity for the U.S."
Now, for the first time in the poll's history, a majority of Americans (54%) opposes nuclear power, a big jump from 43% a year ago, and a massive move from 33% in 2010. Those who favor nuclear power dropped to 44%, from 51% a year ago: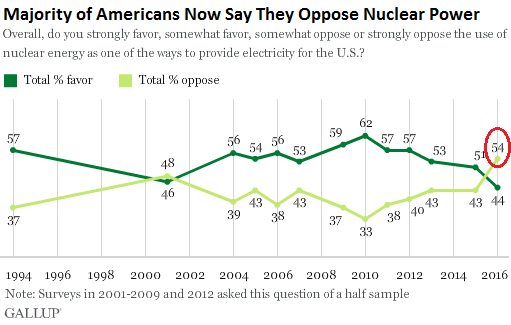 So what had happened by 2010 to cause this?
In the US, the fracking revolution set off surging production of natural gas. By 2008, prices began to collapse. In late February and early March this year, natural gas was trading on the NYMEX at lows not seen since 1998!
The price of natural gas has caused the price of coal to crash, both of which are dominant fuels for electrical power generation in the US, each providing over 30% of the total. Generators, able to dispatch electricity generation to power plants that burn the other fuel, can force both fuels to compete with each other.
With prices of the main fuels for power generation in collapse, the sense of an energy shortage has disappeared and moved electricity off the priority list. Gallup:
And although there have not been any major nuclear incidents since Fukushima in 2011, a majority of U.S. adults now oppose nuclear energy. This suggests that energy prices and the perceived abundance of energy sources are the most relevant factors in attitudes toward nuclear power, rather than safety concerns prompted by nuclear incidents.
Then there's the cost of gasoline, which has plunged since 2014. Suddenly there's some room for environmental concerns. Gallup:
Lower gasoline prices over the past year are likely driving greater opposition toward the use of nuclear power. As Americans have paid less at the pump, their level of worry about the nation's energy situation has dropped to 15-year-low levels. This appears to have resulted in more Americans prioritizing environmental protection and fewer backing nuclear power as an alternative energy source.
This has played out across the political spectrum. Among Republicans, the percentage in favor of nuclear power had reached 76% back in 2009. It dropped to 68% last year and plunged 15 percentage points to 53% now!  That's a huge move.
Among Independents, those favoring nuclear power has inched down from 48% last year to 46% now. And the percentage of Democrats favoring nuclear power dropped from 54% in 2009 to 42% last year, and dropped another 8 points to 34% now.
Gallup's "bottom line" is that lower gas prices seem "to have lessened Americans' perceptions that energy sources such as nuclear power are needed.
The increased opposition to nuclear power does not seem to result from a fear of it, as there have been no major nuclear disasters anywhere in the world since 2011.

Nuclear power plants are expensive to build, often costing billions upfront, although they require relatively low maintenance costs once they are running. And nuclear energy has lower greenhouse gas emissions than other power sources, especially coal, so it is considered a clean provider of electricity.

Still, nuclear energy is a bet that the cost over time of coal or natural gas to power an electric plant will be higher than the upfront cost of building a nuclear reactor. And at a time when oil prices are low, it seems Americans are not in favor of making that bet.
The paradise of cheap energy has some consequences.
Low prices are currently toppling coal miners and natural-gas drillers alike, with some of the smaller ones already in bankruptcy and the larger ones approaching it. On Wednesday, Peabody Energy, the world's largest coal miner, warned it might be next.
In the restructuring process, these companies are cutting capital expenditures even more than they have already, because funding has dried up. And over time, as both industries collapse, production will taper off and prices will rise to survivable levels, which might be several times as high as today. As they're getting hit in their bank accounts, Americans might change their minds.
Or they might not: Last year, electricity demand in the US fell from a year earlier for the first time since the Financial Crisis, dragged down by residential and industrial demand.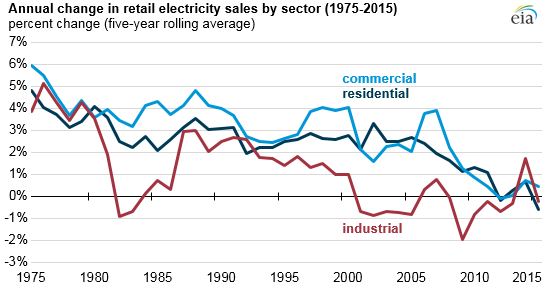 The chart from the EIA shows how electricity generation went from a vibrant industry with growth rates between 4% and 6% in 1975 to a no-growth or slow-decline morass. And that just doesn't leave a lot of economic room for building ultra-expensive, controversial nuclear power plants, simply from a supply-and-demand perspective. And Americans might have gotten the drift.
Enjoy reading WOLF STREET and want to support it? You can donate. I appreciate it immensely. Click on the beer and iced-tea mug to find out how:

Would you like to be notified via email when WOLF STREET publishes a new article? Sign up here.